Written By
Lizzie Shipton
Fun in the sun becomes much less fun when you're dealing with sunscreen stains. Sunscreen is an absolute must for long days in the sun, but you have to take care to make sure it doesn't stain your clothes or swimsuit.
If you've ever had to deal with a sunscreen stain on clothes, you know it can be a total bummer trying to get one out. We've put together this handy guide on how to get sunscreen out of a bathing suit so you never have to struggle with the headache of sunscreen in your bathing suit again.
How to Remove Sunscreen Stains from Your Swimsuit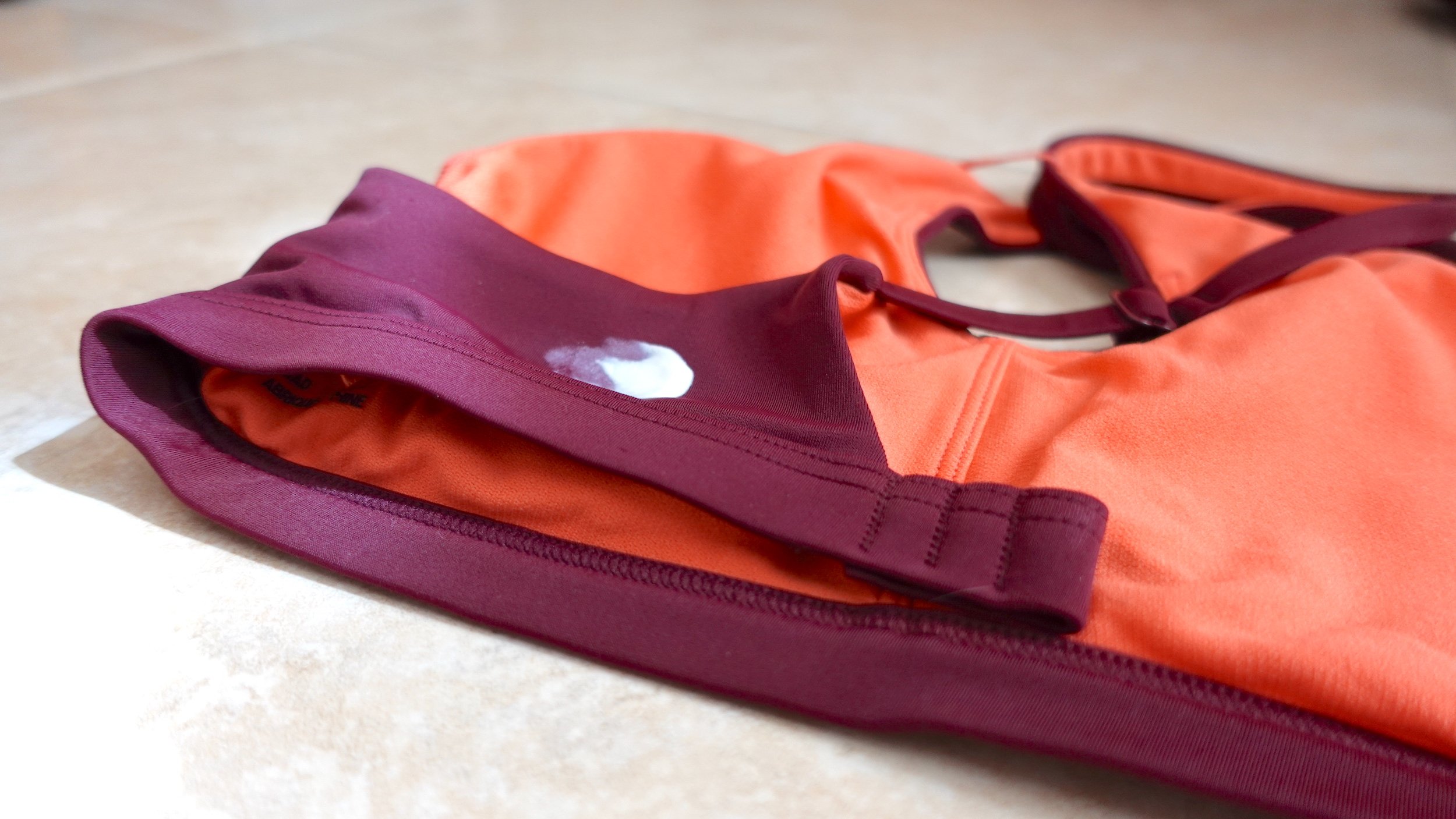 The best way to prevent sunscreen stains in your swimsuit is not to let them get there in the first place. If you see sunscreen land on your suit, don't rub it! Try to get in the water right away and get as much sunscreen out as you can.
Washing your swimsuit after a long day at the beach or by the pool will not only prevent sunscreen stains, but will help preserve and extend the life of your suit. If you're already dealing with a stain, however, the following steps will show you how to get sunscreen out of a bathing suit.
Wet the Stain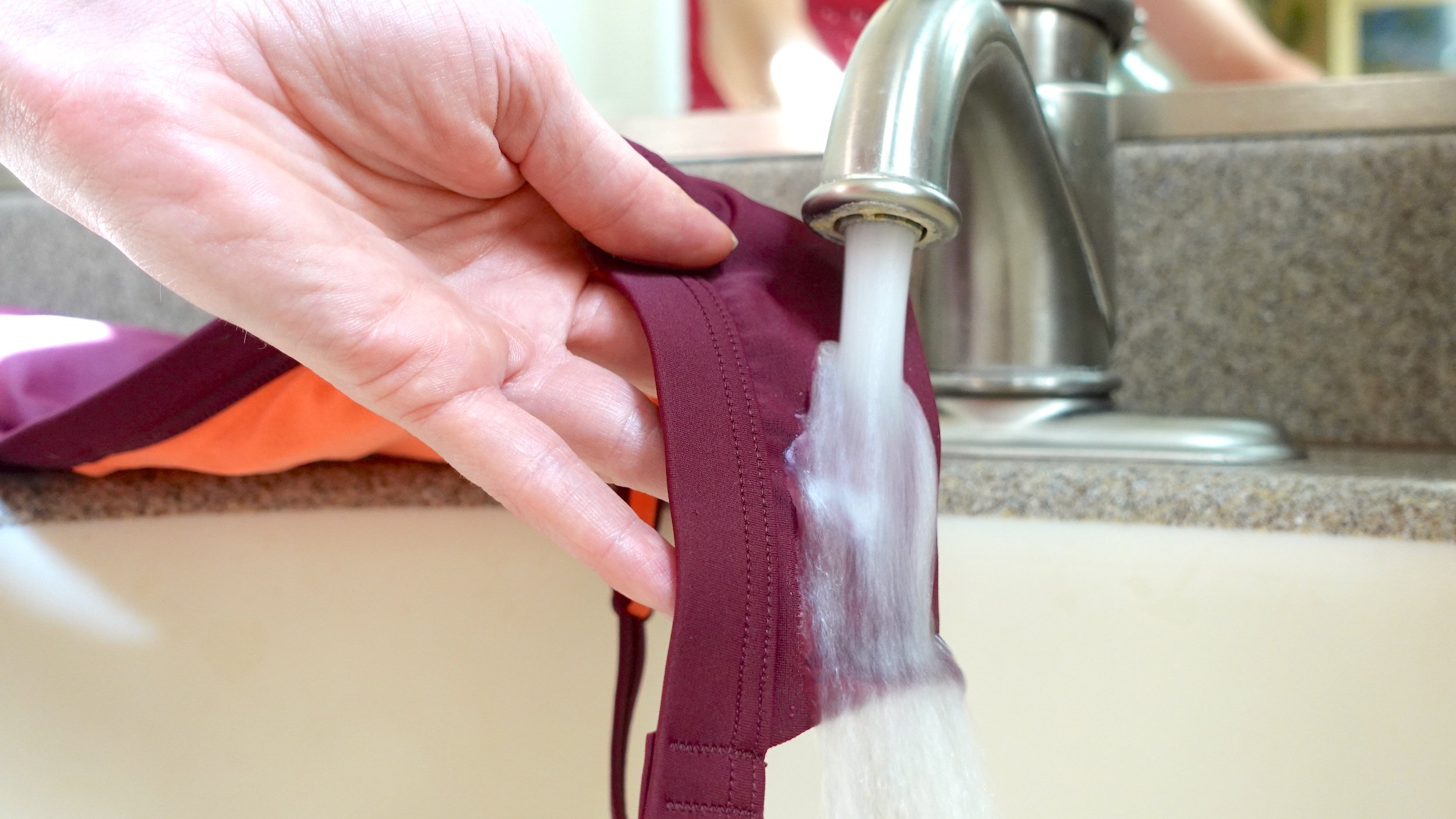 Add a little warm water to the stained area of the suit to soften the material and begin to loosen the trapped particles. Use fresh water if you can.
Add Baking Soda
Baking soda is an alkaline substance. When baking soda meets a substance that has a higher acidity than it does, it reacts and produces fizzy bubbles. Sunscreen, with a pH of between 4 and 5, is considered neutral or slightly acidic, meaning it reacts with baking soda. The bubbles that are produced as a result are great at dissolving and lifting stain particles from fabric.
Don't rub the baking soda into the stain—simply sprinkle a little on top of the damp stain and let it sit for 10 minutes or so. Adding a little more water can help the baking soda penetrate the material more effectively.
Add Detergent or Soap
Shake off any remaining baking soda and apply some liquid detergent or soap. It's best to use a mild detergent, but in a pinch, any detergent will do, even dish soap. At this point, you can gently rub the detergent into the fabric. Let it sit for another 10-20 minutes.
Wash the Suit
Wash your bathing suit as you normally would. If you need help figuring out the safest way to wash your suit, check out this guide.
Does Sunscreen Ruin Bathing Suits?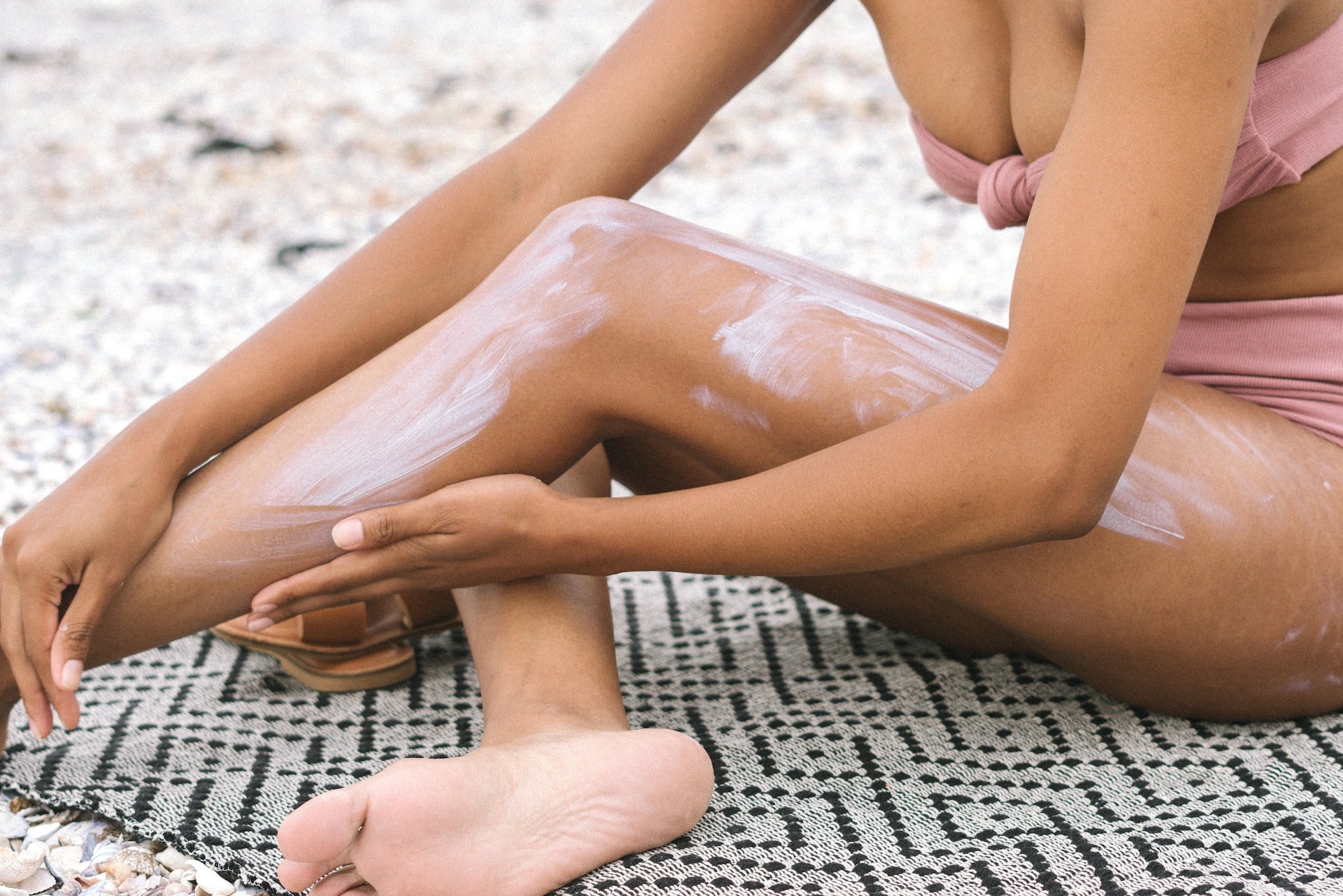 Getting sunscreen out of bathing suits is certainly tougher than getting it out of other clothes because swimsuits are usually made out of synthetic materials that absorb it more readily. Check the label of your swimsuit before following any stain removal directions or applying any products to make sure you won't damage the material or your suit.
Sunscreen won't necessarily ruin your bathing suit if you get it out right away. However if you let sunscreen sit on your suit for a long time, it can start to weaken and break down the fibers of the fabric. That's why it's important to learn how to get sunscreen out of a bathing suit before you head for the beach this summer.
Does Sunscreen Stain White Bathing Suits?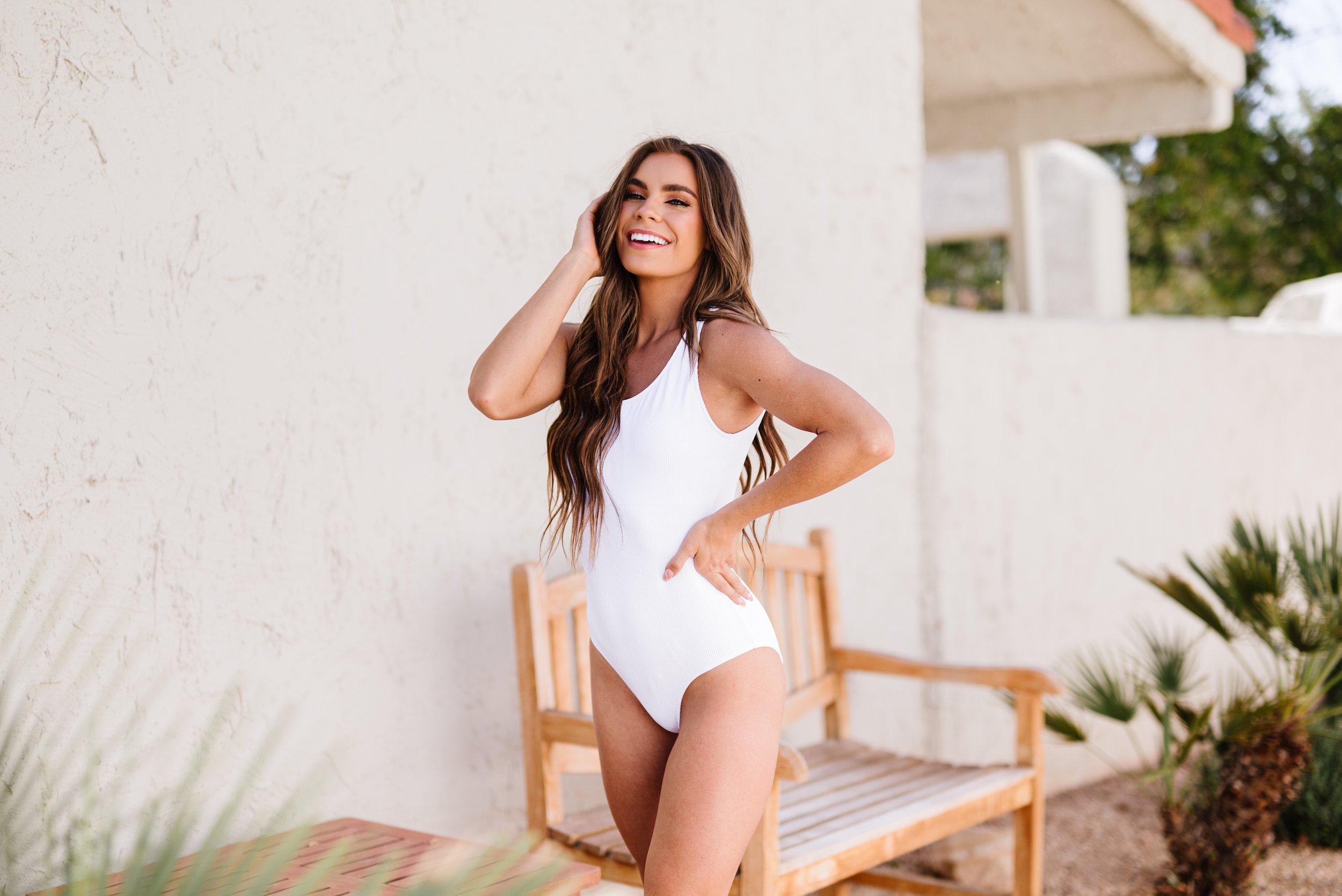 Yes. If you use mineral-based sunscreen or sun tanning oil while you wear your suit, it can leave yellow streaks that are very difficult to get out. These streaks are certainly more visible on a white swimsuit than on any other color. Zinc sunscreen is the worst offender when it comes to staining bathing suits.
Shop our white swimsuit collection
How Do You Get Mineral Sunscreen Out of a Black Swimsuit?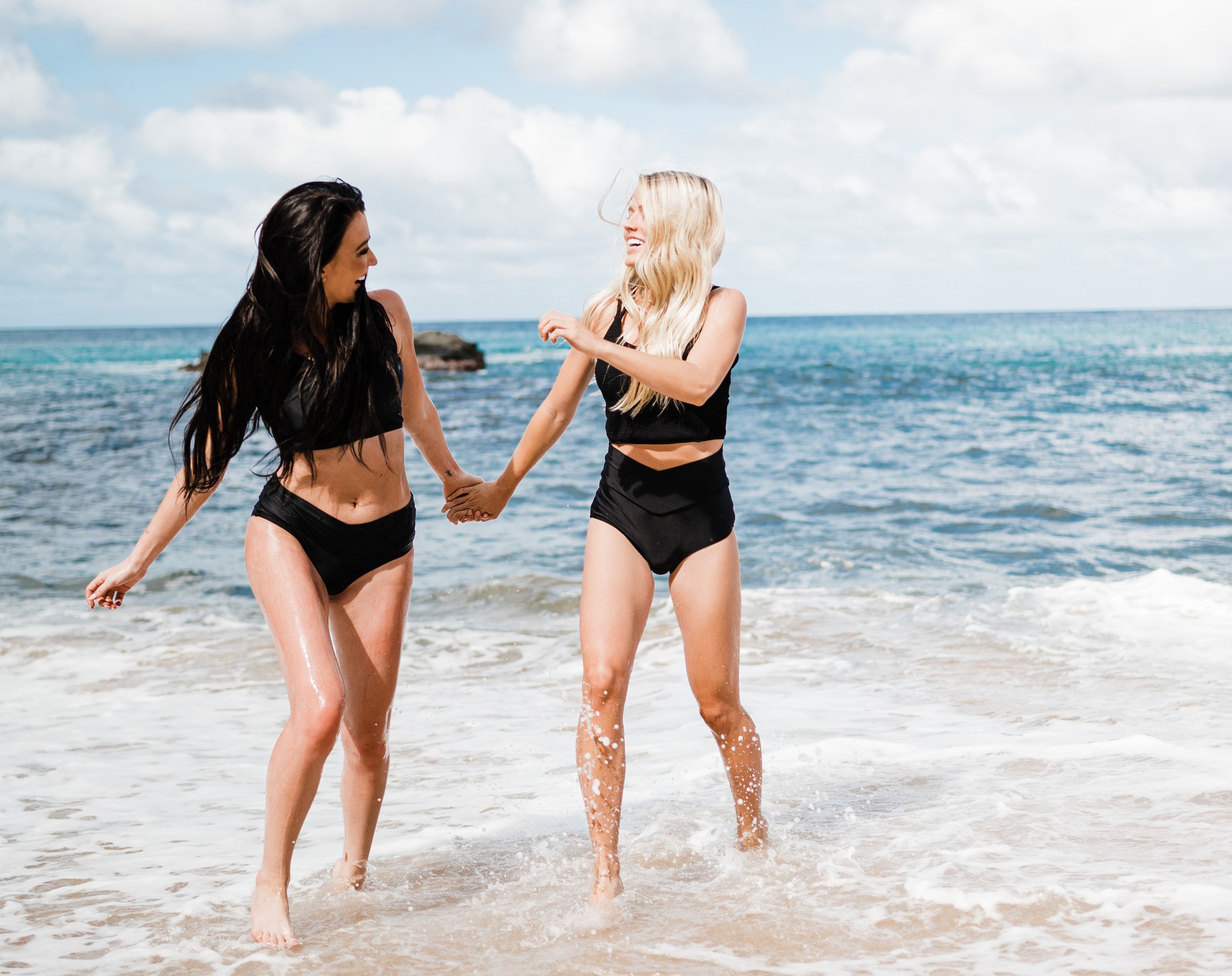 Getting mineral sunscreen out of a black swimsuit is the same process as removing sunscreen from any other color of swimsuit. Pre-treat the stain by applying baking soda to the stain to loosen the stain particles from the fabric, and adding some liquid soap or detergent to the stain.
Allow the suit to sit for 10-20 minutes, then wash as you normally would.
Shop our black swimsuit collection
Does Oxiclean Remove Sunscreen Stains?
Yes, Oxiclean is an effective product for removing sunscreen stains. Oxiclean, as the name suggests, works by creating oxygen bubbles that dissolve and lift stains from fabric. Read the label of your suit and the label of the Oxiclean product carefully before applying.
Does Vinegar Remove Sunscreen Stains?
Yes, vinegar will remove sunscreen stains, but we don't recommend using it as it can damage the fabric of your swimsuit. However, if you are dealing with a really tough stain in a small area of the suit, the acidity of vinegar can increase the effectiveness of baking soda. Add a drop of vinegar when you pretreat your suit with baking soda.
3 Quick Tips to Avoid Sunscreen Stains on Your Suit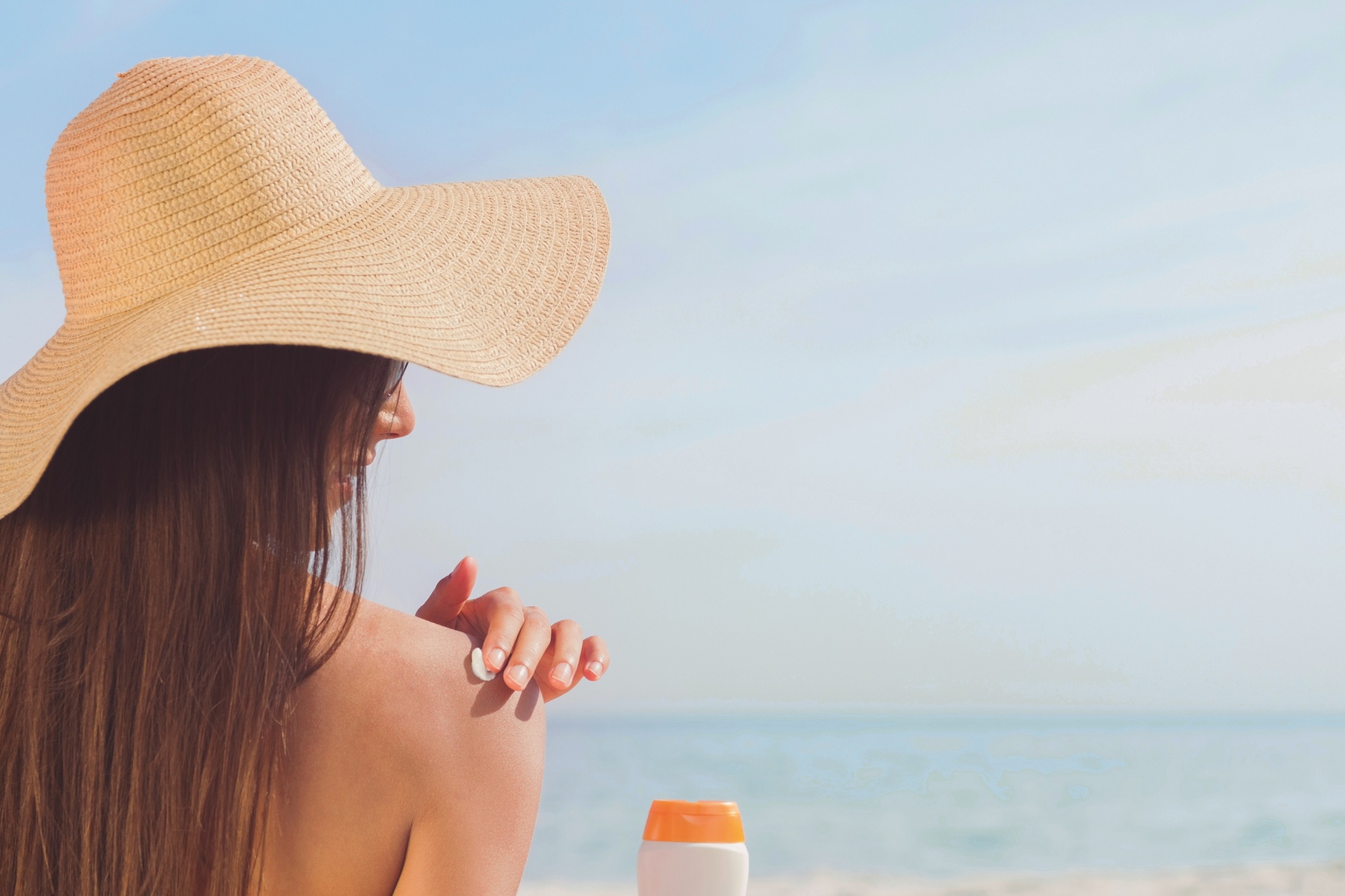 The best offense is good defense! Prevent sunscreen stains from happening at all with these quick tips.
1. Apply sunscreen 15 min before putting on your swimsuit
Give your sunscreen a chance to soak in before you put on your suit. Consider bringing along a wrap or cover-up that you can slip into when it comes time to reapply and give yourself another 10 minutes to let the new application soak in before changing back into your swimsuit.
2. Don't use spray-on sunscreens
Spray-on sunscreens, while convenient, are difficult to control while applying. If you're already wearing your suit and need to reapply, a spray sunscreen is guaranteed to get all over the material.
3. Wash your suit at the end of the day
If you can't get to a washing machine, at least give your suit a rinse in fresh water and hang it up to dry at the end of the day. Not only will this prevent sunscreen stains from setting, it will remove salt, sand, chlorine, and other things that can wear out your bathing suit.
Don't Let Sunscreen Be a Bummer!
Sunscreen is important. Don't let concern about staining your swimsuit deter you from using it. Learning how to get sunscreen out of a bathing suit is not too difficult; with a few easy tips and tricks you can prevent sunscreen stains from ever being an issue.