What does your ideal Spring Break look like? A quiet day at the beach, sun bathing and reading a good book? Or maybe it involves rave music, a cocktail in hand, fist bumping in your spring break bikini poolside at a bar or a beach party.
Whatever floats your boat (and fits in your suitcase), we have a trendy 2023 bikini look for any occasion. In our lineup for this year, the biggest factors we took into consideration were:
Unique bikini patterns

Mix n' matching tops and bottoms

Comfortable but sexy fits

Complimentary color schemes
We suggest opting for a few swimsuits that are different enough from each other (in terms of size of coverage and color schemes) so you can dress it up or dress it down for different events. All of the swimwear covered below can also serve as "regular" dry clothing pieces. Pair with some joggers or leggings for a complete, casual look.
Vertical Striped Spring Break Bikinis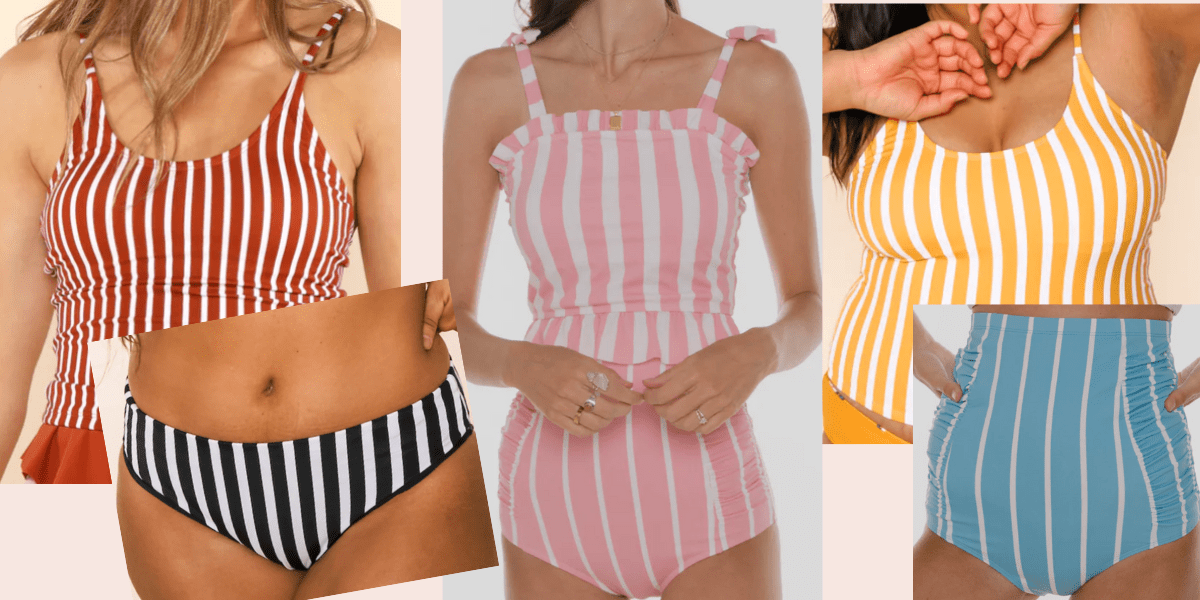 Turn heads in a striped patterned bikini and give the illusion of a taller, slender silhouette thanks to vertical striped patterns. Research has shown that the continuous vertical stripes down the body trick the eyes into elongating your figure–if that's the look you're going for. You can't go wrong with the classic, independent-woman 50's look of pin stripes; simply timeless and empowering.
Check out our collection of fuller-coverage bikinis that rock vertical pin stripes of all different thicknesses and size.
Strappy Spring Break Bikinis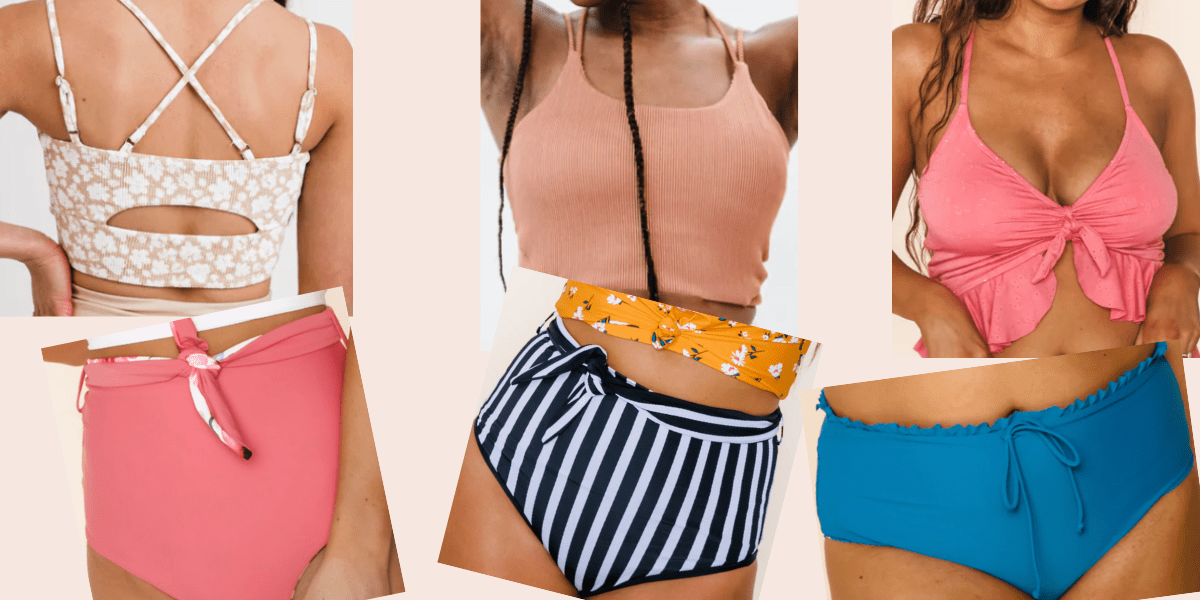 This season's strappy bikini looks are both a nod to the early 2000's (thank you Britney) and a nod to chic, modern looks. Some bikinis let the straps do all the talking, where bold colors or clever patterns aren't necessary. Straps can accentuate flattering features, hold your assets in place a bit better, and make for a very unique beach look.
With Coral Reef swimwear, we're fans of subtle twists on classic looks. Our strappy bathing suits offer extra support and a sexy twist, for the perfect spring break bikini look. Strappy suits are wonderful for creating a custom fit; since straps can be adjusted to fit any size (even making them a good choice for expecting mamas!).
Our goal is for your bikini straps to compliment your figure without stealing your time on confusing loop-dee-loops and endless swimwear ties. A strappy bikini should compliment your figure; not steal the show.
Natural Ocean-Color Spring Break Bikinis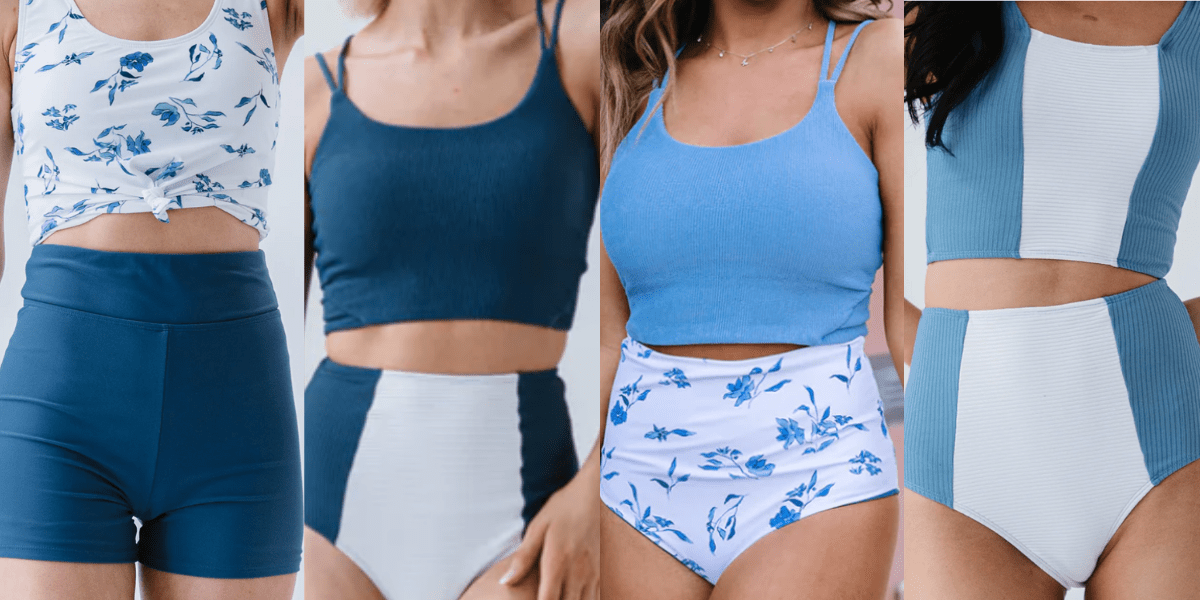 As society starts to turn back to healthier ways of living (think shopping local, organic, and eco-friendly) our fashion trends have followed suit. Natural, earthy, rustic colors are back in style and this includes any color schemes hailing from our beautiful oceans. Think deep blues, off-whites and cream colors, rich evergreens and sandy tans.
The best news is that earthy, natural colors look good with nearly any skin tone (since we're all made up of the same things anyways!). Check out our brand-spankin' new line of ocean-themed swimwear.
Colorblock Pattern Spring Break Bikinis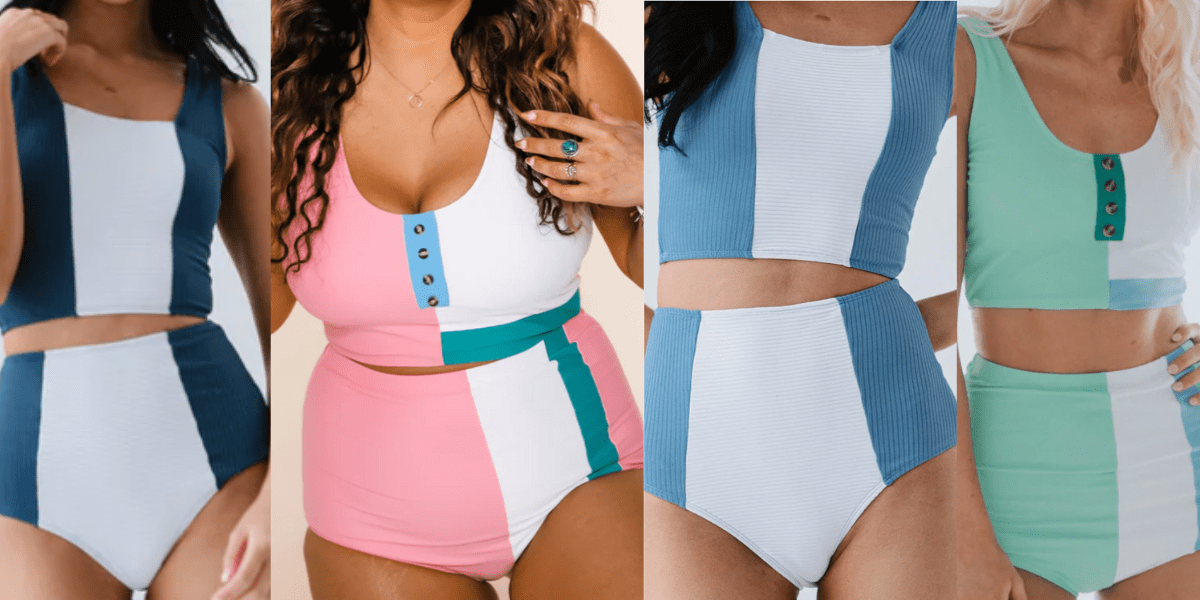 Hello, 70's vibes! Some trends stand the test of time–and colorblock swimwear makes the cut. Whether you're posted up at a beachside bar for your spring break getaway or casually strolling down a long seaside beach, catch glances near and far in a vibrant, bold colorblock suit. Use the colorblock design to draw attention to your most favorite assets or features.
And bonus–a lot of our colorblock suits are currently on sale (but some are running low on stock–check prices below).
Neon Color Spring Break Bikinis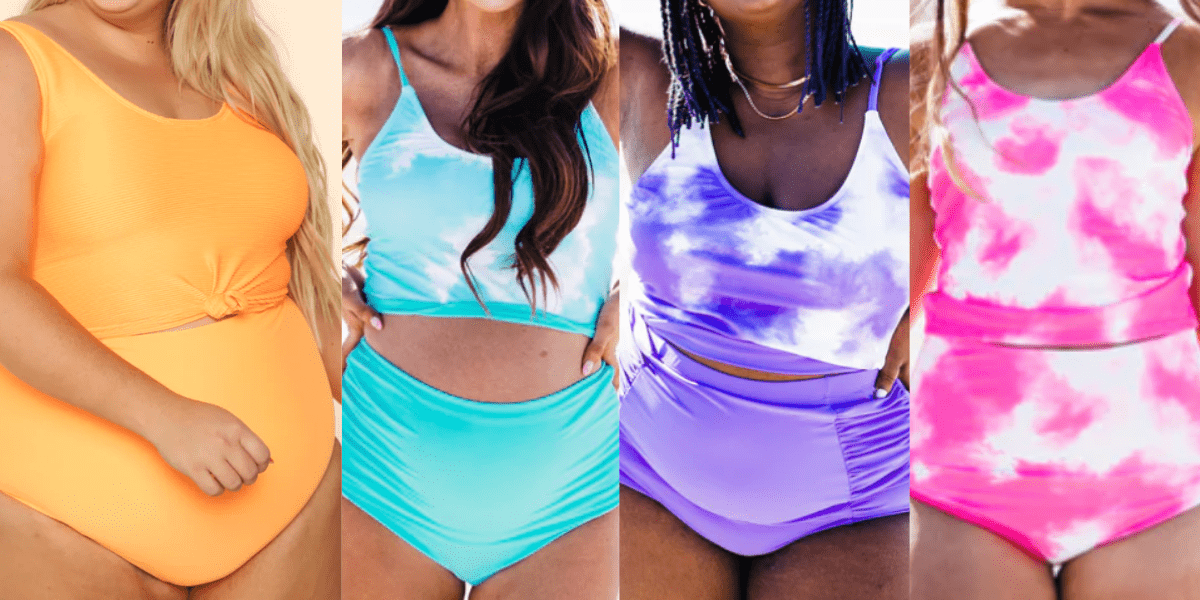 The news is in: neon will be a highlight trend (pun intended) of 2023. One of the best qualities of neon swimsuits is how easily you can mix n' match complimentary colored tops and bottoms. Especially if you opt for one of our tie-dye reversible bikini bottoms–that's basically a whole new spring break swimsuit for $free 99!
Also, we can't deny that neon colors make a golden tan absolutely POP! Even if you're more fair-skinned, neon colors can give the illusion of a little extra color (that being said, check out our lineup of best swimsuits for fair skin).
Floral Print Spring Break Bikinis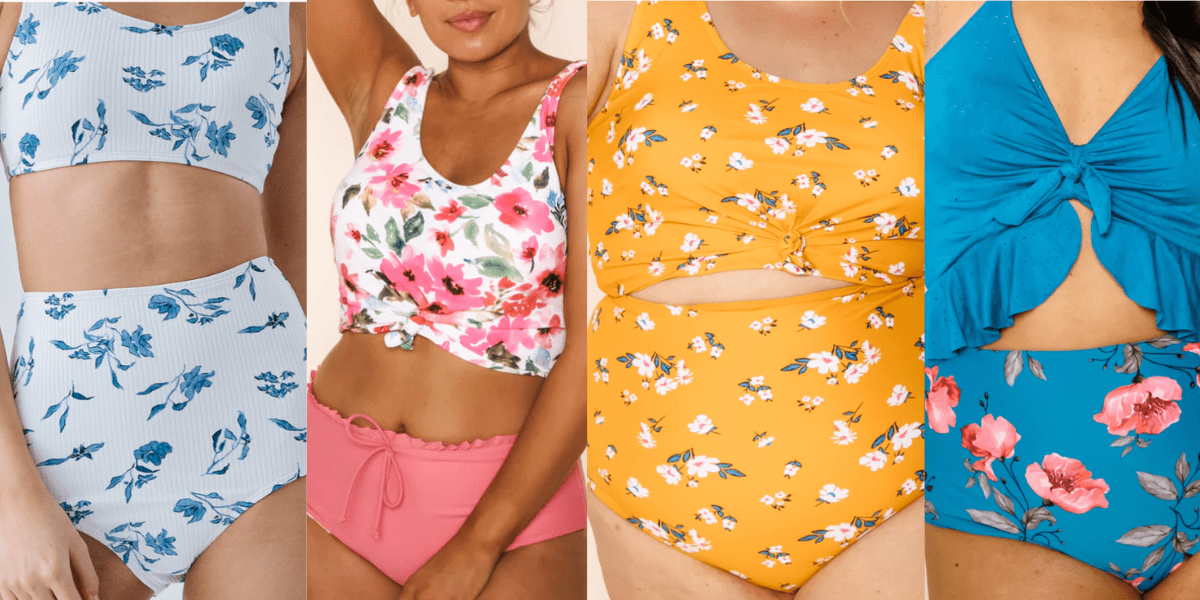 Add a touch of class and femininity with floral prints. What's more, busy patterns such as floral prints are great at hiding little stains or marks. This is good news for those of us who tend to push our swimwear to the limits: whether that's splashing around all day or spilling the occasional food bits on our clothes...guilty!
To make a bolder statement at the beach, opt for large floral prints or patterns that draw the eye to the design. For a more subtle beach look, aim for smaller, intricate floral patterns that keep the focus on your figure. Coral Reef has an especially large collection of floral prints in all levels of coverage, size, and style.
Let's Not Forget Cute Cover-Ups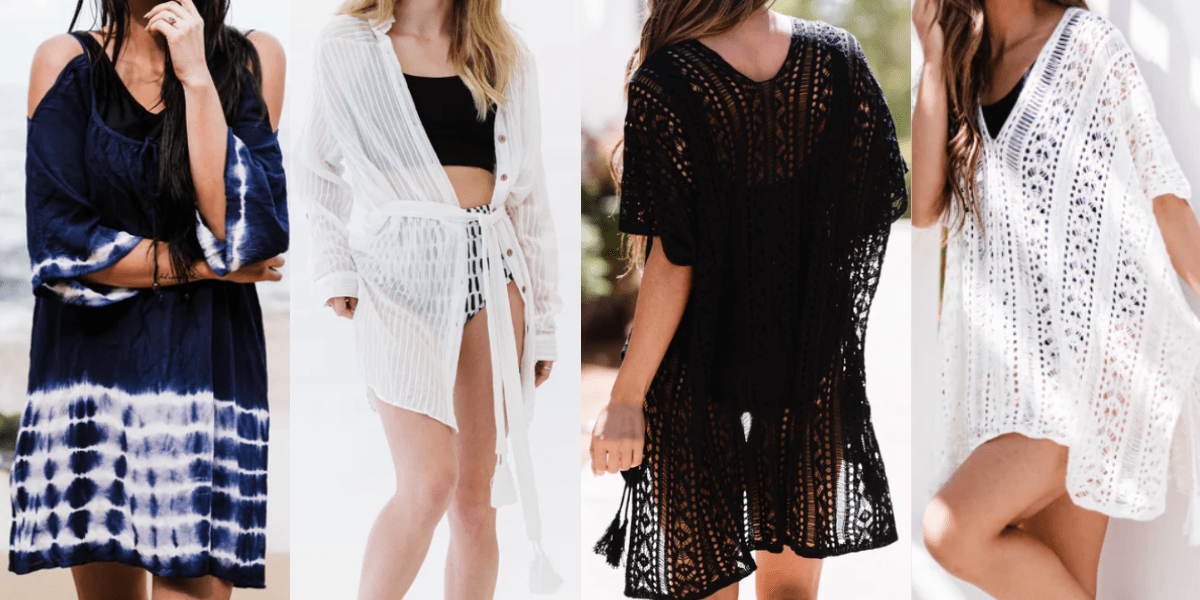 We suggest pairing your Spring Break bikinis with light and flowy cover-ups. Cover-ups are great for keeping you looking cute and comfortable, and providing extra coverage when needed. Cover-ups can solve all sorts of little issues–from keeping your assets a bit more covered, providing extra warmth, protecting your skin from the sun, and leaving a bit more mystery.
Also–who likes trying to put form-fitting clothes on over a wet bathing suit? Throwing a lightweight cover-up on after running out of the ocean is a win in our book! And bonus- a cover-up will dry a lot faster than regular clothing.
Final Sale: Spring Break Bikinis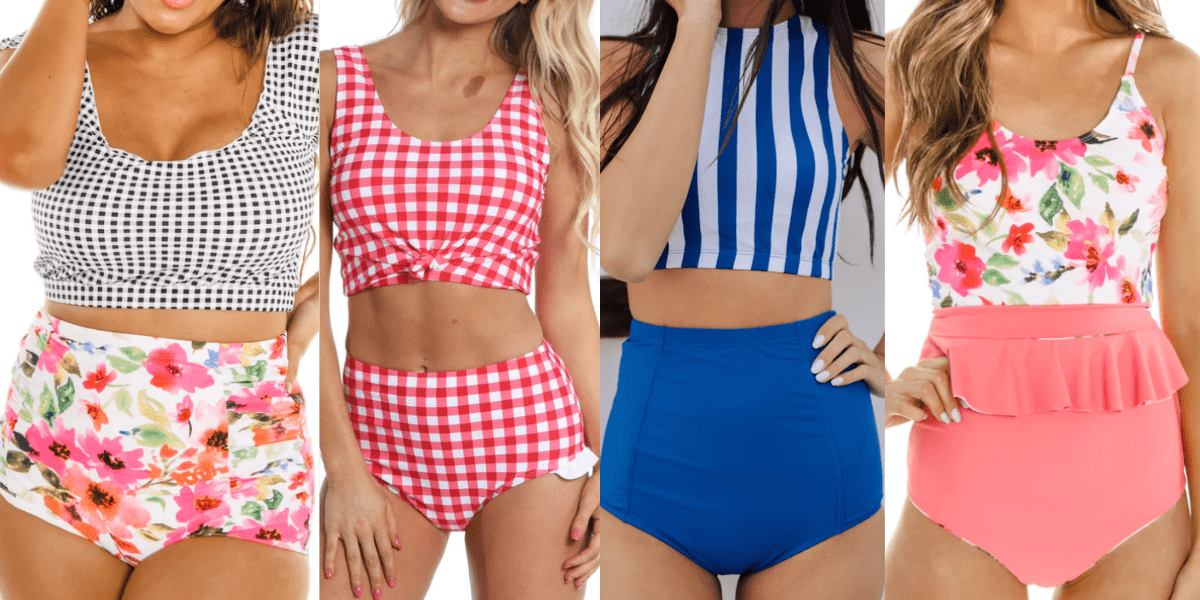 Complete the perfect Spring Break look (and for nearly half the price) by perusing our Final Sale bikini bottoms and tops. There's still plenty of time to order before Spring Break is upon us! All swimsuit items will be available until they're out of stock (we'll be making room for even more new looks). Are you feelin' on the same page as us? We hope so because we love a good sale!
So, what are you waiting for? Bring on your Spring Break getaway with a variety of fun and unique bathing suit styles!