Written By
Lizzie Shipton
Ah, the tankini. If you were an adolescent in the late nineties or early two thousands, you probably remember it well. And if you're paying attention, you've probably noticed that it seems to be making a comeback. For the uninitiated, here's a quick rundown on this versatile swimsuit.
What is a tankini? Put simply, a tankini is a style of bikini that features a tank-top-like top rather than a bra-like top.
Designer Anne Cole is alleged to have brought the tankini bathing suit to the world in the late 1990s, meeting demand both from mothers of teenage girls seeking midriff coverage for their daughters, and from older women wanting a bit more coverage than a bikini provides.
Types of Tankini Bathing Suits
As with bikinis, there are many different styles of swimwear that could be considered a tankini—from long-sleeved rashguards to frilly crop tops to sport cuts. It's no wonder so many people are wondering "what is a tankini?"
Although there are many variations when it comes to tankini cuts, the cuts that are most popular right now are the spaghetti strap, one shoulder, and sporty style.
Spaghetti Strap Tankini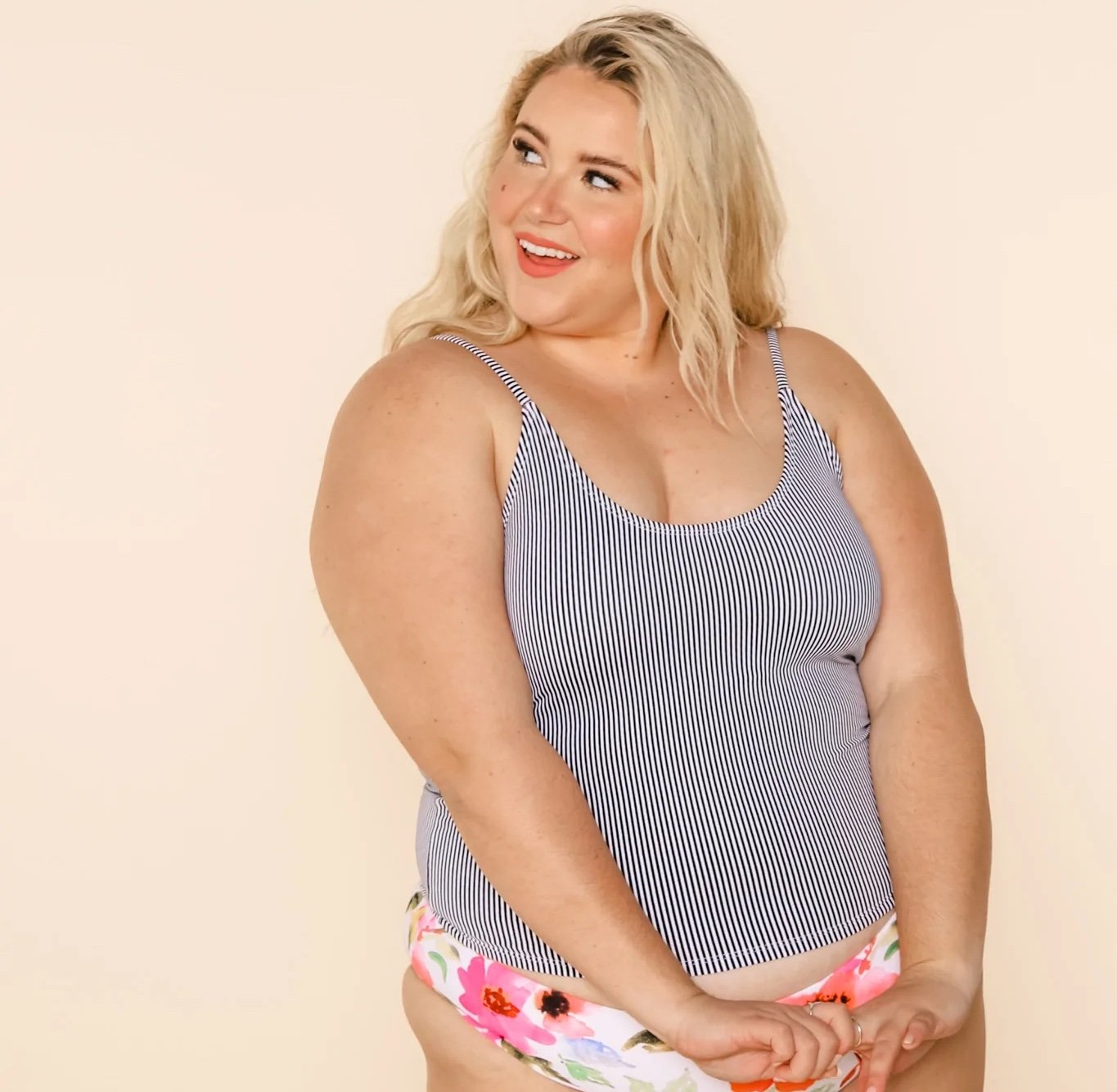 The spaghetti strap tankini could be considered the "classic" tankini cut. It features two straps, usually very thin, that go over each shoulder. A classic spaghetti strap tankini looks very much like a spaghetti strap tank top paired with some cute undies.
The sky is really the limit when it comes to spaghetti strap tankini styles. You might find tankini tops with more modest lengths, or cuts that border on bikini territory. You may find spaghetti straps that convert into halter tops or detach completely.
One Shoulder Tankini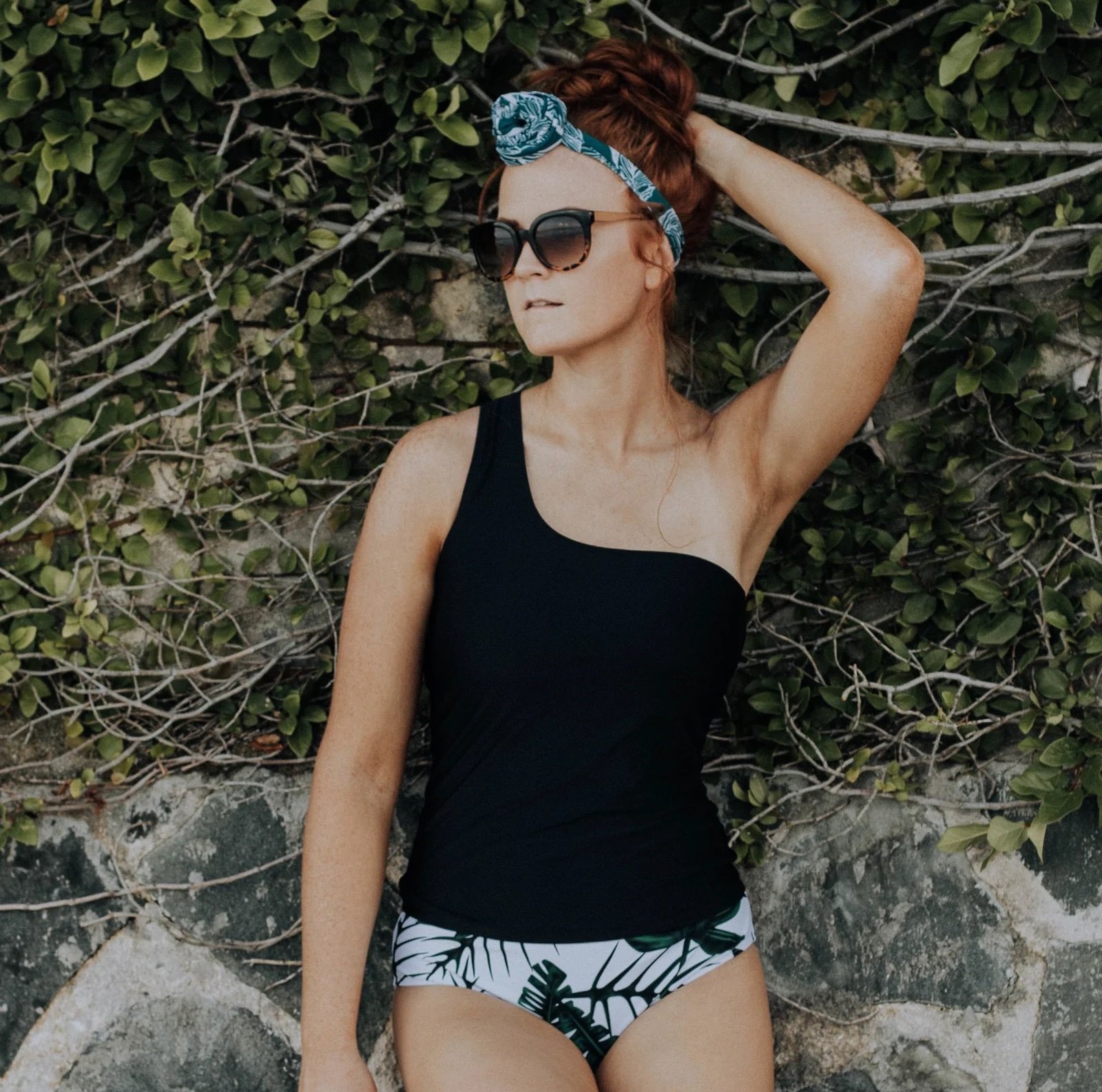 If you're looking for something a bit more daring, the one-shoulder tankini look might be right up your alley. Featuring an asymmetrical design, some think the one-shoulder tankini has a more "retro" look than the spaghetti strap style.
It's certainly true that the one-shoulder look was popular in the seventies, so if retro is your vibe, a one-shoulder cut might be for you!
Loose Fit Tankini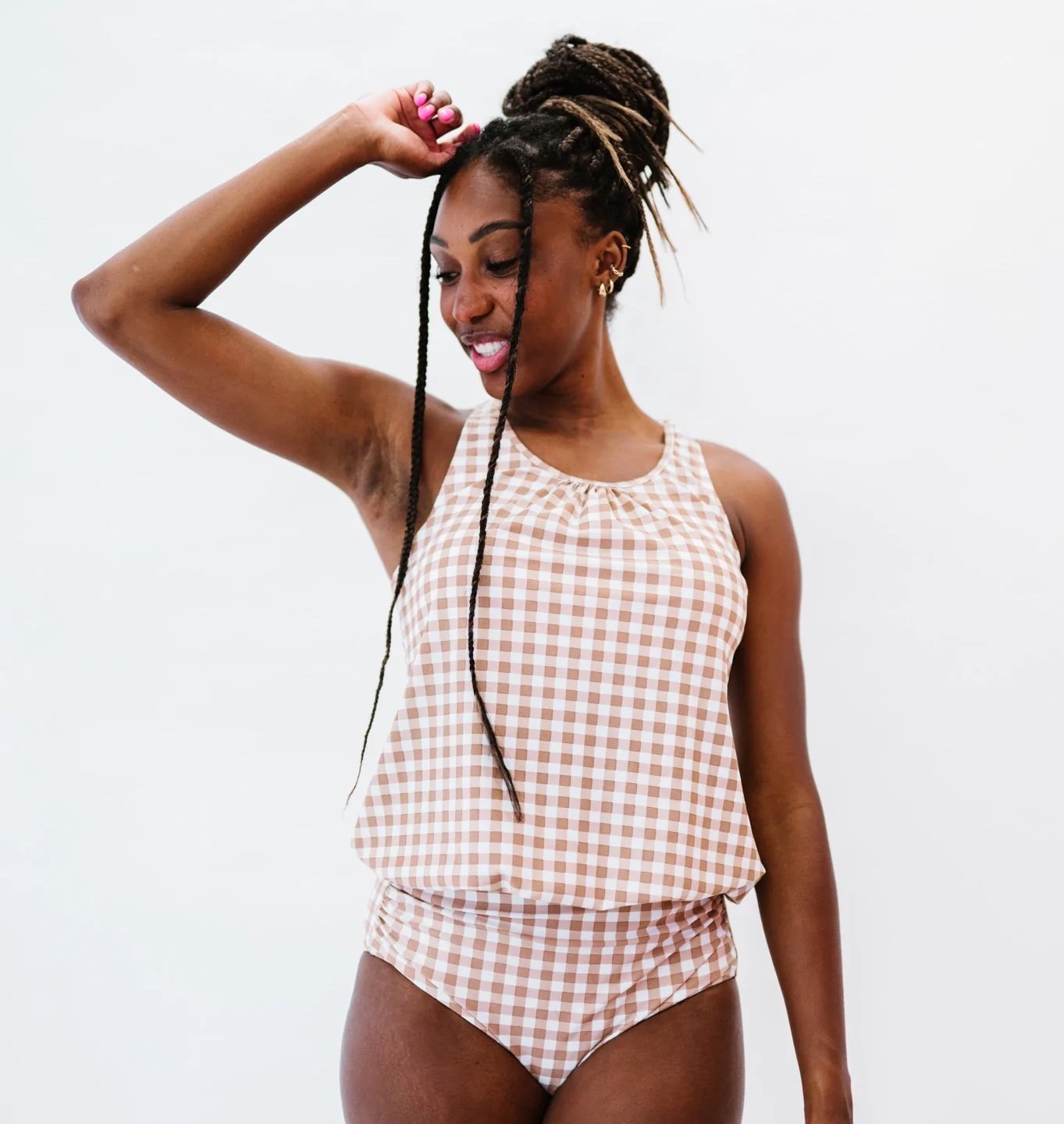 Technically, all tankini styles can also be worn as athleisure wear or as a casual tank top. But our favorite style for wearing as a "regular" shirt is the loose fit tankini, because it's so comfortable and flatters nearly all body types!
Sporty Style Tankini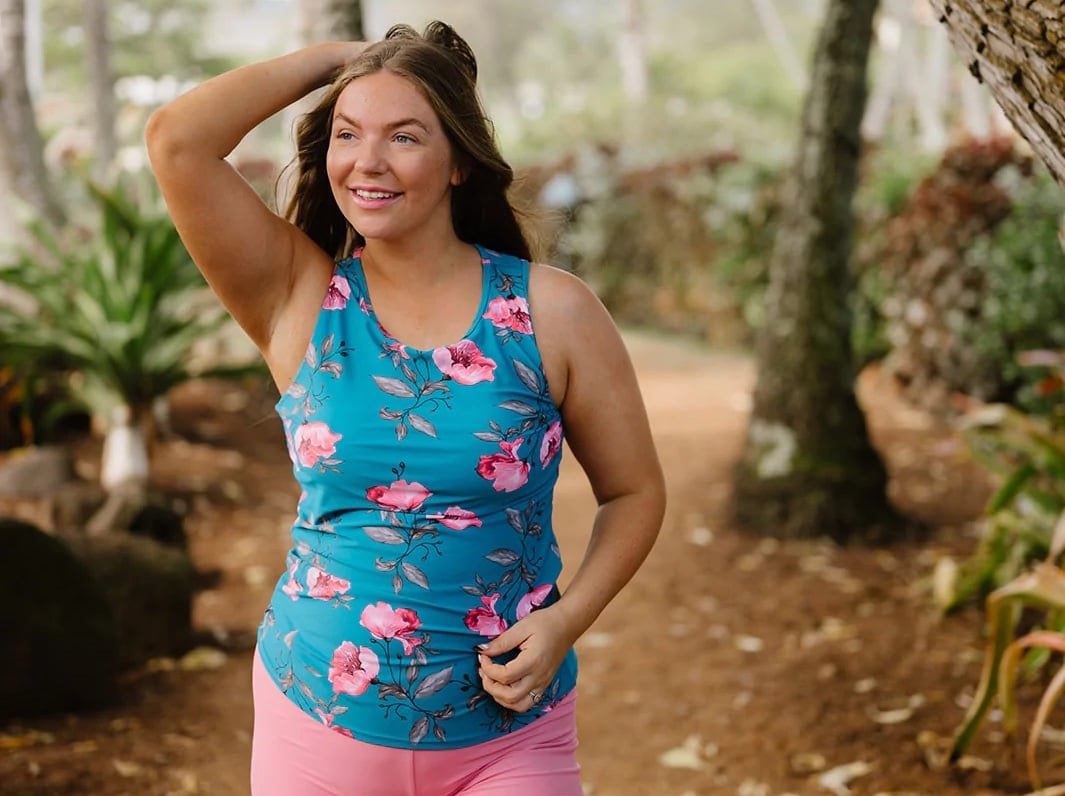 First things first: if you're asking yourself "what is a tankini?", one important thing to know is that a tankini swimsuit is technically not a rashguard. In order for a swimsuit to provide adequate protection against a board, it must be long enough to fully cover the torso, which many tankinis these days are not. A rashguard usually also features long sleeves, which most tankinis do not.
However, a sport-cut tankini usually provides more support and stays in place better than a spaghetti strap or one-shoulder cut, and often provides better protection from the sun. This makes sporty tankinis a favorite of surfers, athletes, and active water babies.
If you're a surfer or beach volleyball enthusiast, a sporty tankini might be exactly what you're looking for in a suit. Don't forget: always wash your swimsuit after an active beach day to remove sand, saltwater, and prevent UV damage.
Tankini vs. Bikini: What's the Difference?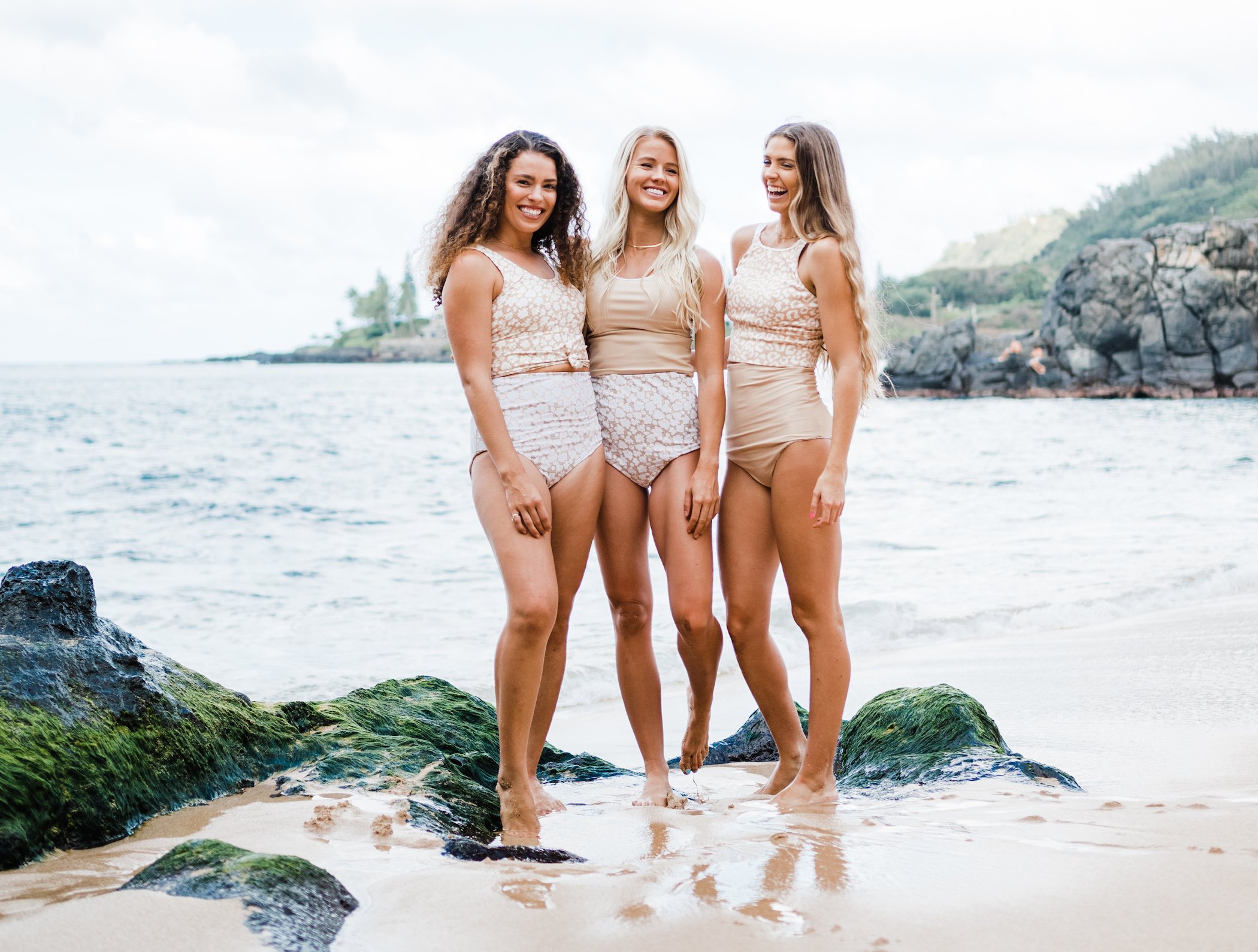 The crucial difference in a tankini vs a bikini is the length of the top. A tankini top covers more of the torso than a bikini, often providing as much coverage as a one-piece swimsuit. As far as the tankini bottom goes…the options are endless! High cut, boy shorts, thongs, string bikinis, it's all on the table!
Benefits of a Tankini Swimsuit
Many people prefer tankinis to bikinis because they provide more coverage and are a bit more modest. They may also be more flattering to your figure, if that's something you're concerned about in a swimsuit.
The other benefit of tankinis is that they usually provide better support than a bikini. For active girls, this is a must.
Compared to one-piece suits, some people prefer a tankini because it provides a bit more freedom (um, bathroom breaks, anyone?) while still being on the modest side.
Best Time to Wear a Tankini
As we mentioned, a tankini is a great choice for active water days because it provides more support and coverage than a bikini, but a bit more freedom than a one-piece. If you plan to spend the day surfing, playing frisbee, waterpolo, or volleyball, then a tankini is a great choice.
If your beach or poolside plans are more low-key, and if you plan on soaking up some sun, a bikini might be a better choice to prevent odd tan lines. A tankini is also nice to hard around for days you feel bloated, blah, or just don't feel like showing a lot of skin.
Personally, we like to have a few different styles of suit in our closet, so we're ready for anything!
Is a Tankini Right for You?
There is no one-size-fits-all method to figuring out which swimsuit is right for which body. Whichever swimsuit makes you most comfortable is the right one for you. If you're looking for a more modest cut, but still want the flexibility and ease of a bikini, a tankini might be right for you.
As with any swimwear, a properly sized and fitted suit can mean the difference between fun in the sun and…uh, a wedgie in your bum! Always check your size before purchasing a suit, and when in doubt, try it out!
So what is a tankini? As we've learned, a tankini is a flexible, stylish alternative to a one-piece swimsuit or a bikini that is flattering, functional, and fun to wear. If you're seeking more coverage, more support, or just want to switch up your style, try on a tankini next time you're shopping for a suit!