Written By
Lizzie Shipton
Everybody deserves to feel comfortable and beautiful in their swimsuit! That's why we put together this list of six fun and functional maternity swimsuit looks. Whether you're hoping to show off your glorious belly or would rather opt for a more modest maternity swimsuit, we've got you covered (or not covered!)
Choosing a maternity swimsuit is as much about function as it is about fashion. You want a suit that provides ample support while also looking great and (hopefully) growing with you. However, many women worry that they won't be able to find a bathing suit that fits their changing body during this time.
We've put together this list of 6 cute and modest maternity swimsuit looks to help you find the right fit for your body.
Can I Wear a 'Normal' Swimsuit While Pregnant?
Of course! Many "normal" styles of swimsuit make fantastic maternity wear. The bikini springs to mind as the easiest style of suit to wear while pregnant, as you will never need to adjust it or buy a new size as your belly grows.
Understandably, of course, some women prefer a more modest cut. A teeny bikini may also not be the right option if you're hoping to get your exercise by swimming while pregnant.
The main question when it comes to choosing a one-piece maternity swimsuit is whether the suit will give enough to accommodate your changing body. No one wants to be buying a new swimsuit every other week!
Purpose-built modest maternity swimsuits with ruching and adjustable stomach panels are great, but regular tankinis, swim skirts and monokinis also make for cute, comfortable, and modest maternity swimwear.
6 Modest Maternity Swim Ideas
You don't have to spend a ton on special maternity swimsuits to find swimwear that looks great on a pregnant body. Below are six maternity swimsuit looks that provide as much or as little coverage as you'd like.
One Piece Maternity Suit
Shop Sailor Blue & White Stripe Suit
A one piece maternity suit should be made of a very stretchy, durable fabric that won't lose its elasticity as your body grows. It might feature ruching at the sides that can be adjusted to allow more room in the suit as your waist and belly expand.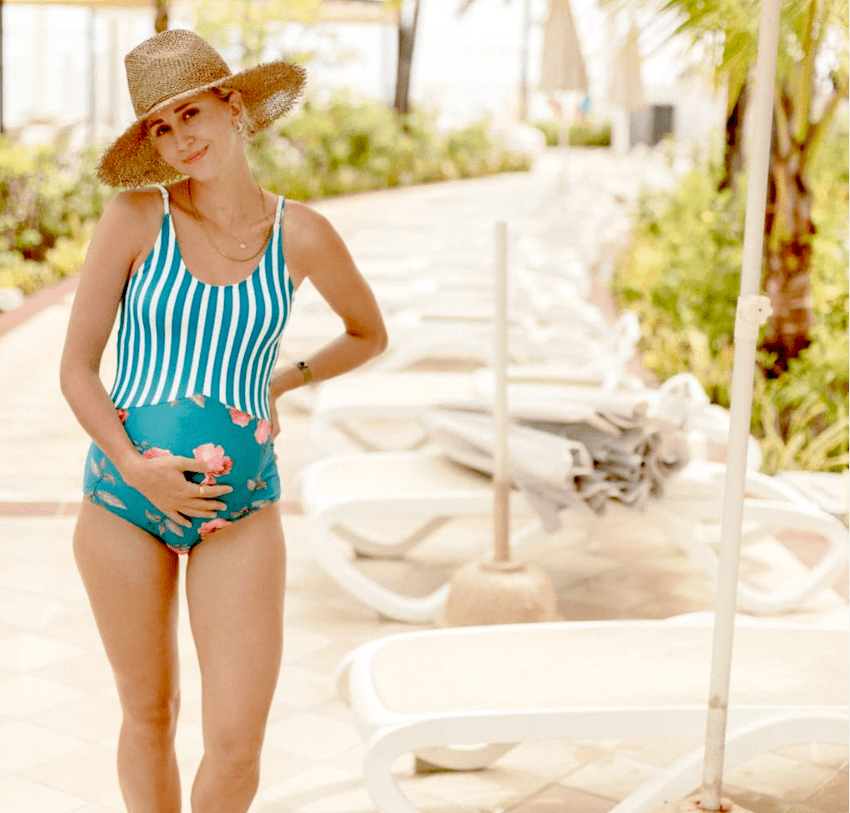 Vertical stripes and printed patterns accentuate the shape of your body, while a clear separation between the top and bottom of the suit allows you to show off your belly without actually exposing any skin.
This suit features a shelf bra with removable padding for added support. It's fully lined and stretches to accommodate changing bodies.
Ruffled Crop Top Maternity Suit
Shop Mo'Orea Top
Let's face it: your body isn't going to change at the same rate all over. Your upper body might stay more or less the same size while your lower half grows. During maternity, bikini bottoms are a godsend because they allow you to swap out half your suit as your belly grows, without having to replace the whole suit!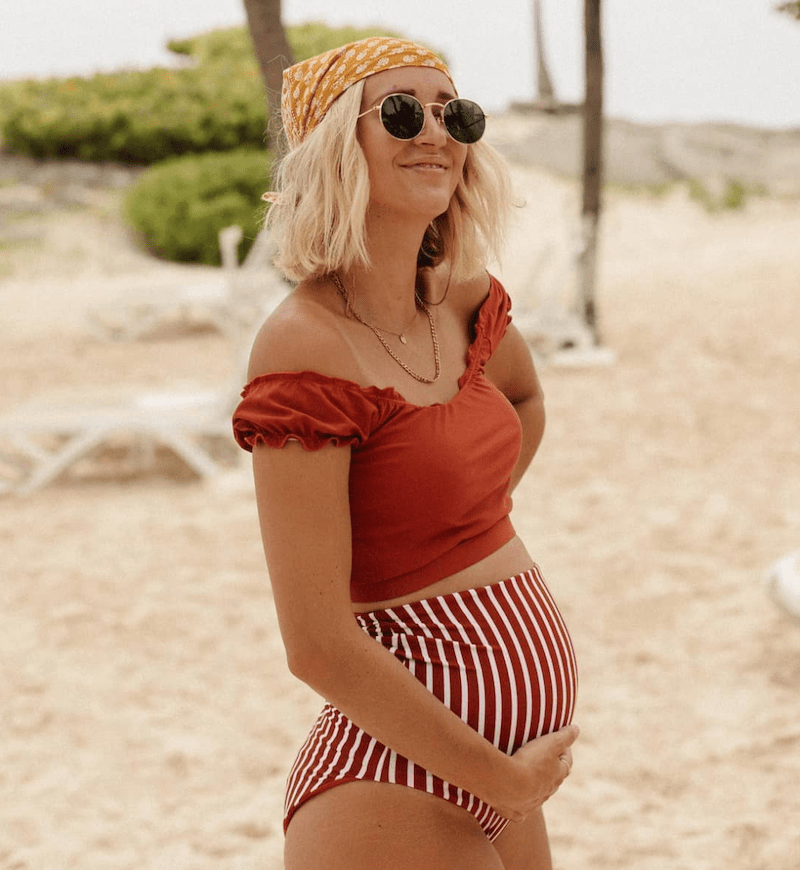 A crop top and high-waisted bikini bottom combo make great maternity swimwear. The top provides more coverage than a bikini top, while still letting you show off your tummy. The bottoms can be mixed and matched, meaning that if you find yourself growing out of your bottoms, you can easily swap them out for the next size up without having to replace the top too.
Bright and Bold Maternity Suit
Shop The Lounger Top
Here's another top and bottoms combo that's flashy and bold without exposing a lot of skin. The top is a little longer than a crop top, giving the suit the appearance of a full-coverage one-piece. The high neck and spaghetti straps provide ample support up top.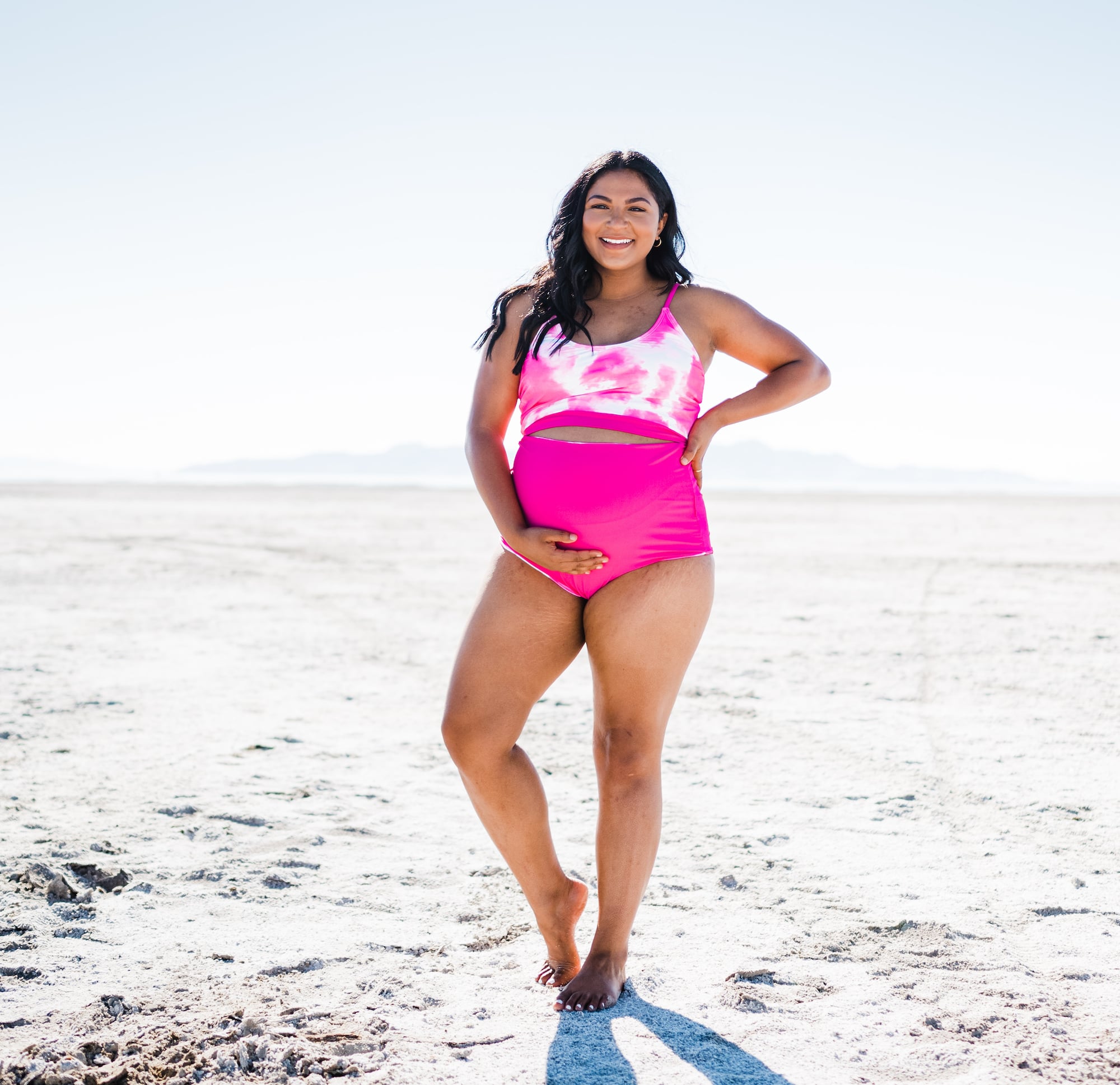 The suit is sully lined and features a supportive but comfortable shelf bra. The bottoms are reversible, so you can match the top for a more cohesive one-piece look, or create a clear separation between top and bottom if you feel like calling attention to your baby bump.
Bows and Frills Maternity Suit
Shop Bayside Top
Shop Sun Baked Bottoms
Ruching, ties and frills all help to balance out your figure and create a pleasing silhouette. Shoulder ties draw the eye up, while frills and ruching disguise parts you may want to hide. This frilled top provides just enough coverage to show off a bit of your baby bump without showing everything. The smocked texture also makes it extra stretchy.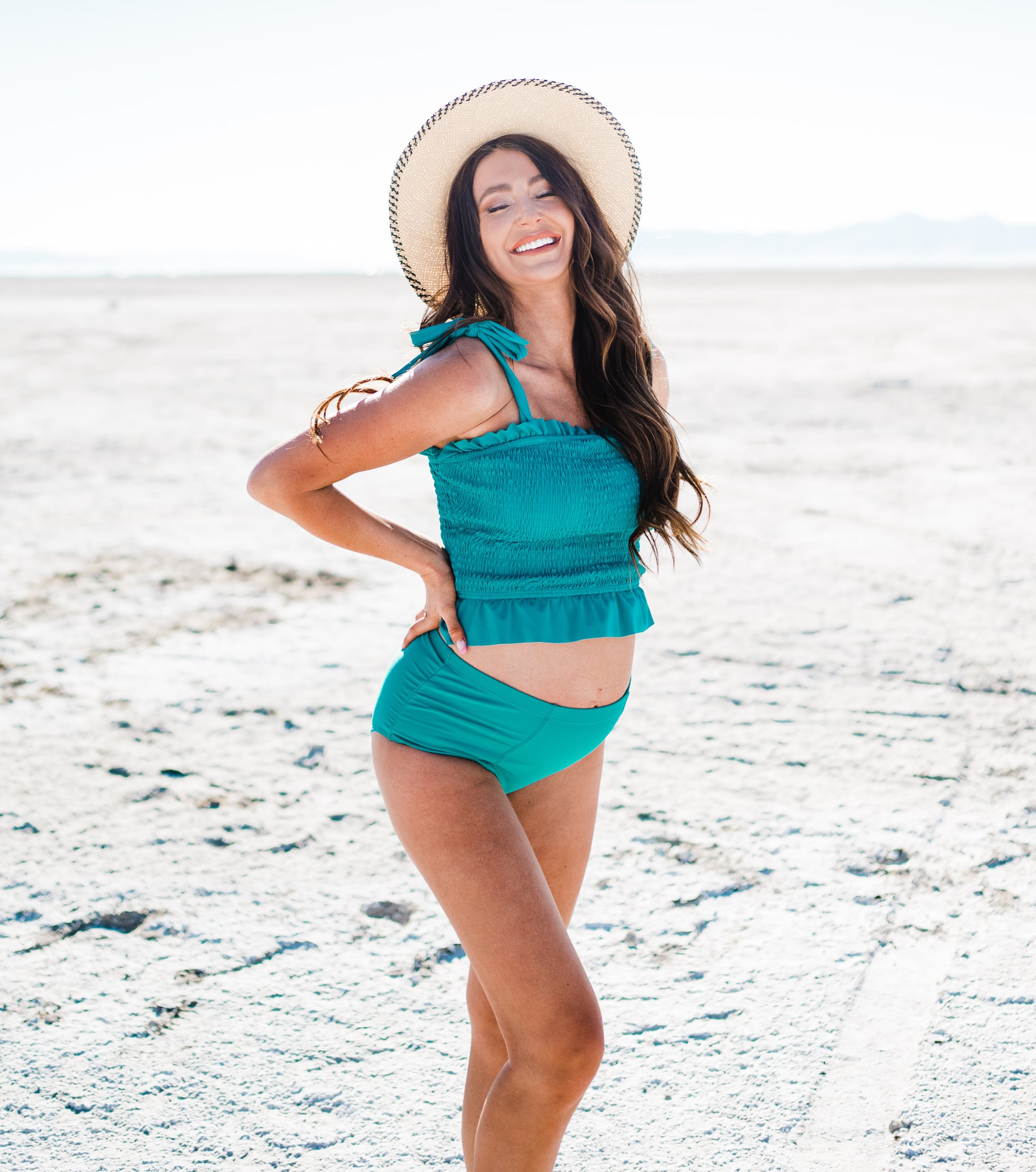 As with other top and bottoms combos, these bottoms can be mixed and matched or easily swapped out for the next size up when the time comes, without having to replace the whole suit.
Thick Strap Tank Top Maternity Suit
Shop Traveler Top
Shop Sun Baked Bottoms
Sometimes you want a bit more support than a regular bikini top provides. In that case, a top with thick straps is what you need. This top is fully lined, has thick straps and a shelf bra, and removable padding. The high scoop neck provides plenty of coverage.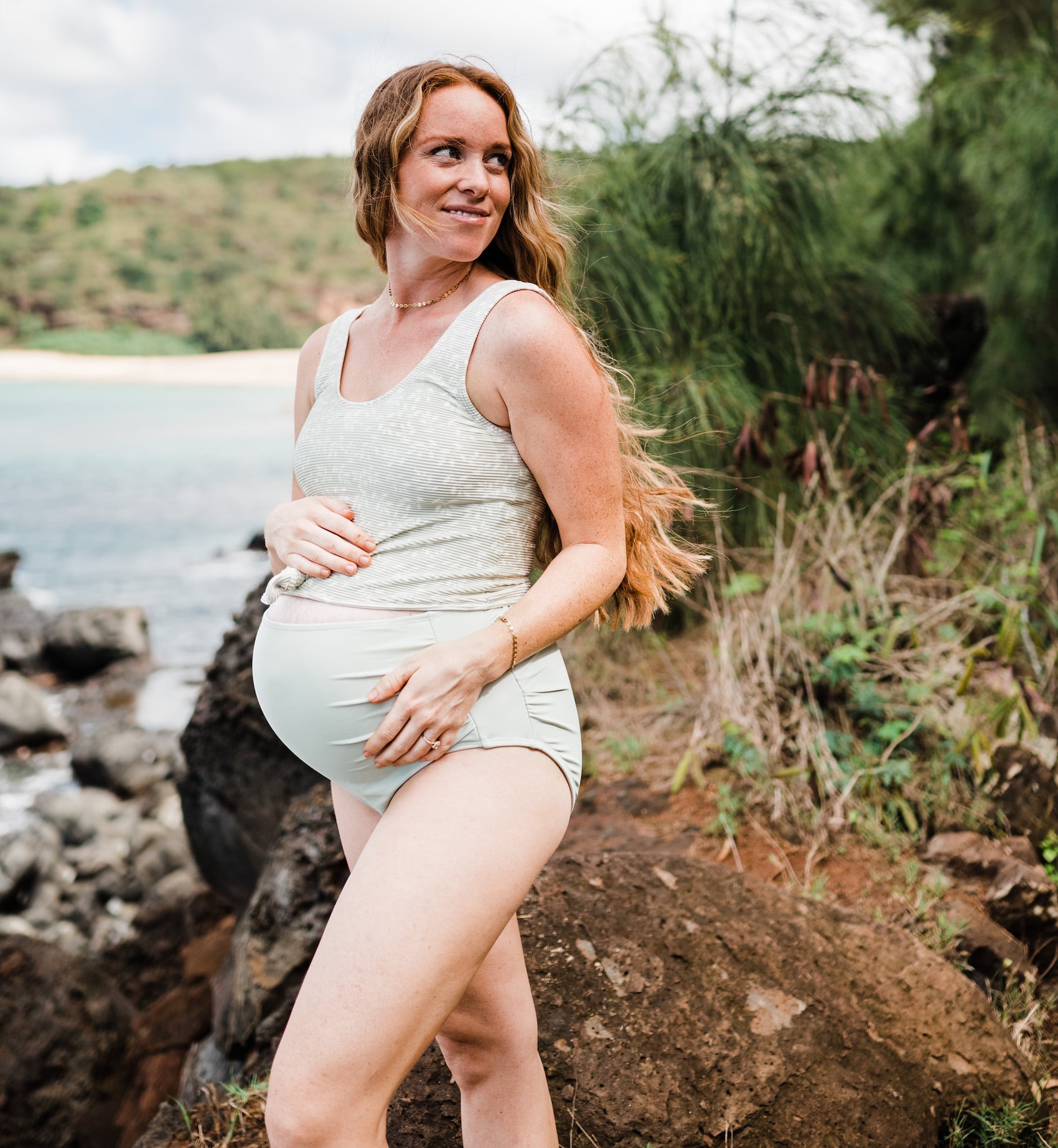 Pair it with ruched, ultra high-rise bottoms for a look that's not only modest, but also supportive.
Double Strap Top Maternity Suit
Shop Destination Top
Thick straps are good, but when your body shape is constantly changing, adjustable straps are even better. This double strap top has fully adjustable straps to accommodate your growing figure, and the length is enough to give you full coverage when paired with ultra high rise bottoms.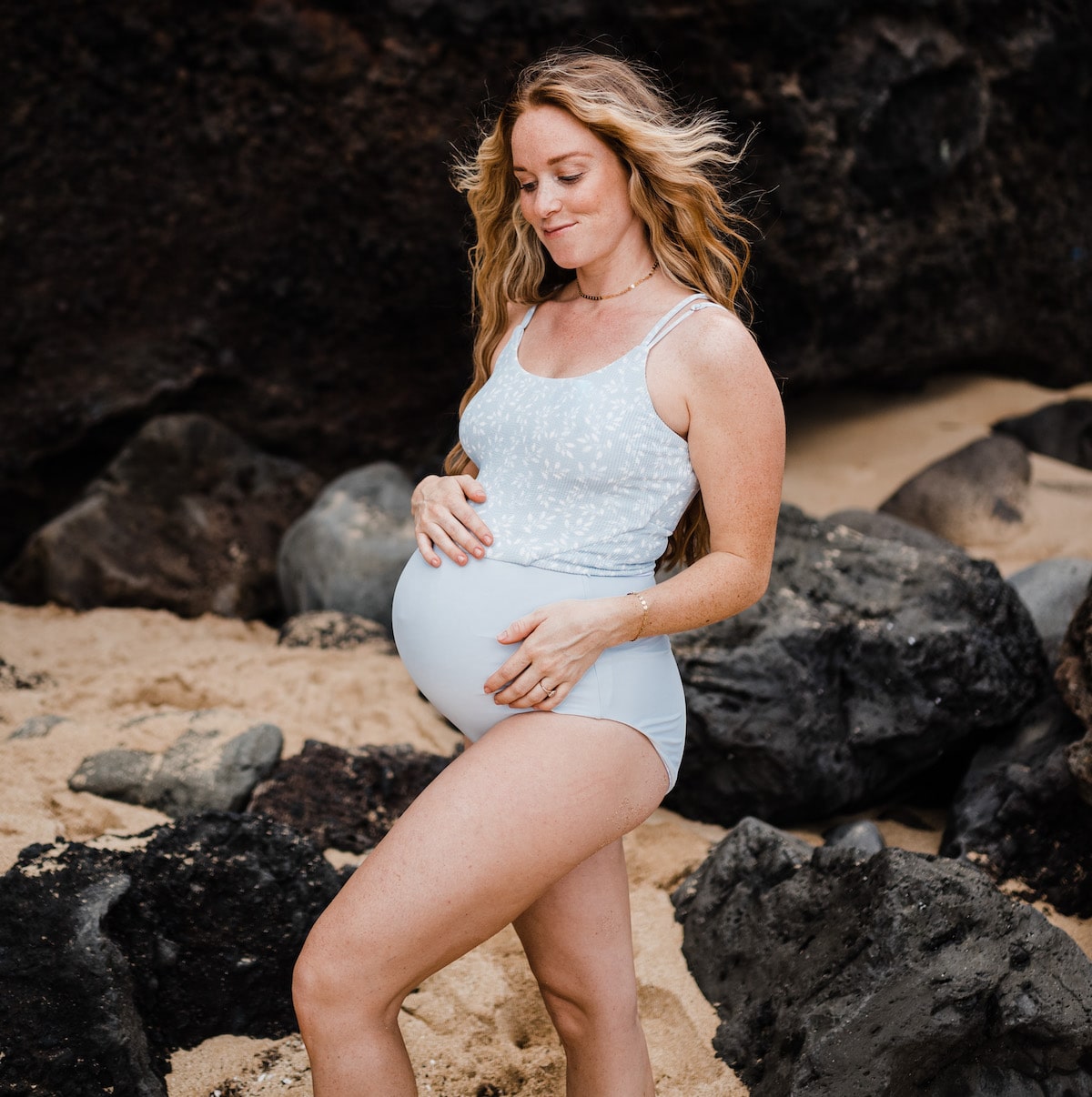 These bottoms are ultra high rise, provide full coverage in the back, and are reversible. Pair them with a matching top for a one-piece look.
Which Modest Maternity Swim...Suits You?
As with choosing any swimsuit, there's no wrong or right answer about which maternity suit is right for you. Whatever fits that baby bump best. The best suit for you is the suit that makes you feel most comfortable, and supports you while you move, swim, surf, play volleyball, lounge, or whatever!
That being said, it's important that your suit fits well. If you're choosing a one-piece or tankini, you'll need to take your height into consideration when choosing a size, as well as your bra and undies size.
The suit should be snug but not tight. When you're buying a maternity suit during pregnancy, it's a good idea to buy one size larger than you would usually buy, to give yourself room to grow. Make sure the suit doesn't ride up or bunch, and take special note of any places that pinch or rub—being pregnant is already uncomfortable, you don't need to add any additional discomfort!
Use our swimsuit size chart to learn your swimsuit size so you can choose the right maternity swimsuit for your body.