Written By
Lizzie Shipton
Figuring out your swimsuit size can be tricky, particularly when there are so many different types of suits out there. Not only that, it seems like these days every company has a slightly different size chart—you might be a "small" or a "6" or a "32" or something else entirely!
So how can you guarantee that you're getting the right fit for your body? Read on for some basic sizing tips, plus some more in-depth methods for measuring yourself so you never have to wonder "what size swimsuit am I?" again.
What's the Best Swimsuit for My Body Type?
Okay, let's talk about body types and swimsuits. We want to say upfront that there is no "right" bathing suit for any particular body type. The best swimsuit for your body is the one you feel most comfortable in! We believe that every body is a "bikini body" when it has a bikini on it.
That being said, we understand that some women find certain cuts more flattering, or want to accentuate certain body parts. If you prefer a one-piece over a bikini, that's great! You do you. Just remember that choosing the right swimsuit for your body doesn't have to be a big deal.
What Size Swimsuit Should I Wear?
When it comes to sizing a swimsuit, you need to think about more than just your bra and undies size. Your height will also play a role, particularly if you're looking at one-pieces or tankinis. There are a few other key things to keep in mind when sizing a new suit.
What to Look for When Fitting a Swimsuit
The suit should fit snugly but not too tightly. Ideally, you shouldn't see creases in the fabric (this indicates that the suit is too loose.) If there are any ties or buttons, make sure they don't gape or show large gaps (this indicates that the suit is too tight.)
Next, make sure the suit doesn't ride up or sag. Not only is it, um, embarrassing to have your bits popping out unexpectedly, but it's also super uncomfortable! If possible, try the suit on and wiggle around a bit. If you notice pinching, rubbing, or sagging, try a different size.
Finally, the suit should be comfortable enough to wear all day. Any slight discomfort you feel in the fitting room—whether it's pinching, rubbing or an itchy tag—can become a real pain after a few hours, especially once your suit is wet or sandy.
How to Measure Swimsuit Size
There are a couple of different ways to answer the question "what size swimsuit am I?" The easiest way to answer this is to look at the size of your clothes. The more accurate way is to take your body measurements.
Depending on how the company you're buying from sizes its suits, you might need to use either one of these approaches.
Using Clothing for Swimsuit Sizing
S/M/L
Many swimsuit companies use the simple approach to sizing: small, medium, large. If you have clothes that use these sizes, they can give you a rough idea of what size swimsuit you need.
Of course, every company's measurements are slightly different, so it's a good idea to try the suit on if you can or read reviews. If a company typically runs large or small, you can bet that someone will have left an online review about it.
Pant Size
If the swimsuit you're looking at uses numbered sizes, these will correspond at least roughly to the size of your pants or dresses. Even if they don't match up exactly, they'll give you some idea.
Taking Your Measurements
By far the most accurate way to get your swimsuit size is by taking your measurements. In fact, it's a great idea to have your measurements written down somewhere when shopping for any clothes!
To take your measurements, you'll need a soft tape measure. If you don't have one, you can use a piece of string to take the measurements and then lay the string against a metal tape measure, ruler, or yardstick to get the number. We recommend a soft tape measure because it's easier to use and less prone to error.
Always take your measurements wearing either just your undies or without clothes on. Thick fabrics like jeans and sweatshirts will distort the measurements. Padded and push-up bras will give you an inaccurate bust size, so measure your bust wearing a thin, unpadded bra, or no bra at all.
You'll need at least three measurements: your bust, waist, and hips. Optionally, you can also take your torso measurement. It can be helpful to have a torso measurement, particularly when buying a one-piece.
Measuring Your Bust
Band Size
Wrap the tape measure snugly around your ribcage, just under your breasts. The tape measure should be tight but not pinching. Look at where the end of the tape measure lands and round to the nearest inch. If you've landed on an even number, that is your band size. If it's an odd number, go up to the nearest even number.
Cup Size
Stand up straight and wrap the tape measure gently around the fullest part of your bust. Don't squeeze the tape measure—it should not dig into your skin. Make sure the tape measure goes straight around your back and doesn't dip or sag.
Round to the nearest inch. Then subtract your band size and look up the result on the cup size chart below.

For example, if your band measurement was 34 and your cup measure was 36, you would do the following:
36 - 34 = 2 → on the chart, 2 = B
Your complete bra size is your band size number followed by the cup size letter. So in this case, the bra size is 34B.
Measuring Your Waist
Your waist is (usually) the smallest part of your torso. A common mistake people make when measuring their waists is measuring too low. To measure your waist, wrap the tape measure around your torso just underneath your bottom rib and just above your belly button.
Measuring Your Hips
Your hips are (usually) the widest part of your torso. To find your hips, use your hands to find the top of your pelvic bone. You can use the pointy part of your bone as the marker to start the tape measure. Stand with your feet together and wrap the tape measure around the widest part of your hips.
Depending on how your body is proportioned, your hip measurement might include some or all of your butt. That's fine.
Measuring Your Torso
This measurement is usually only necessary for one-piece swimsuits, but it's still a good piece of information to have. To measure your torso length, run the tape measure over one shoulder, all the way down between your legs and back to the same shoulder.
Swimsuit Size Chart
Once you've got your measurements, use a size chart like the one below to figure out which size you need. Again, every company might use slightly different measurements for small, medium, large, etc. Look up the size chart for the company you're purchasing the suit from.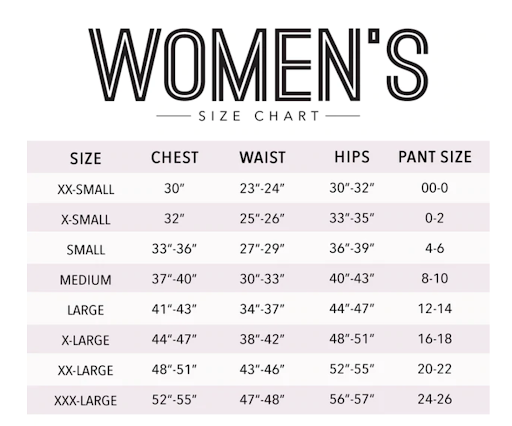 One Piece vs Bikini
If you're having a particularly difficult time answering the question "what size swimsuit am I", then buying bathing suit separates might be the easiest way of ensuring a good fit.
If you're busty or carry more weight in your hips and butt than you do up top, it might be difficult to find a one-piece that fits perfectly. Consider buying a top and bottom of different sizes. If you prefer a one-piece look you can achieve this by buying tankini separates or by pairing a high-waisted bottom with a long top.
Final Word - Don't Sweat the Size!
It should go without saying, but the number or letter on your tag doesn't matter! As we've seen, sizes can vary a lot between brands. You might be a Small at one shop and a Medium somewhere else. As long as your suit is comfortable and flattering, there's no need to sweat what the tag says.