Written By
Lizzie Shipton
Coming up with cute matching outfits for you and your kid is one of the greatest joys of being a mom. Okay, maybe not one of the greatest joys, but even the most cynical mom can't deny that mommy and me swimsuits are pretty darn fun.
The challenge is finding a look that both you and your kid will enjoy (if your kid is old enough to have their own likes and dislikes when it comes to clothes.) You don't want to wear something that makes you look like a kid, and you don't want your kid wearing something inappropriate for their age.
We've put together this list of fun matching swimsuits for you to try with your little ones this summer.
Mommy & Me 4th of July Swimsuit Trends
Independence Day suits don't have to be cheesy. Stars and stripes are, obviously, classic patterns, but more important than the patterns are the colors. If you don't like a bright, bold, patriotic look, try for more muted, subtle shades. In any case, 4th of July swimsuit trends for 2023 bulking up to be an impressive range of colors, patterns and designs!
Red, White & Blue Stripes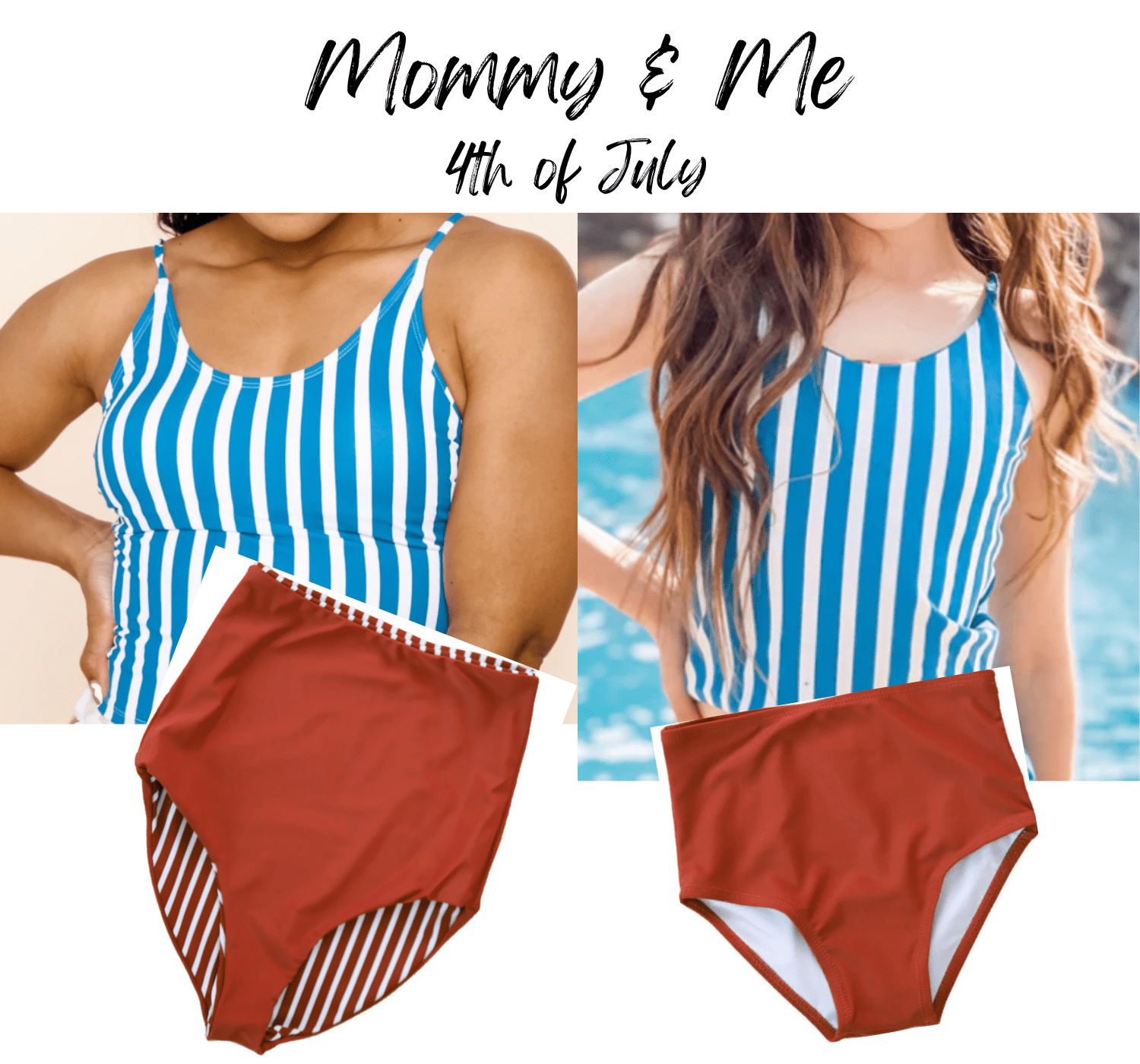 Get the mommy look: Top and bottoms
Get the kiddo look: Top and bottoms
This look fits the classic swimsuit 4th of July trend–royal red, white, and blue stripe that resemble our tried-and-true American flag. The blue and white striped Centara top for both mom and kiddo is a form-fitting, scoop-neck top with adjustable tie straps.
Paired with the striped sienna Bali reversible bottoms for mom, or solid sienna Bali bottoms for kiddo, this look can either be all stripes or mixed and matched. Personally, we like to mix and match!
Patriotic Meets Exotic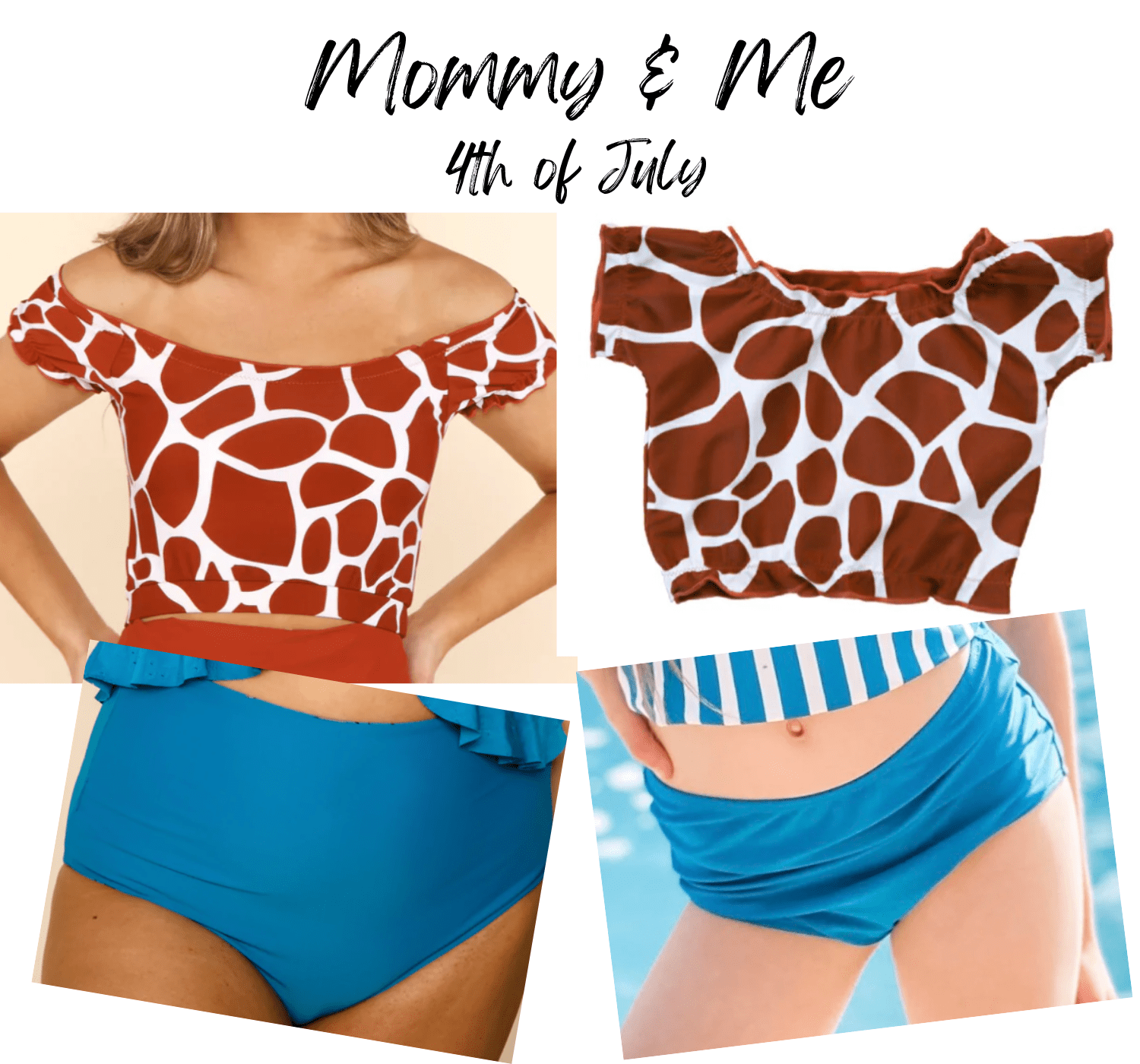 Get the mommy look: Top and bottoms
Get the kiddo look: Top and bottoms
Put a fun twist on the patriotic by throwing in a little exotic floral or animal print. This Mo'orea Reversible Giraffe top (for both kids and adults) can be worn as a solid burgundy off-shoulder top, or flipped to reveal a fun red and white giraffe print.
Mom can pair the top with the Bali Reversible Bottoms for either a solid dusty blue or fun blue floral look, while kiddo can rock the bright blue Mini Bali Bottom.
Floral Fourth of July
Get the mommy look: Top and bottoms
Get the kiddo look: Top and bottoms
Speaking of floral, why not go all out and make your whole Fourth of July look pop with floral color? The pink flowers and blue background on the kid's Mini Cabana Bottom, paired with the solid white Mini Traveler Top are a subtle nod to Independence Day colors.
Meanwhile, mom will look elegant in the adult version of the white Traveler Top, and matching Reversible Cabana Bottoms.
Flowers and Stripes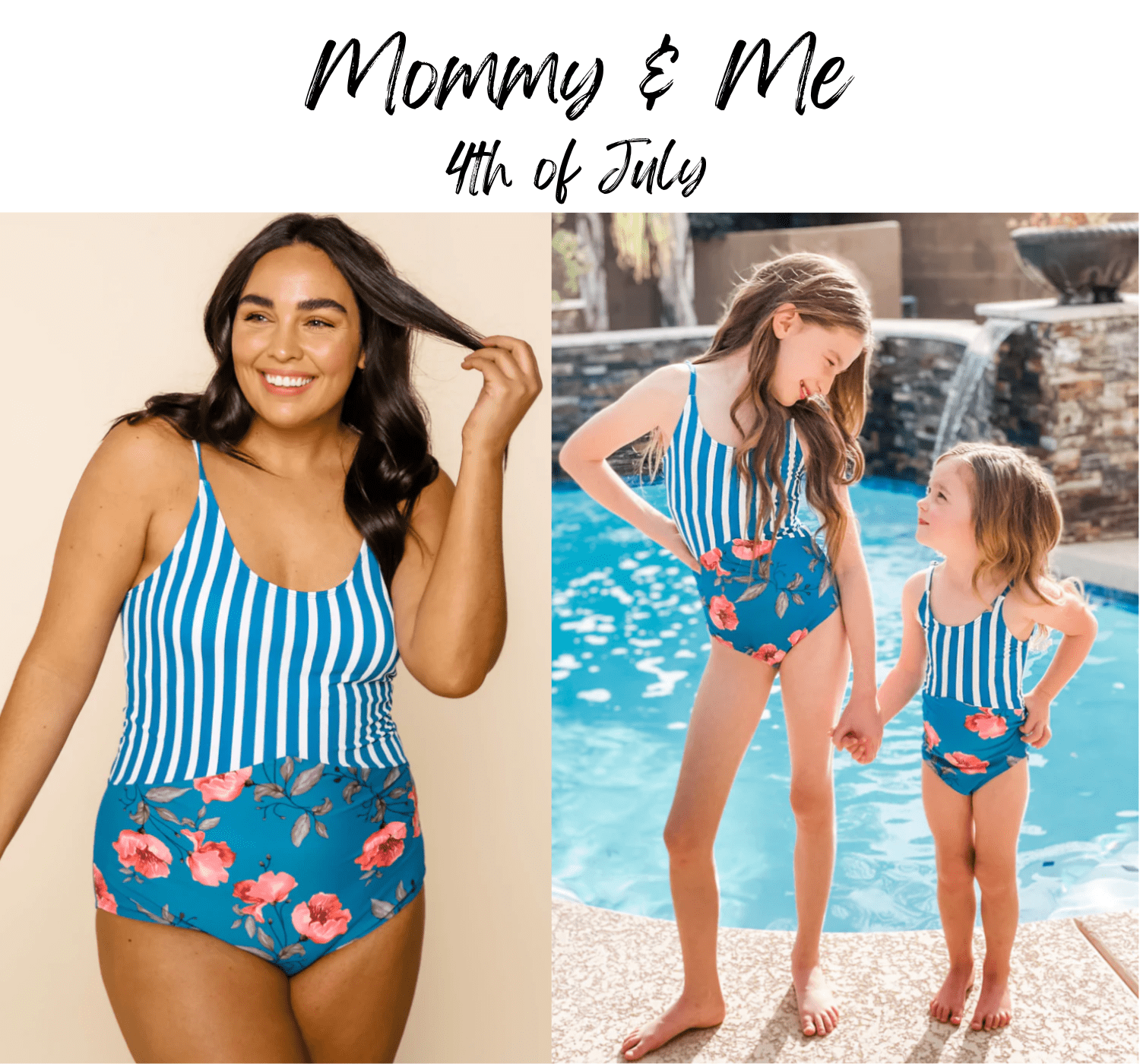 Not into stars and stripes? How about flowers and stripes? The matching one-piece Sailor swimsuit for mom and kiddo pairs a bold blue stripe up top with a pretty floral pattern below. The back cutout and scoop neck make this a cute but modest look, showing just enough skin to feel both comfortable and flirty.
Mommy & Me Leopard Print Suit Trends
Leopard print has come a long way since the eighties. No longer the purview of teenage girls with big hair and too much lipstick, leopard print can be classy, cute, stylish and best of all, fun for your kid.
Classic Leopard Print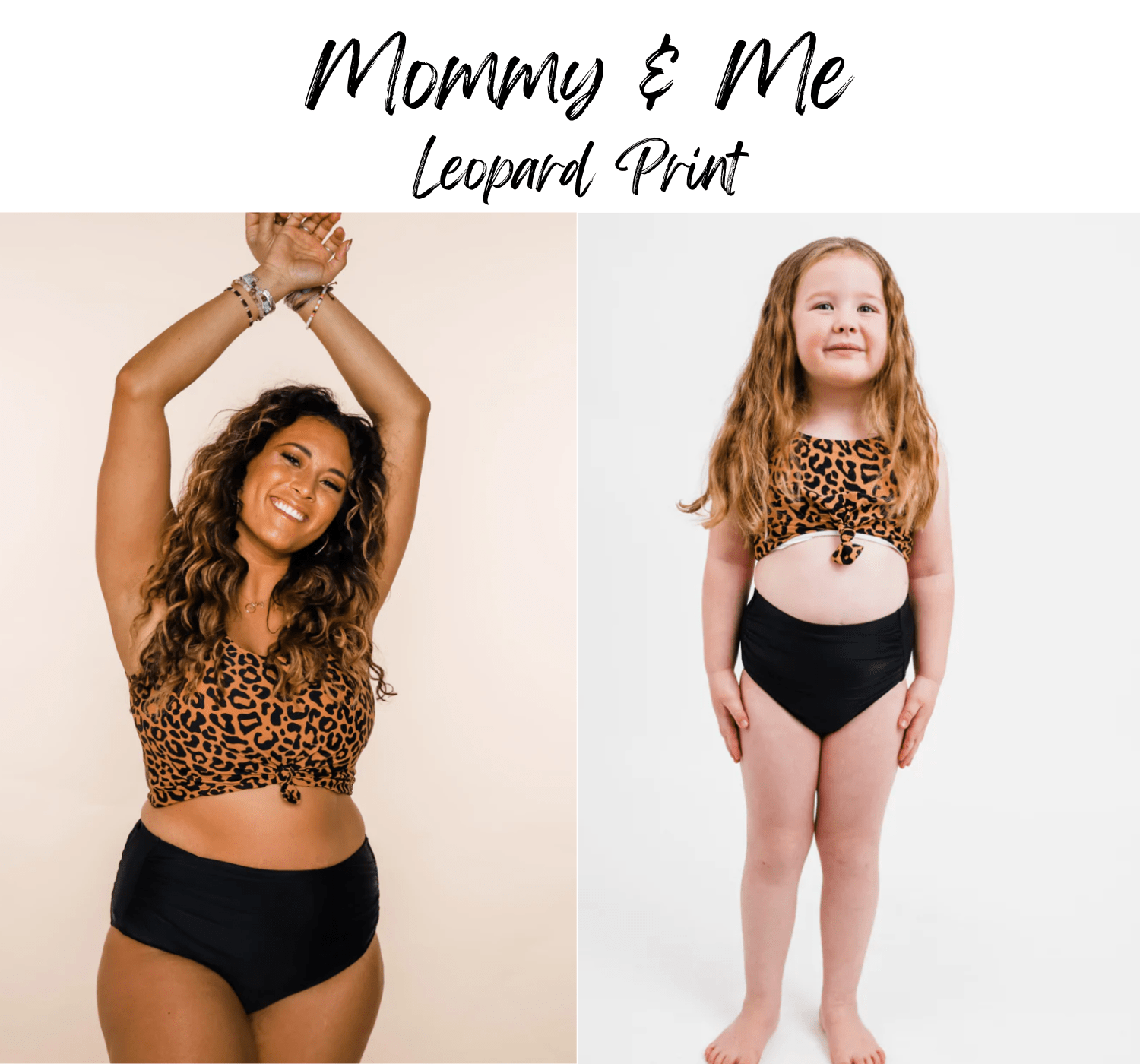 Get the mommy look: Top and bottoms
Get the kiddo look: Top and bottoms
It doesn't get much more funky than classic leopard print. The kid's Mini Traveler Top in leopard print has a cute scoop neck and back, with a knotted front. Pair with a solid black bottom for serious eighties vibes.
Meanwhile, you can rock your matching Leopard Print Traveler Top and black Barefoot Bottom. Pair with your biggest sunglasses, biggest hair, and sassiest attitude. The quintessential leopard print will always be a staple trend in the bathing suit world.
Pastel Sage Leopard Print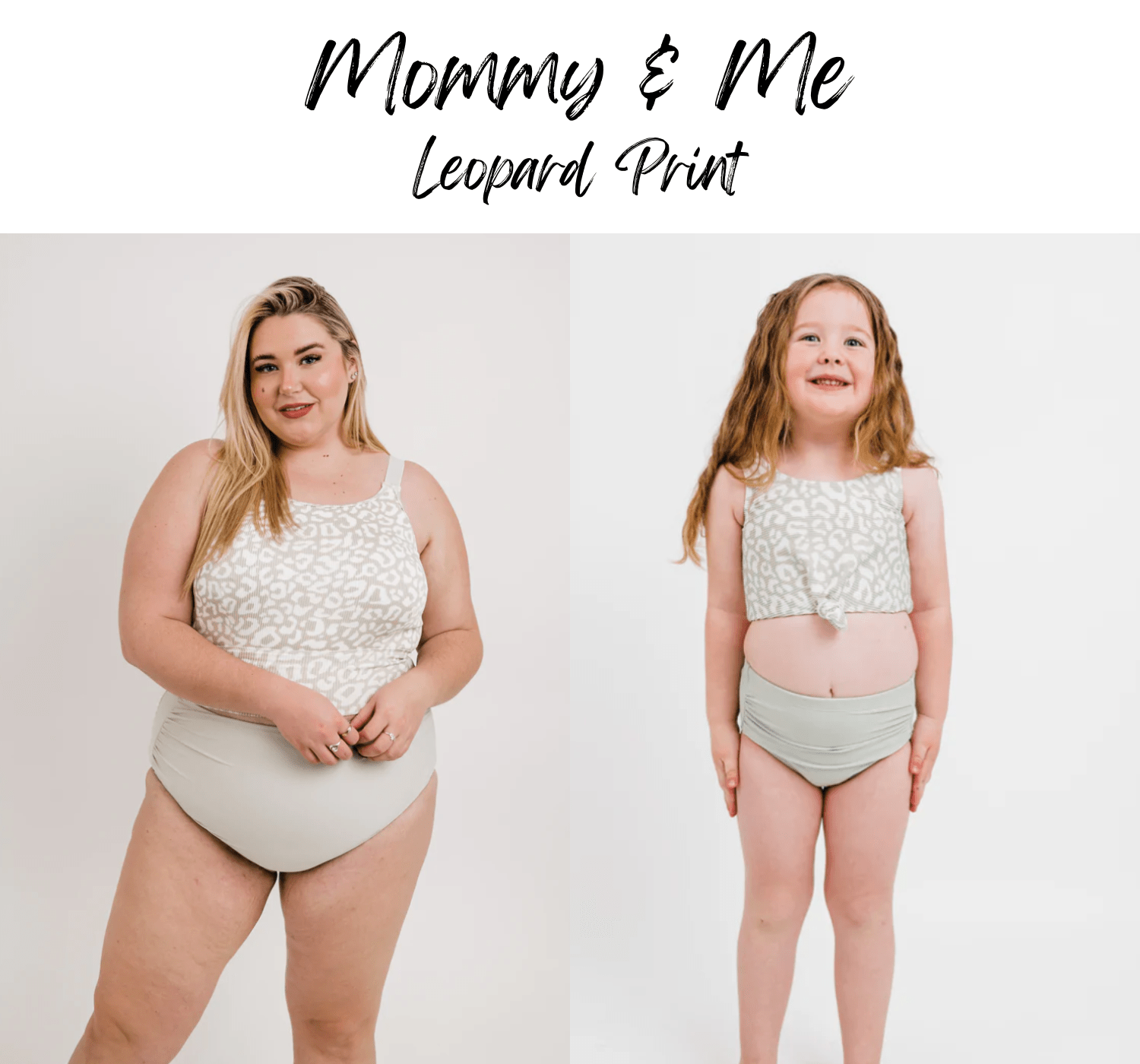 Get the mommy look: Top and bottoms
Get the kiddo look: Top and bottoms
If big, bold, eighties vibes aren't your thing, you might prefer a more subtle look. This sage Leopard Print Adventurer Top (for mom and little one) has a barely-there leopard print pattern, thick, comfortable straps, and a high neckline to flatter every chest size.
Try the Barefoot Bottom in sage (for kids too) to complete the muted pastel look.
A Classic Pastel Twist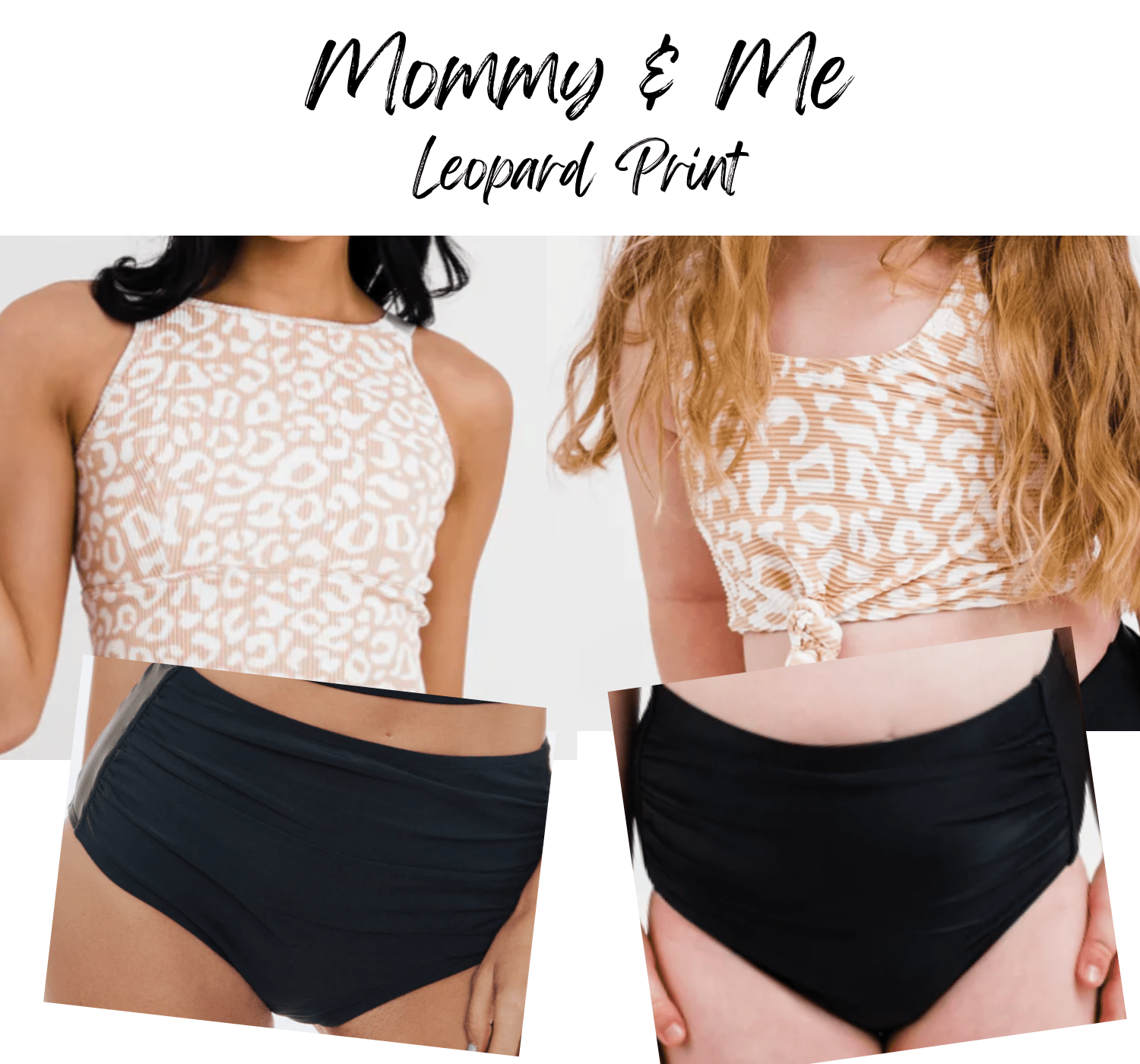 Get the mommy look: Top and bottoms
Get the kiddo look: Top and bottoms
How about a combo that's just right: not too funky, not too muted? The tan Leopard Print Traveler top paired with bold, classic black bottoms is just that look. Somewhere between eighties hair metal and muted sage, it strikes a balance between making a statement and blending in.
Classic Leopard Print One-Piece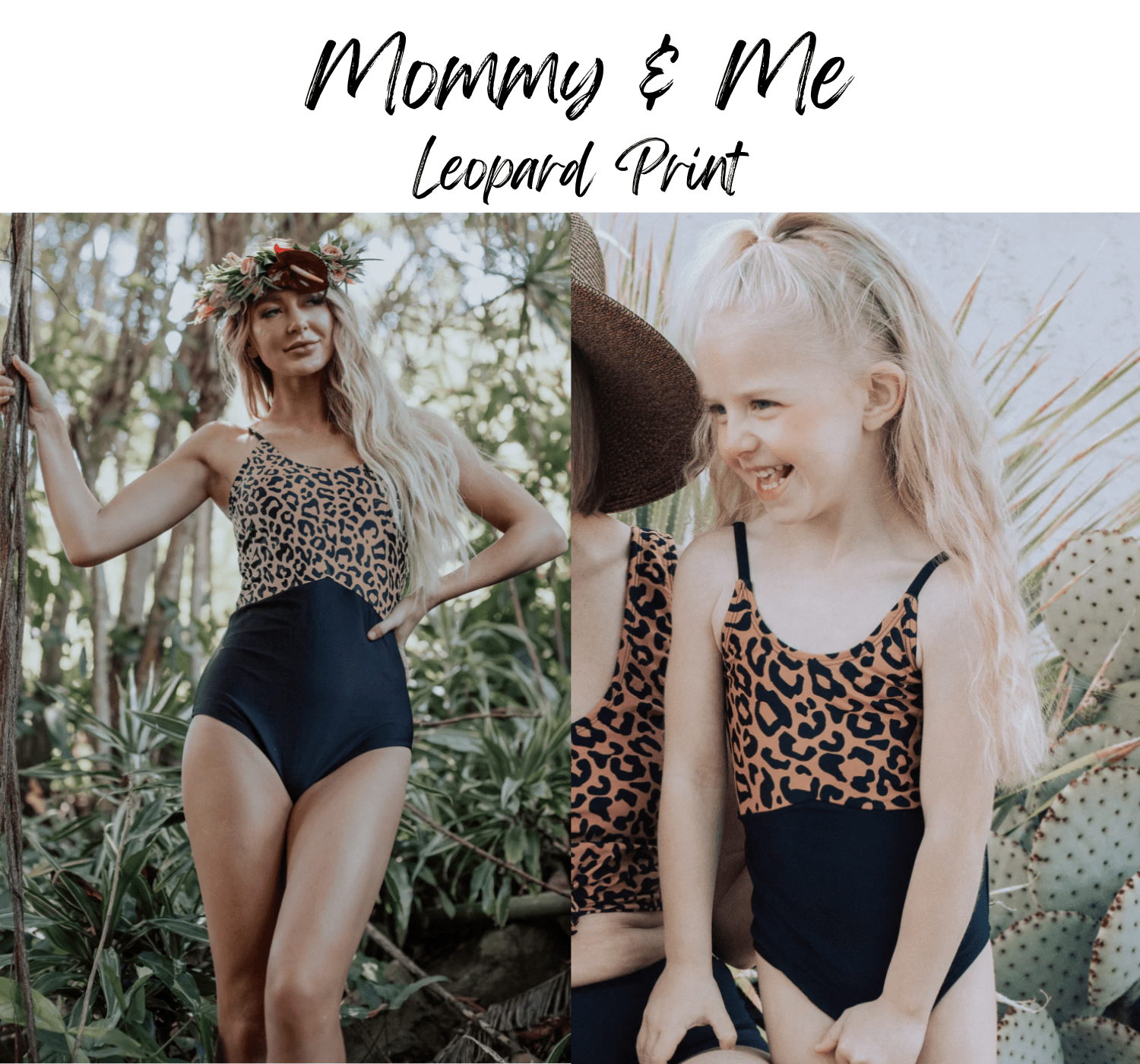 Prefer a one-piece over a bikini or tankini? We've got you covered (literally.) The Sailor Leopard Print one-piece (Mini Sailor Leopard one piece for kids) is an ultra-flattering swimsuit with a scoop neck back and front, and cute button detail above the back piece cut out.
Pair with leg warmers and you and your kid will feel like you came right out of a Jazzercise class! (Halloween costume idea, anyone?)
Mommy & Me Retro Swimsuit Trends
Retro looks are always in. Timeless and modest, they can be worn to any event or occasion. These mommy and me retro swimsuit trends are a nod to earlier generation styles. A retro mommy and me swimsuit combination is the perfect way to rock a classy look with your kid, without looking like you're trying too hard.
Mango Floral Fun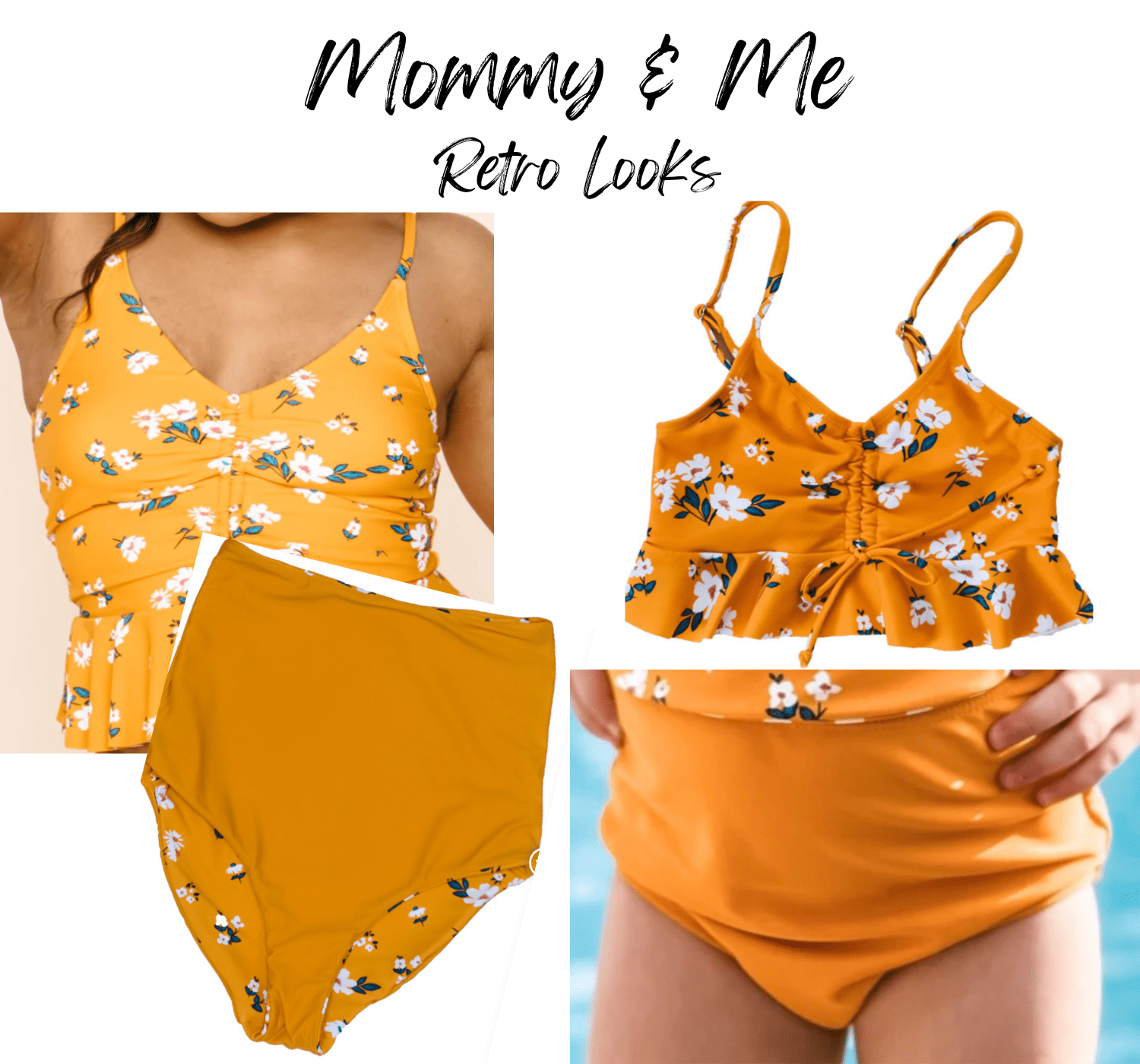 Get the mommy look: Top and bottoms
Get the kiddo look: Top and bottoms
This bright, ruffled top (Phi Phi for mom and Mini Phi Phi for kiddos) will give you serious 1960s tiki party vibes. The drawstring bust and thin straps are adjustable to fit any size, while the ruffling creates a striking silhouette that's flattering for any figure.
The Mini Bali Bottom and Reversible Bali Bottom in yellow pair perfectly with the overall color scheme, and give you a little flexibility when it comes to deciding whether you want to match all the way or not.
Watermelon Floral Delight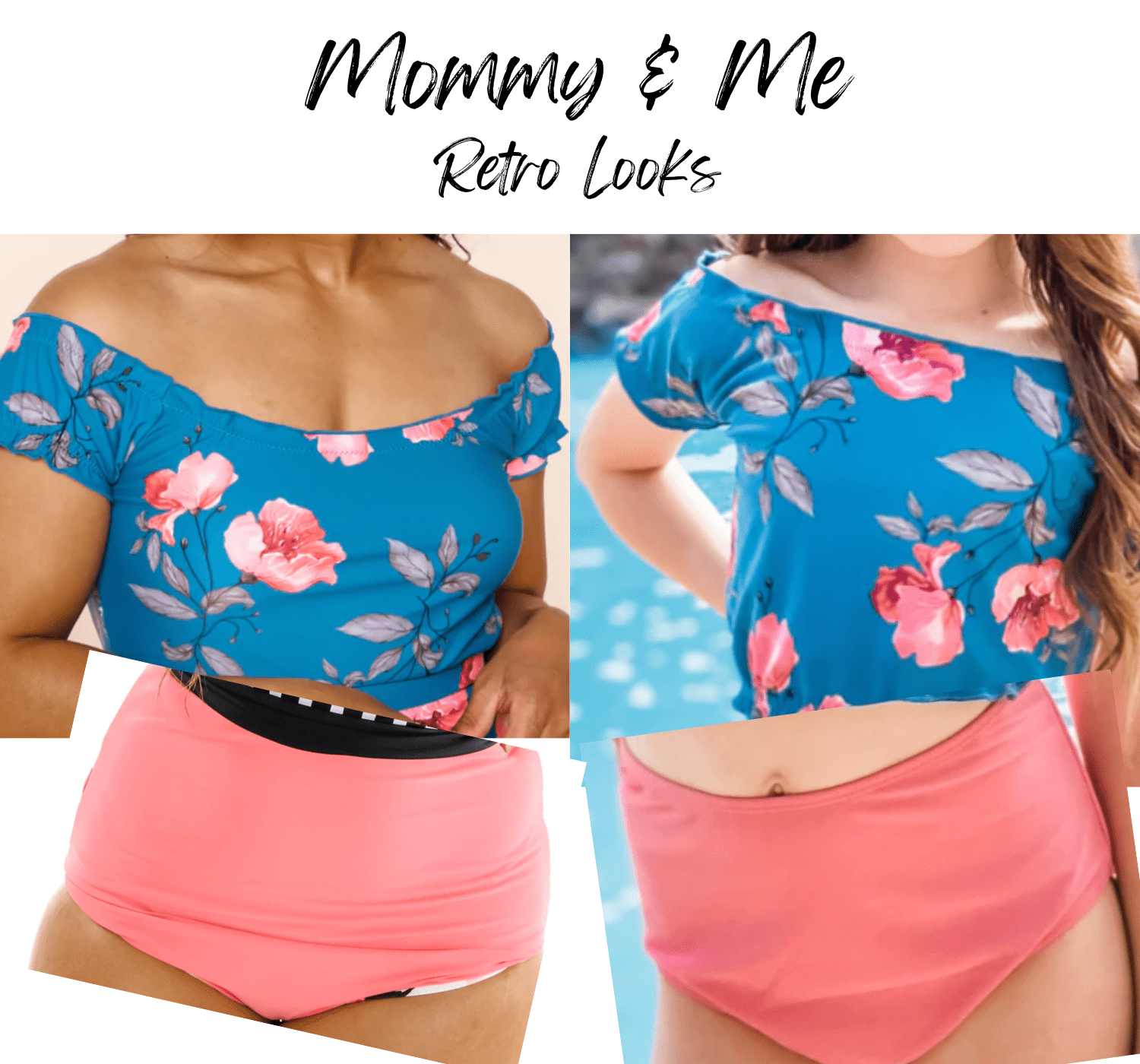 Get the mommy look: Top and bottoms
Get the kiddo look: Top and bottoms
For mom, the Mo'Orea Floral Top and Floral/Watermelon Reversible Bali Bottoms make a stunning combination. You can decide if you want to go all out with the floral pattern on top and bottom (the pink color in both pieces matches really nicely) or would rather go for a solid color below.
For your little one, a matching Mo'Orea Floral Top and watermelon pink Bali Bottom make for a very pretty combination.
Simple in Green Stripes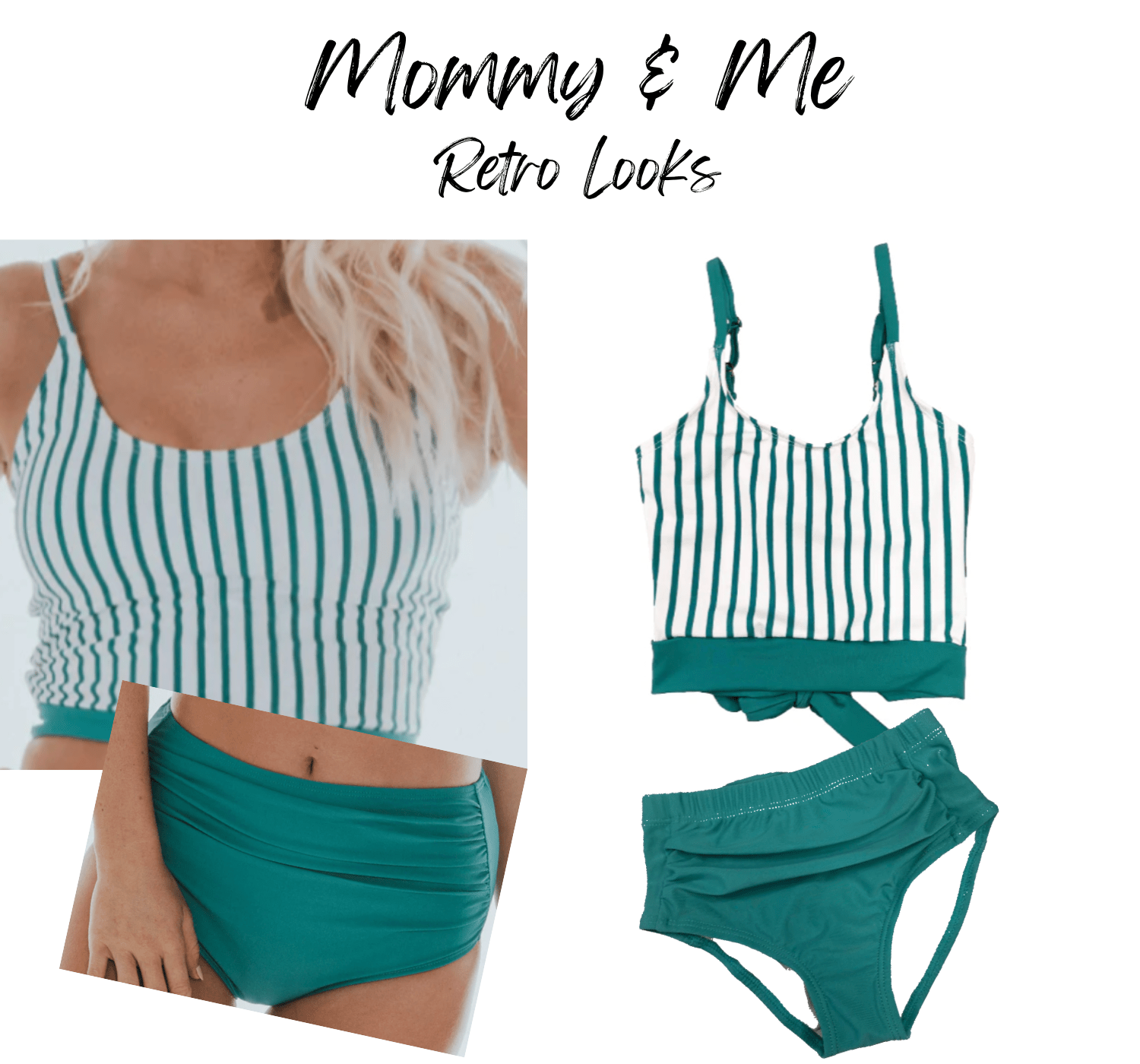 Get the mommy look: Top and bottoms
Get the kiddo look: Top and bottoms
This green and white striped combo is a throwback to the modest styles of the 1950s. The kids' Mini Lounger Top in green and white stripes matches the adult Lounger Top perfectly, and paired with the Mini Barefoot Bottom and Barefoot Bottom in green, the look is complete.
The top features a supportive, form-fitting tankini style with thin straps and back bow tie and button detail.
Vibrant Pink Floral One-Piece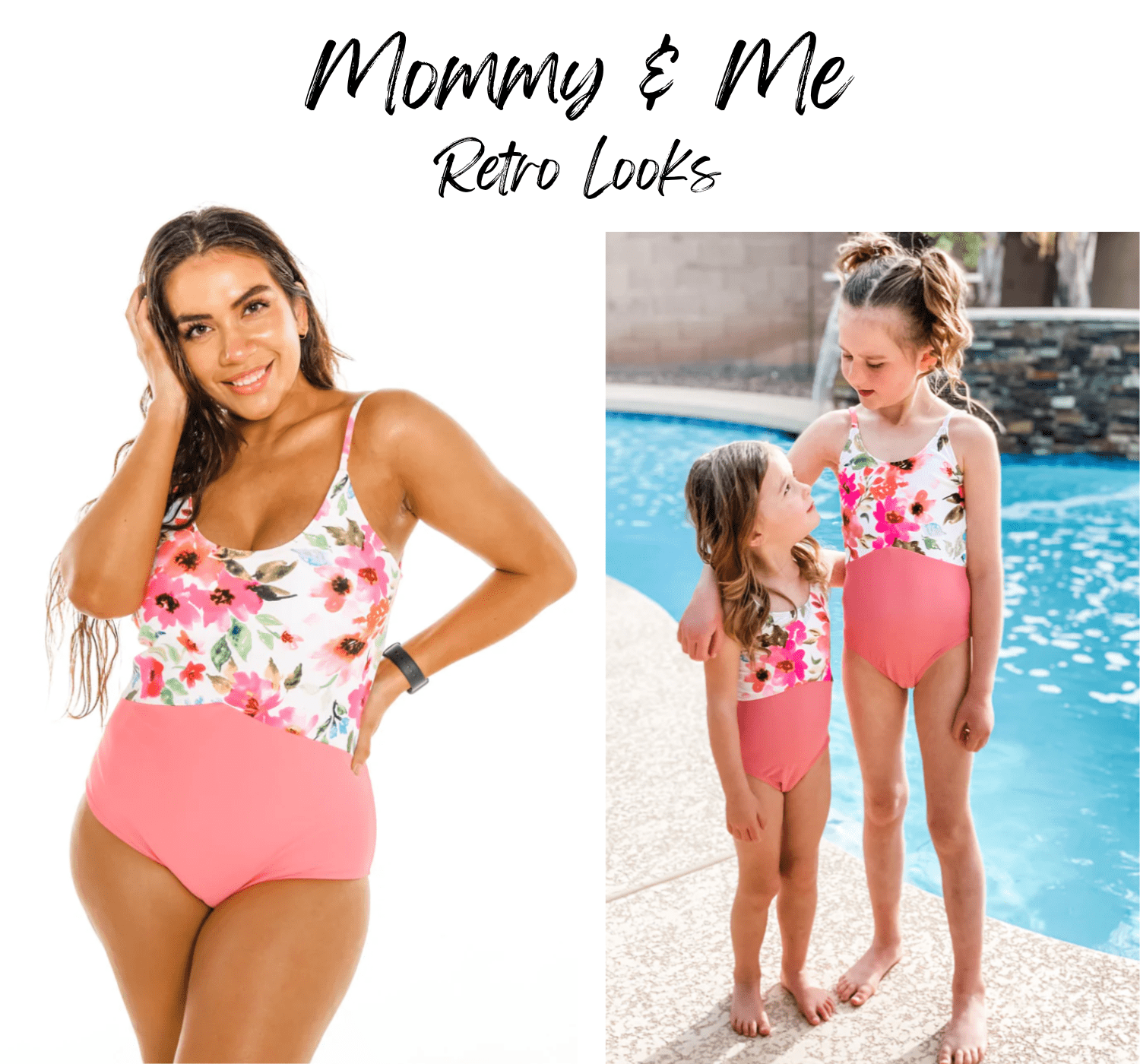 No list of retro swimsuit looks would be complete without a one-piece look. The floral/watermelon Sailor and mini Sailor swimsuits are modest suits featuring a beautiful floral design up top and pretty pink color below.
The suits feature a back button detail and back bow tie, and a slightly arched empire cut at the waist for ultimate form-flattering fit.
Mommy & Me Mix n' Match Swimsuit Trends
Not into the "too-matching" matching family swimsuits look? No worries. Mix-and-matching is still matching! Try combining some of the following looks to come up with your own mommy and me swimsuit looks.
Pink & Black Animal Print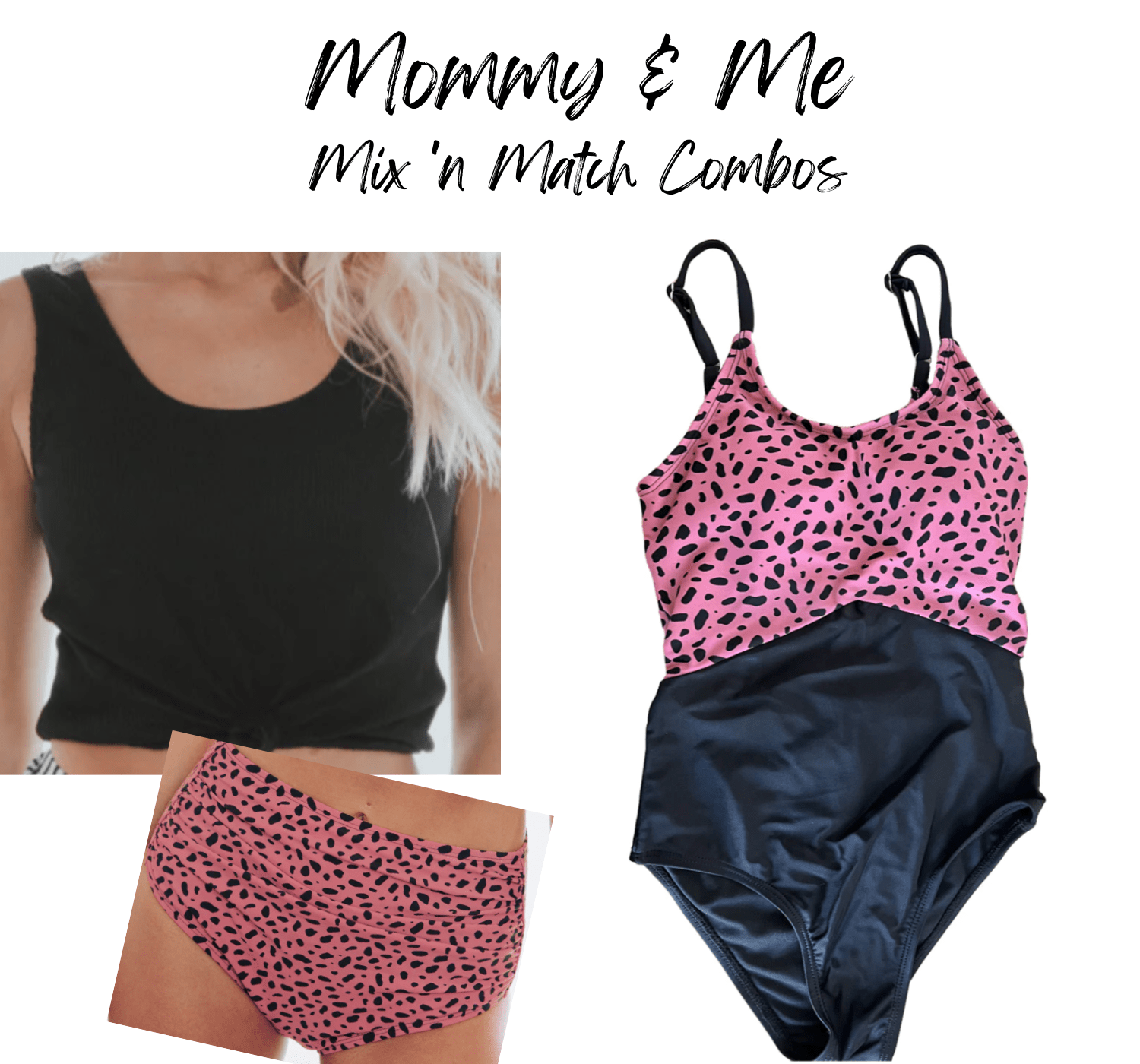 Get the mommy look: Top and bottoms
Okay, when we said it couldn't get more funky than classic leopard print…we lied. It can get more funky! This fun pink and black Mini sailor one-piece will look adorable on your little wild thing.
To match without going overboard, mom can pair the solid black Traveler top with the pink and black animal print Barefoot bottom. Be aware that this bottom is not reversible—so you'd better be ready to commit to the print! A funky twist to the classic leopard print bathing suit trend.
Mint & Pink Bubble Gum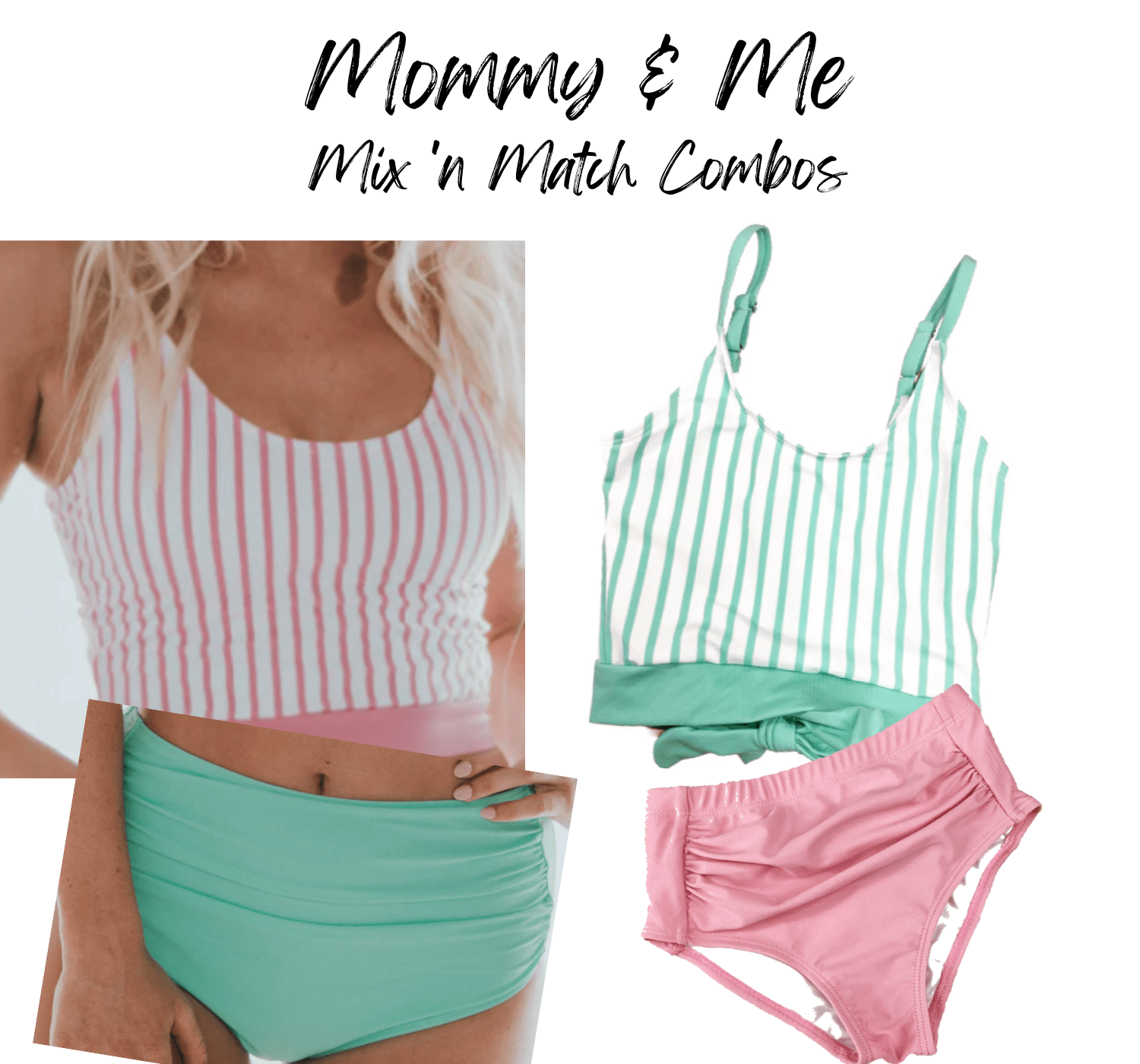 Get the mommy look: Top and bottoms
Get the kiddo look: Top and bottoms
How about a mix and match with opposite colors? The mint green Lounger top and bubble gum pink Barefoot bottom will make your kid look like a little lollipop on the beach this summer. Meanwhile, you can flip the script with the same look in a reversed color scheme by rocking the pink top and mint green bottom!
Naturally Tan in Floral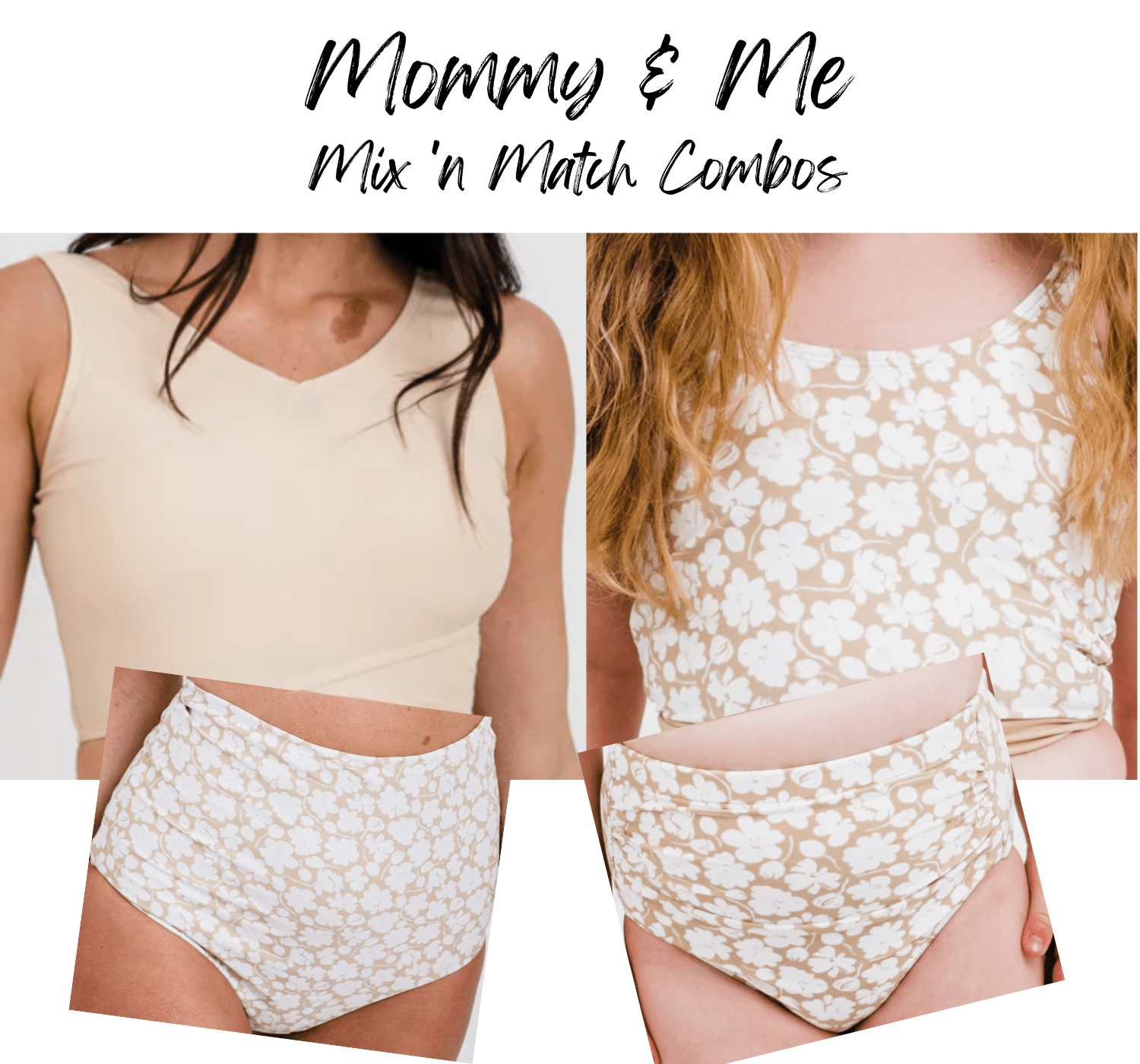 Get the mommy look: Top and bottoms
Get the kiddo look: Top and bottoms
For a sophisticated look that will still turn heads, you can't go wrong with neutral tan and subtle floral prints. Give your kid a one-piece look without the one piece by pairing the mini Lounger top in tan floral print with the mini Barefoot bottom in the same print.
The almost-but-not-quite matching look for mom pairs the solid tan Odyssey top with the Leisure reversible bottoms in tan floral print. These bottoms are super high-waisted with full-coverage in the back for a modest fit.
Make Mix n' Matching Memories
Mommy and me swimsuits are a fun way to bond with your little one, and turn a day at the beach into a lasting memory. Whether your style is casual, classic, funky, bold, or just plain silly, a mommy and me swimsuit look will turn heads and make your day even more memorable. Just don't forget to take lots of pictures!