Written By
Lizzie Shipton
It's important to stay hydrated and keep kids cool during long, hot summer days, but getting kids to drink enough liquids can be challenging. You don't just want your little ones filling up on soda and kool aid. That's why kid friendly summer drinks are such a great idea!
With a little bit of planning, you can serve tasty, healthy, super refreshing drinks for kids and adults alike at your next party or fun-in-the-sun day, or during your next family summer getaway.
Lemonade
Nothing says summer like lemonade. It's a cool, sweet, and refreshing classic. Unfortunately, store-bought lemonade often comes with so many additives and so much sugar that it doesn't feel great to serve it to your kids. Fortunately, making your own is easy! And because it only contains real lemons, sugar, and water, it's much better for you than the store-bought stuff.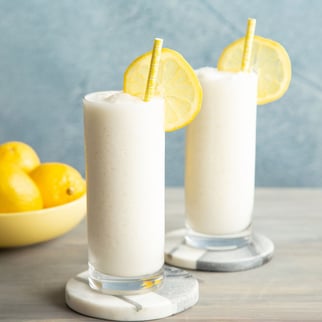 Ingredients
1 cup granulated sugar (use less for tarter lemonade)
6 cups cold water
5 to 8 lemons (about 1 cup of juice)
Lemon slices or fresh mint, garnish


Method
In a medium saucepan, combine the sugar and one cup of water and bring to a boil, stirring until all the sugar is dissolved. Remove from heat and pour the syrup into a heat-safe container. Leave it to cool to room temperature.
In a separate pitcher, juice and strain the lemons. Add the remaining five cups of water and stir to combine. Stir in the cooled syrup. Pour into glasses and garnish with mint or lemon slices.
A Fun Twist: Pink Lemonade
To make pink lemonade, simply pour the finished lemonade into a blender with about 1 cup of frozen strawberries. Blend on high until combined and serve with a strawberry garnish. For frozen lemonade, use more strawberries to thicken the pink lemonade. You can also make frozen lemonade by replacing the frozen strawberries with an equivalent amount of ice.
Orange Cream Smoothies
This recipe will take you back to your childhood, when the ice cream truck used to hand out orange cream popsicles. The beauty of this recipe is that you control the amount of honey and type of milk you use (try almond milk or coconut milk for a delicious, healthy twist!)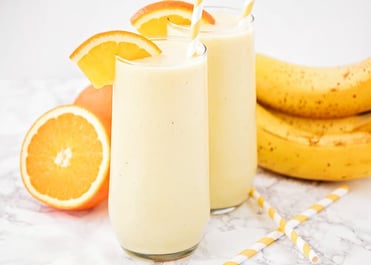 Ingredients
1 can oranges in juice
1/2 cup frozen pineapple chunks
1/2 cup yogurt (vanilla, or vanilla soy yogurt)
1 tablespoon honey
1 cup milk


Method
Drain the juice from the oranges and freeze the chunks in a Ziploc bag. Combine the frozen oranges, pineapple chunks and other ingredients in a blender. Blend on high until the mixture resembles a milkshake. Pour into glasses and serve with a straw.
A Fun Twist: Orange Cream Juice
For an even easier, equally delicious variation, use orange juice and pineapple juice instead of frozen fruit. Pour all ingredients into a sealable bottle, shake to combine, and pour over ice.
Watermelon Smoothie
Creamy drinks are rich and delicious, but they aren't always as refreshing as juice drinks. For a lighter, more fresh, equally delicious recipe that tastes great, try a watermelon smoothie. Watermelon is a fruit with a very low sugar content and high water ratio, so it's a great, healthy choice for kid friendly drinks. Just make sure kids don't spill this one - watermelon juice can be tough to wash out of swimsuits!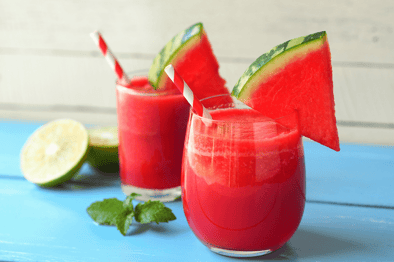 Ingredients
1 medium watermelon
1/2 cup orange juice
2 tbsp lime juice
1 tbsp simple syrup
Method
Cut the watermelon into chunks and freeze in a Ziploc bag. To make the simple syrup, combine equal parts sugar and water in a medium saucepan and boil until all the sugar is dissolved. Let cool, and store whatever isn't used in an airtight container.
Combine the frozen watermelon chunks, orange juice, lime juice and simple syrup in a blender and blend until smooth. You may need to add a small amount of cold water while blending to help it along.
Virgin Piña Colada
A piña colada is one of the most delightful summer drinks on the planet - and there's no reason your kids can't partake in the fun too! In fact, a virgin piña colada is a healthier alternative drink for adults too!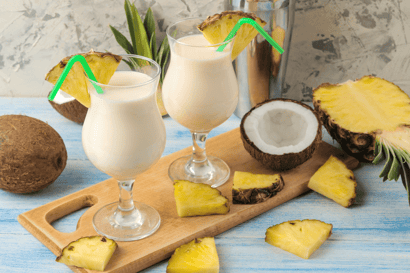 Ingredients
1 1/2 cups frozen pineapple chunks
1/4 cup ice
3/4 cup unsweetened pineapple juice
3/4 cup unsweetened coconut milk
1 to 3 tablespoons sugar, optional
Method
Simply combine all the ingredients into a blender and blend until smooth. For a thicker, sweeter alternative, use coconut cream instead of unsweetened coconut milk. Pour into chilled glasses, garnish with pineapple slices, and serve to kids and adults!
Peanut Butter Banana Smoothie
A peanut butter banana smoothie is more than a drink - with the protein from the peanut butter, the potassium and vitamins from the banana, and the nutrients from the milk, this healthy summer drink can double as a full-on meal! Make it for your kids for breakfast before a long beach day.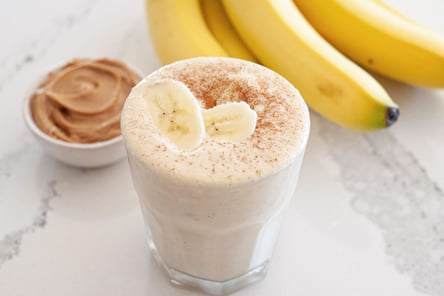 Ingredients
2 bananas
2 cups milk
½ cup peanut butter
2 tablespoons honey, or to taste
2 cups ice cubes
Method
Break the bananas into chunks and freeze in a Ziploc bag. Once frozen, combine all the ingredients in a blender and blend until smooth. We like to keep a few bananas in the freezer all the time so we always have some on hand to make this recipe whenever we feel like it!
Soda Water
When you don't have time to run the blender or mix up fancy drinks, soda water is a great alternative to plain old water. It's fun and bubbly, and extremely refreshing when served cold. Pour over ice and drop in a few raspberries, squeeze in some lime, or add a dash of fruit juice for a little flavor.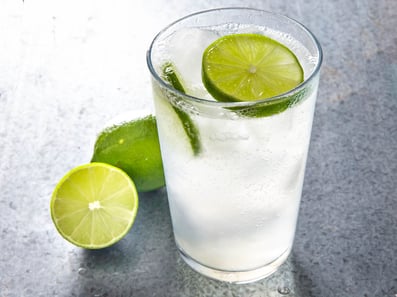 Coconut Water
Another fun alternative to plain old water is coconut water. It tastes great, is high in electrolytes, and helps replenish thirsty kids - just be careful when serving this, as it is very high in sugar!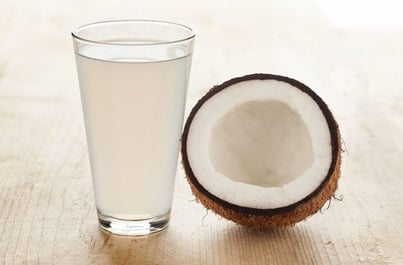 Keep Kids Cool at Your Next Kids Party!
A summer drink can be sweet and tasty without being overly sugary or unhealthy. The last thing you want is your kids to be outgrowing their swimsuits because they consumed too much sugar!
The beauty of making these summer drinks for kids is that you have complete control over the ingredients. Tweak each recipe until you get exactly the flavor and nutrition that you like. Want to swap out cow's milk for almond milk? Go ahead! Use a little less sugar and a little more fruit? Sounds great!
With nothing more than a blender and a few key ingredients, you can mix easy, refreshing drinks for kids all summer long!