Written By
Lizzie Shipton
Okay, y'all, the Barbie movie is coming and we are here for it! We played with Barbie toys as kids and we absolutely loved all the fun looks and details she had, plus the #baddie way she dominated basically every industry (veterinarian AND pilot - where does she find the time?!)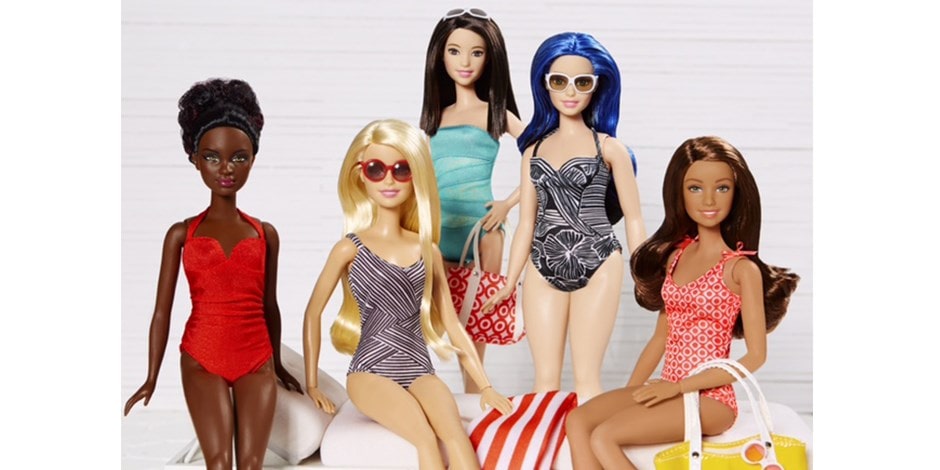 So we thought it would be fun to put together some fun Barbie swimsuit looks. Our Summer Fun swimsuit line has some strong Barbie vibes to it, so you can mix and match this summer to release your inner Barbie girl.
Barbie and Female Empowerment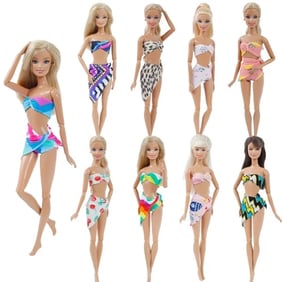 Look. There are a lot of conflicting opinions out there about Barbie. Ever since she came on the scene in 1953, she has been criticized by feminists. Many argue that she portrays an unrealistic standard of beauty for women and young girls. She has that teeny tiny little waist and alarmingly disproportionate chest. Not to mention the fact that historically, Barbie was predominantly white.
During the 1970s, Mattel overhauled Barbie's image to make her more empowering. She became an astronaut, a doctor, a businesswoman and a surgeon. More recently, Mattel has taken steps to make Barbie feel more inclusive, with dolls of every shape, size, and ethnicity. Is it too little, too late? Some believe so.
The Barbie movie aims to take this overhaul one step further. Directed by Greta Gerwig, it sees Barbie dragged kicking and screaming from her utopian (and problematic) "paradise" and into the real world. Populated by a cast of diverse and powerful women, it seeks to shine a light on some of the issues that Barbie has been criticized for in the past.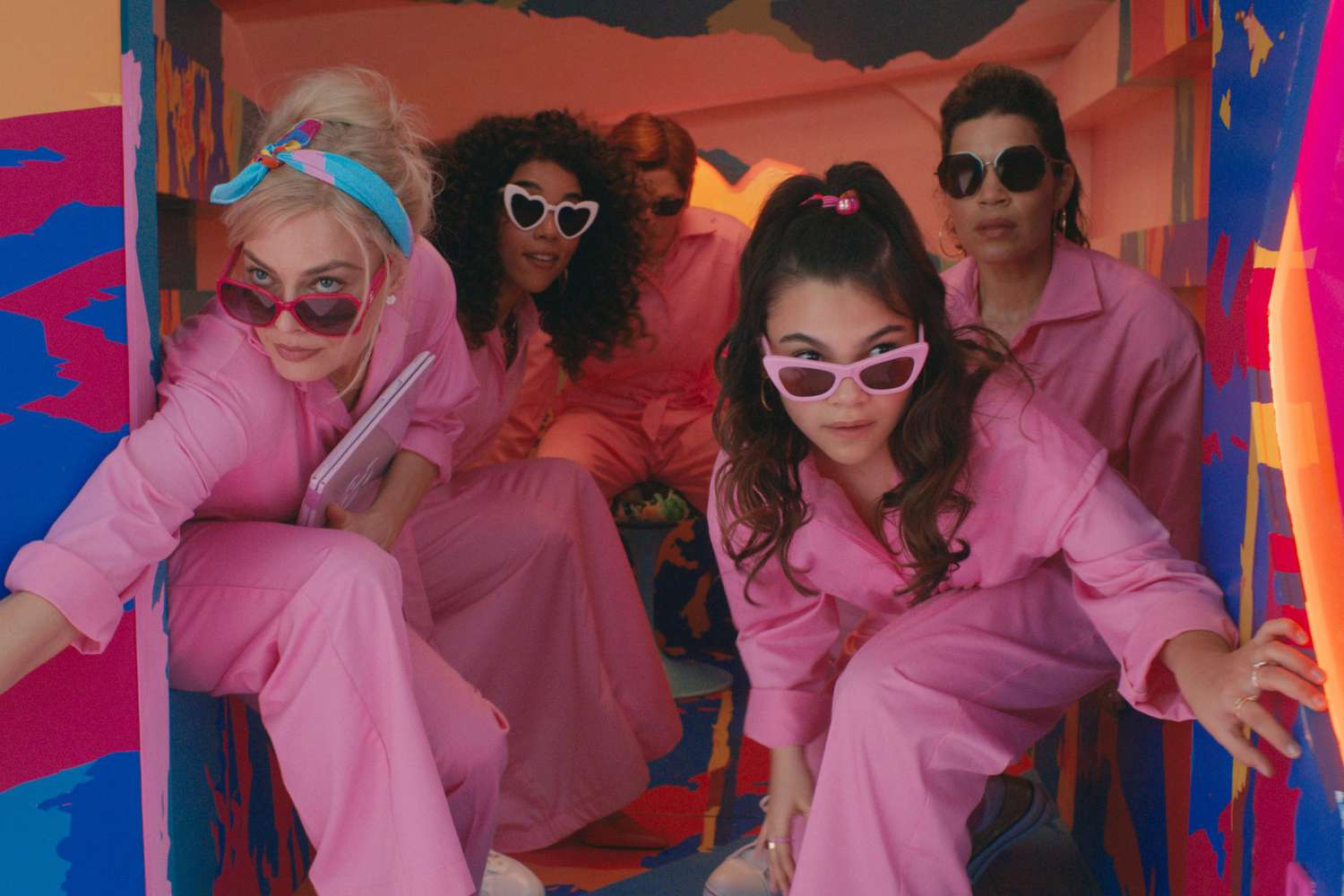 Is the Barbie Movie Kid-Friendly?
The movie is rated PG-13 for "suggestive references and brief language." Parental guidance is suggested, and it has been stated by some that the Barbie movie was not made for kids. That being said, there's no reason kids ages 12 and up can't enjoy the movie with parental supervision.
Rock Your Inner Barbie in These 5 Swim Looks
Ready to get your Barbie on? Check out these great Barbie swimsuit looks for women of all shapes, sizes, and professions.
Pretty In Pink
No Barbie swimsuit look is more iconic than the pretty in pink look. If we associate Barbie with any one color, it's pink. And that's great, because pink is a color that almost any skin tone can rock. Warm undertones, cool undertones - it doesn't matter.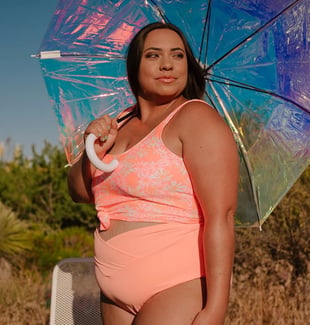 This top features a soft, peachy pink and a subtle floral design in white. The straps are thin but still provide plenty of support, and the cute knot in the front makes this a flirty summer look without exposing too much skin. Pair with sunglasses or other accessories - like a fun plastic rainbow parasol! - to complete the look.
Sherbet Stripes
You know what they say: "I scream, you scream, we all scream for ice cream!" Nothing screams summer like "ice cream!" And nothing screams ice cream like sherbet stripes. The colors in these bottoms are so delicious you'll want to eat them up.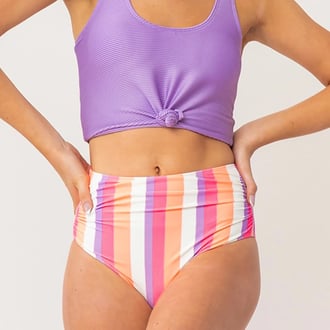 The bottoms feature a high waist fit that hits around the belly button and ruching on the front and back. That, combined with the vertical candy stripes make these a super flattering look for any body type. Pair with a matching pastel top to complete the look.
Floral Fun
Flowers and summer go together like...well, flowers and Barbie! If this floral swimsuit look doesn't make you feel like a style icon, we don't know what will.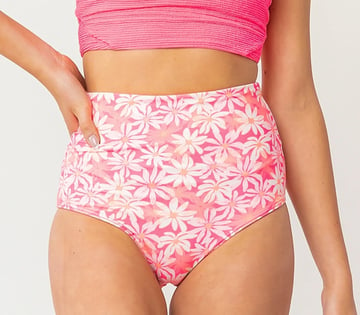 These bottoms are super high rise and provide great coverage in the front and back. They are reversible, so you can mix and match to rock the floral look or go with a plain pink bottom. They are fully lined and made from our soft, stretchy, durable material to keep everything in place no matter what kick-butt thing you're doing.
Lavender Love
Pink is so identifiable as Barbie's color that sometimes we forget about purple! This matching lavender top and bottom combo is a killer Barbie swimsuit look that will have heads turning in any room you enter. (Start practicing your swimsuit poses now because people are going to want to take your picture!)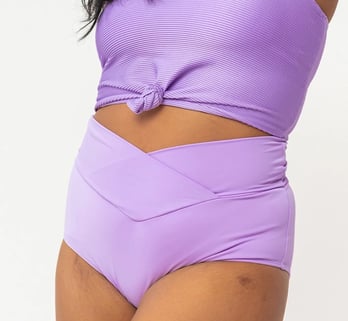 The bottoms feature a distinctly flattering v cut and wraparound fit that hugs all the right places and accentuates your natural curves. They're high rise, fully lined and feature a ruched front and sides. Pair with a cute, knotted, tankini-style top in a matching color.
Hello Sunshine!
Let's not forget the audience Barbie is meant to appeal to: girls! They're the ones playing with Barbie toys, after all, so why not include them? Mommy and Me swimsuit looks are so fun to put together! This mini one-piece swimsuit in floral pink is the perfect matching Barbie look for your little girl.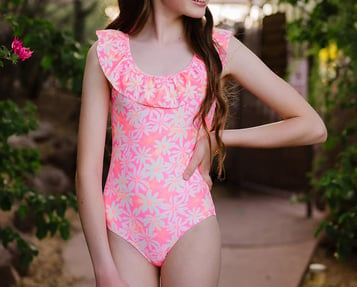 The swimsuit features a ruffle neckline and sleeves and provides full coverage. It's durable and comfortable, and the bright floral pattern will make any little girl feel like her favorite style icon. Pair with some cute vintage sunglass to complete the look.
Check out our Kids Swimsuit Buying Guide for tips on how to choose the right swimsuit for your child.
How to Make Barbie (or Any Doll) a Matching Swimsuit
If your kids want to bring their toys along with them to the pool, why not dress Barbie up in a matching look? It's actually super easy to put together a swimsuit for your doll - no sewing required! Check out this template for the guide.
Print the Template (Or Draw Your Own)
The pattern is very easy to replicate. It's just a string bikini top and bottom combo. You can print the template from the site above, or easily draw your own.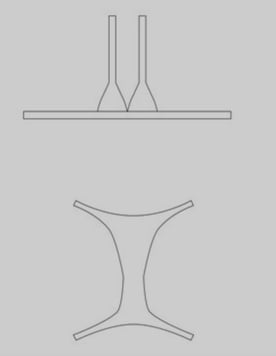 Trace the Outline Onto Your Fabric
Pick out your favorite fabric and trace out a teeny tiny bikini shape, using the paper template as a guide.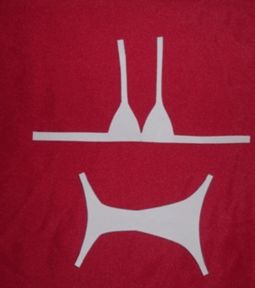 Cut Out the Bikini Top and Bottoms
You're going to want very sharp scissors for this, as the cuts are so small. You can generally eyeball the size that the cups and straps need to be (you're cutting a halter top that ties behind the neck and around the back.)
Don't worry if you don't get it right the first time - you're using so little fabric that you can afford to do it over again!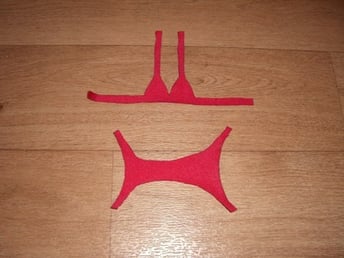 Tie Them On!
The halter neck ties around the neck and the bottoms tie on the sides. That's it! Your daughter's toys are now ready for poolside fun!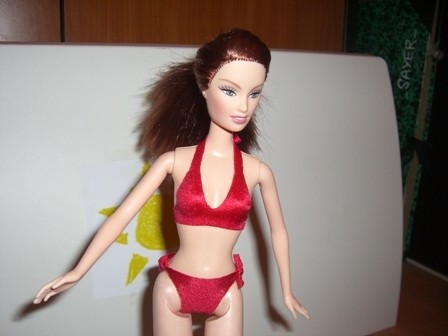 Summing It Up
No matter your thoughts on Barbie as a feminist icon or a problematic consumer product, there's no denying that she's influential. With the movie release just around the corner, putting together your own fun Barbie swimsuit look is a great way to share in the excitement and share a fun DIY project with your kids.