Written By
Lizzie Shipton
Women's high-waisted swim bottoms are in and we are here for it. They look great on everyone, they keep you covered, and they can be as sexy or modest as you want, depending on the cut or the top you pair them with.
Not only that, women's high-waisted bikini bottoms make great maternity swimwear. Unlike a one-piece swimsuit, which may not stretch to accommodate your changing body, separate bikini tops and high-waisted bottoms will give you plenty of room to grow, while being modest (if that's what you're after) and flattering.
Even if you love your one-piece or your low-rise or mid-rise hipster bikini, consider adding a high-waisted bottom to your swim wardrobe this year. They are great for slender and plus-size women alike and provide excellent tummy control.
We've put together a list of all the new arrivals we currently have in-store for women's high-waisted bathing suit bottoms in 2023. Have a gander to find the perfect fit for you before you head off on that winter or spring getaway you've got planned.
High-Waisted V-Cut Look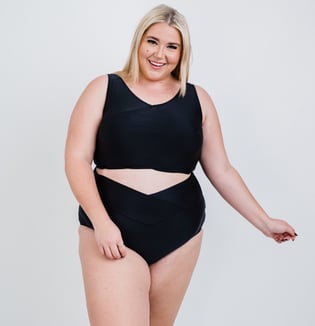 This look has a classic feel that never goes out of style. Find some v-cut women's high-waisted swim bottoms in a fun, retro print to make your look even more vintage. This look can also pass for a one-piece suit, paired with a modest, tankini-style bikini top in the same color or pattern.
An ultra high-rise v-cut at the waistband of the bottoms accentuates the curve of your hips while lengthening your torso by drawing the eye down, creating an ideal silhouette that flatters every figure. In a solid color like black, this style is both bold and elegant. Depending on the cut of the high leg bikini bottoms, and the swim top you pair it with, this look can be as sexy or as demure as you like.
High-Waisted Boy Short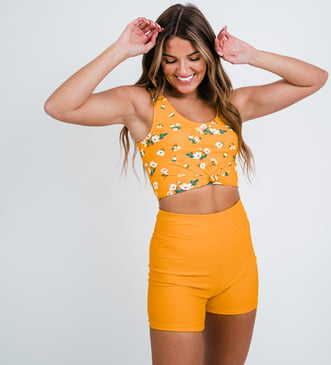 If you're feeling modest or simply want to express your inner tomboy, the high-waisted boy short or swim brief is a great option. You can find boy shorts cut to pretty much any length—some come as low as mid-thigh, while cheeky bikini bottoms expose a little more.
Either way, women's high-waisted swim shorts are great for active women who want good coverage while running, surfing, swimming, or playing beach volleyball. Longer legs will protect your thighs from sand, rocks, or your surfboard. Pair with a bralette-style bikini top for less cover, or with a tankini top for more support.
High-Waisted Floral Print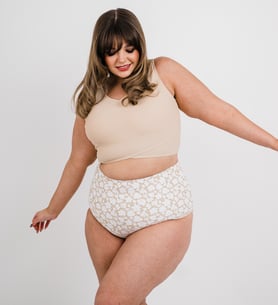 Floral prints are in right now, and they look great with women's high-waisted swimsuit bottoms. Depending on the pattern, a floral print can give your look a retro, dainty, or pretty look. Pair a pastel-colored floral print with a frilly top for a cute, summer look (even in the winter!)
A smaller, more intricate floral pattern is a more demure, sophisticated look, while big, bold floral prints in vibrant colors scream funky, retro style. Each one has its place. Small floral prints on a modest cut will accentuate the overall subtlety of the look, while an edgier, sexier cut looks great with big, bright flowers.
High-Waisted Leopard Print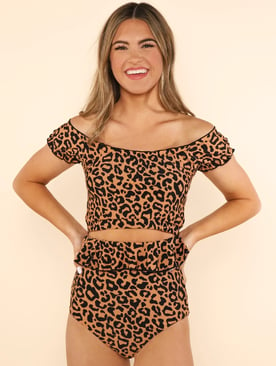 If pretty-in-pastel isn't really your vibe, maybe a fun, funky animal print is more your speed. Mix leopard print women's high-waisted swim bottoms with a solid color up top (we like black!), or match the prints to fully release your inner wild child.
To give your look a fun eighties twist, go for bottoms with a high-cut leg as you might see on a jazzercise leotard, and pair with a halter top. For those feeling extra bold, exposing a bit of cheek will add to the look.
Not looking to go full-eighties? Stick to boy shorts or more modest cuts. A ruffle or ruched texture will also tone down the eighties. You can also tone down the funk by pairing leopard print bottoms with a subtle floral pattern or pastel color up top.
High-Waisted Black Ruched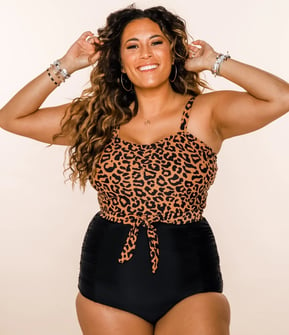 Black pairs great with animal print, and with other bold, vibrant colors. Ruching along the outside of the leg will enhance the curves of your body, and also gives you a little room to play with the length of the cut. Pull it tight to go shorter, or leave it loose for a longer, more modest look.

Ruching on a high-waisted swimsuit for plus-size gals is also great for tummy control and cinching your waist to accentuate your hourglass shape and show off your curves. Paired with a ruched top or a top that ties at the waist, this style will flatter every figure.
Ruching and side ties are also great for maternity looks, as they give you some wiggle room in your suit.
High-Waisted Pink Frills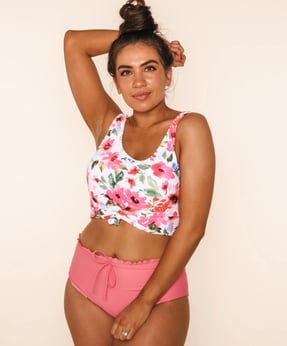 If you want to go in a more subtle direction, try pink. Pink pairs great with pastels and floral prints, and a frilled edge will give the look an even prettier overall feel. Wear a shirred high-waisted bottom with a pretty, floral top and mix and match coverups for a classic springtime look. Pair with a big straw hat for an old-timey retro high-waisted look.
The best part about high-waisted pink frills? Depending on the cut and the shade of pink, they can also be paired with bolder colors for a fun, funky look. Try bright pink frills with pink leopard print, or a deeper, dusky pink with orange or yellow.
High-Waisted Sienna Pinstripes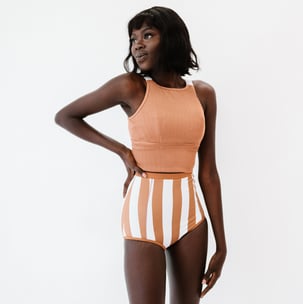 Stripes plus high-waisted equals the ultimate way to flatter your figure. Long, wide vertical stripes draw the eye along the length of your body and accentuate the curves, making you look sleek and slender. Stripes are quite a bold look, so if bold isn't what you're going for, pick a pretty, pastel color for more subtlety.
To take the look retro, pair your striped women's high-waisted bikini bottoms with an elegant, full-coverage top. A long tankini with a high neckline will lengthen your body even more, giving you an Audrey Hepburn in Breakfast at Tiffany's vibe. This look also provides great coverage, tummy control, and support for active ladies who need a suit that can stand up to beach activities and watersports.
Summing It Up
Women's high-waisted swimwear bottoms are our new favorite look for 2023 and are guaranteed to be best sellers. If you're planning a winter or spring getaway this year, you should definitely consider adding this look to your swim wardrobe. Whether your style is bold and funky, classic vintage, or pretty-in-pastel, there is a high-waisted women's swimsuit look that can work for you.
Want the hottest high-rise athleisure looks for 2023 also? Check out our new line of women's athleisure sets!