Written By
Lizzie Shipton
So long, 2022! It was nice knowing you. Don't let the door hit you on the way out! 2023 is here and we are here for it! Give us one second to finish lounging around in these new athleisure sets and we'll get right on those New Year's exercise resolutions...
What's that, you say? Athleisure sets can be worn on the couch and in the gym? And at the office?! Dang, well I guess we'd better stop lounging and get off our butts, then!
What is Athleisure Wear?
Athleisure wear (AKA activewear) is clothing that is comfortable and flexible enough for sport, but dressy enough for daily wear; running errands in, going out on the town or even wearing to work on casual Fridays.
Think of athlesiure wear as the love child between athletic gear and loungewear–its accessibility is unmatchable.
Athleisure wear can include leggings, joggers, long sleeve or short sleeve tops, yoga pants, sports bras and sporty crop tops, biker shorts, skorts, sneakers, and even sweatpants or hoodies (stressing the leisure in athleisure for those last two).
Oftentimes, athleisure comes in matching activewear sets, making them perfect for mixing n' matching. Basically, it's the best kind of clothing on the planet, and we're pretty sure it was invented just to make women happy, and make working from home easier.
Perks of Athleisure Outfits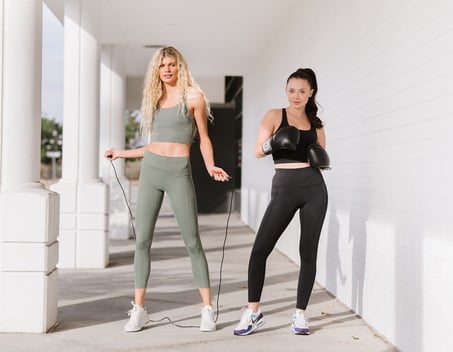 Athleisure sets are comfortable, stretchy, breathable, and easy to move in. They give you all the benefits of athletic gear without making you look like a full-on Olympian
The thing about athleisure wear is that it's not just for athletes. Athleisure sets are made for fitness, but they're dressy enough to wear outside the gym and casual enough to wear in your home. The athleisure wear look is pretty much acceptable anywhere these days, unless you work in an office with a strict dress code.
Athleisure outfits are forgiving in so many ways: easy to clean and take care of, easy to pack, wrinkle-resistant, and durable. Best of all, you don't need to carry a change of clothes if you plan to hit the gym after work, or pack a second outfit to meet up with friends after your workout.
Coral Reef Swim's New Athleisure Looks
We are so excited to share our new line of athleisure wear for 2023! Our collection features mix n' matching workout sets designed for all beautiful bodies; including extra-petite to plus size (XXS-XXXL).
Whether you're heading to yoga, meeting a girlfriend for coffee, playing with your kids, or running errands, these athleisure sets have got you covered. Pair with jewelry and a nice jacket or shrug to dress them up, or wear them as is at the gym or on the couch.
Look #1: Pine-ing for Summer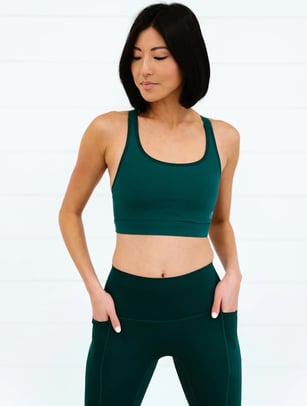 This look is elegant and bold—perfect for a long, melancholy walk through the park while you contemplate the seemingly endless stretch of months still standing between you and summer.
The performance sports bra features thick, comfortable straps built on a racerback-style bra, with a cute peek-a-boo cutout in the back. The high waisted leggings come with pockets that have ample room for your phone, wallet, or keys.
Get the look:
Performance sports bra in pine
Look #2: Serenity Now!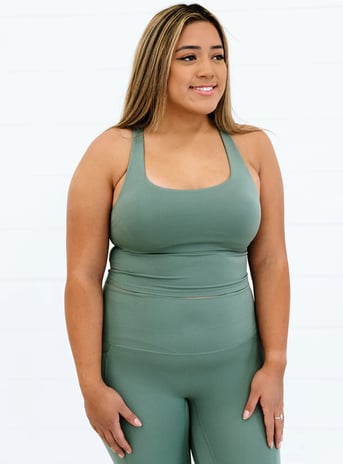 Our serenity long line tank provides support and coverage for those days when you just need a little peace of mind. The thick, racer-back straps, built-in shelf bra, and long, contouring cut keep everything in place so you don't have to worry—whether you're deep breathing in yoga class or chasing screaming kids around all day.
Remember: real peace of mind comes from clothing that fits properly. Just as with sizing a swimsuit, buying the right size sports bra or compression tank top can mean the difference between serenity now, or insanity later.
Get the look:
Serenity long line tank in willow green
High waisted leggings in willow green
Look #3: Back in Black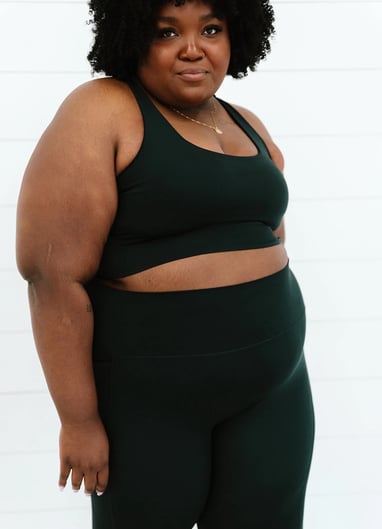 Black on black is a classic look, and the serenity tank and high waisted leggings in black make the perfect combo in the gym, on the couch, or out and about. Our highrise leggings are made of butter-soft material and feature a tummy-control waist with plenty of stretch. Paired with the modest serenity cropped tank in black, you'll be looking classy and chic anywhere you go. And do we even have to mention: this look goes with everything!
Get the look:
Serenity long line tank in black
High waisted leggings in black
Look #4: Green with Envy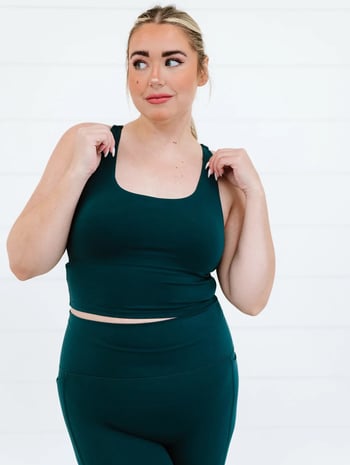 We call this look "Green With Envy" because that's what your friends will be when they see you in it. It features the support and control of the Serenity long line tank, in a rich, emerald green that flatters every figure and looks elegant in any situation.
And let's not forget the real reason your friends will be green with envy: our full-length, high waisted leggings with pockets. That you can actually fit stuff in.
Get the look:
Serenity long line tank in pine
Look #5: Win in the Willow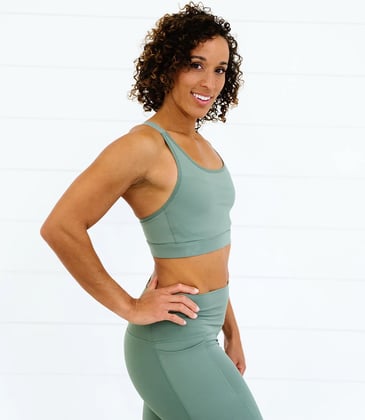 New Year, New You! Get out there and start winning in one of our favorite matched athleisure looks. Our high waisted willow green leggings flatter your curves and provide great coverage (read: they won't turn see-through when you bend over!
Meanwhile, our strappy sports bra in willow green features a swooping crew neck, clasps and adjustable straps so you no longer have to struggle into it (or out of it, when you're super sweaty from winning so hard.)
Note: if you do get super sweaty from winning so hard, make sure to properly clean your outfit. Just like swimsuits, the materials used to make sports apparel can degrade from exposure to sweat, sun, and water. Proper care of your garments will keep your wardrobe looking fresh all year long.
Get the look:
Performance sports bra in willow green
High waisted leggings in willow green
Look #6: Sporty Spice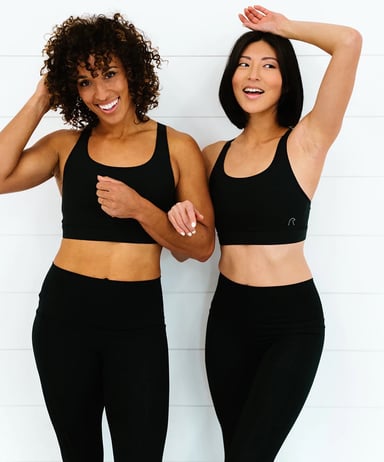 Remember the Spice Girls? Of course you do: they were amazing. We firmly believe that if the Spice Girls were still rocking today, Sporty Spice would be the world ambassador for athleisure wear. This look captures all the tough, sexy, funky energy that made Sporty Spice such a fun part of that group.
Wear it to karaoke and bust out some throwback tunes like "Wannabe" and "Spice Up Your Life" if you're feeling spicy.
Get the look:
Performance sports bra in black
High waisted leggings in black
Summing It Up
Whether your New Year's resolution is to improve your fitness, mindfulness, or spontaneousness…or simply to chill out more and take things easy, you can do it in one of these comfy, sporty, flexible athleisure outfits.
Maybe, you're already brainstorming that tropical vacation getaway for spring...check out our cutest mommy n' me mix n' match swimsuits!