Written By
Lizzie Shipton
Back to school shopping! It's basically the best part about going back to school, isn't it? And if you're heading to college for the first time, back to school shopping is even more exciting. What's the old saying? You only get once chance to make a first impression? Make sure your school outfit makes the impression you're hoping for!
Shopping for back to school clothes for college can be daunting: you want cute outfits but you also want something school appropriate. You want something that says "I am a serious alumnus" but that also has just the right amount of flair. That's why we put together this list of cute back to school outfits for high school students entering the hallowed halls of university.
5 Back to School Outfits That Are On Trend
The beginning of the school year is a fresh start - a chance to refresh your outlook, your attitude, and your wardrobe. Nowhere is this more true than when you start college. You can totally reinvent yourself, if that's what you want to do!
Whether you're planning to revamp your wardrobe or just want to add some more pieces to your closet, this list will start your back to school shopping off on the right foot. We've given you five options to take you through your first week of classes.
Let's dive in!
Athleisure Wear
If you want a school outfit that's comfy while still being chic, you can't go wrong with athleisure wear. Athleisure wear is versatile sportswear that you can wear in non-sport settings. Think yoga pants, a racerback tank or crop top, or a form-fitting zip-up made from moisture-wicking material.
Athleisure wear has become super popular in the last couple of years, mostly due to the prevalence of workout classes, yoga, and fitness-minded women who want comfort and ease of movement while still maintaining a put-together look.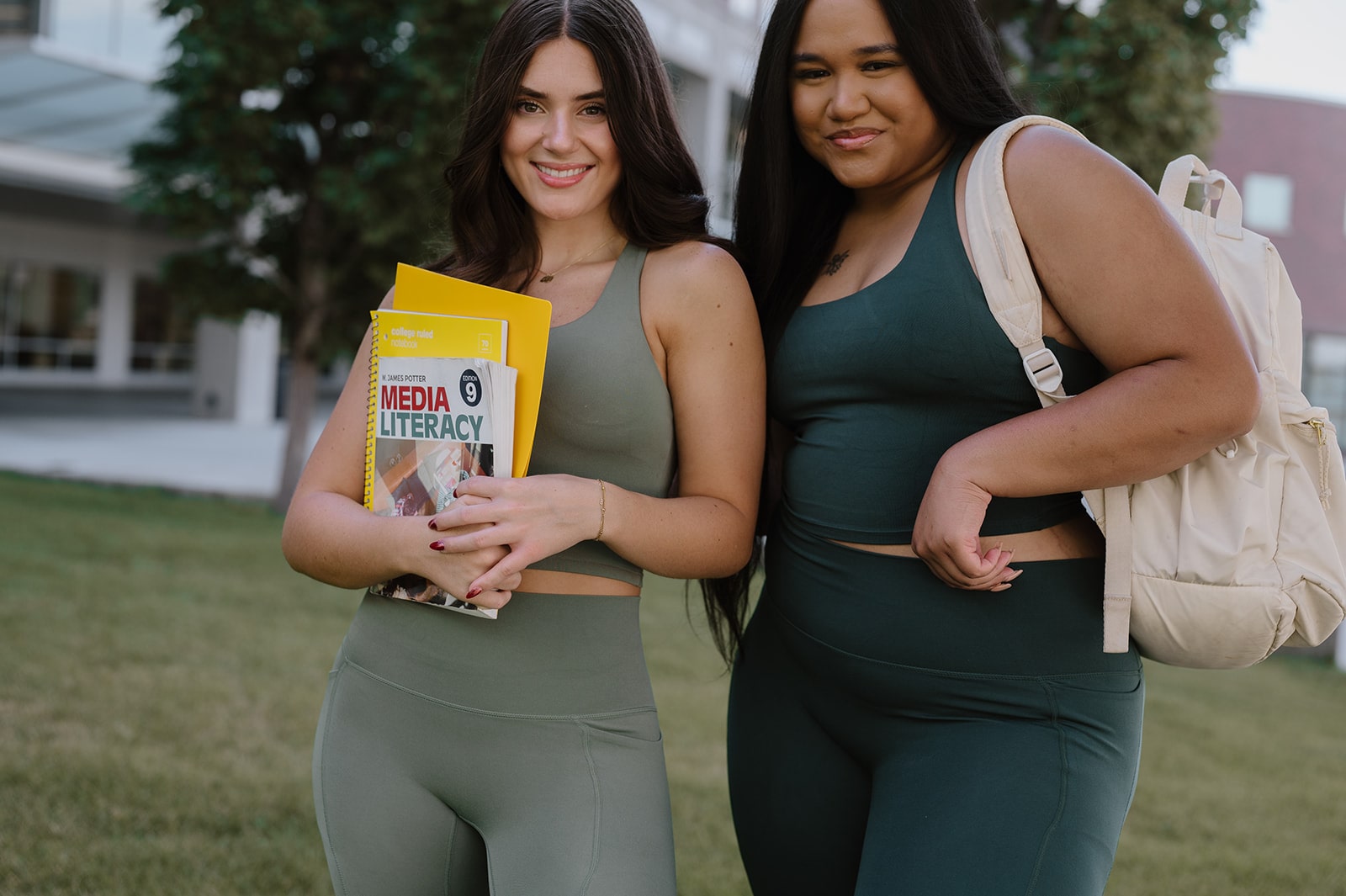 Some of our favorite athleisure wear includes long-line tank tops with wide straps and plenty of built-in support, thick, high-waisted leggings that keep your tummy in, and biker shorts. Pair a piece of athleisure wear with a more classic style like a regular knit top or jeans if you don't want to look like you're just wearing athletic gear.
The Skort
Fashion forward girls will absolutely love our new skort for their new school year. No need to constantly check that your skirt isn't hitched up in the back, or worry about a strong fall breeze giving your classmates a show! Perfect for every day wear or even working out - you can walk, run, jump, skip, hop, cartwheel and dance in it with confidence.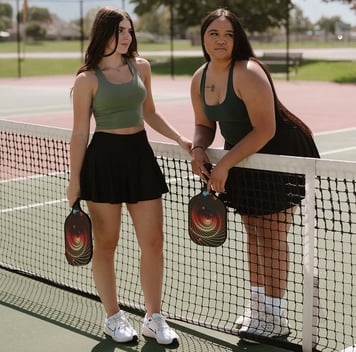 Our skort features a high waist with a wide, tummy-control waistband, a flattering flared shape and cute, modest boy shorts underneath. Pair with a cute athleisure top for a sporty look, or a graphic tee or relaxed jacket for a more casual day-to-day feel. You can even dress it up for nighttime.
Denim
Since its invention way back in the 17th Century, denim has been a constant in the world of fashion (tell that to your history professor!) No matter how much we may complain about the current cut - skinny jeans, mom jeans, mini skirt, maxi skirt, jacket - denim itself never goes out of style. It's comfortable, warm, and durable. Jeans can be dressed up for parties or dressed down for class, making them perfect back to school clothes .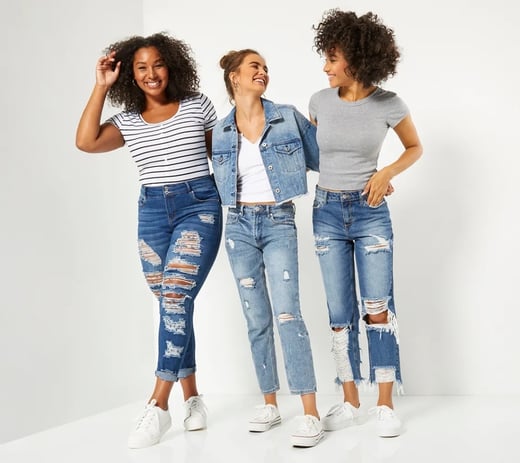 We love these baggy distressed denim boyfriend shorts and these high-waisted mom jeans. Pair with a graphic tee, a knit top, or school t shirt and sneakers for daily school outfits, or throw on a pair of platform shoes for nighttime outings.
Denim jackets are in, too! You can even pair denim jackets with denim pants now without facing ridicule about the "Canadian Tuxedo" look. Don't be afraid to rock denim-on-denim this school year. A pair of cute jeans with a white top and a denim jacket in a slightly different shade is a super classy, timeless look.
Blazers
For a slightly more professional style, you can't go wrong with a blazer. Blazers are great because they can be paired with slacks and pumps for a very put-together, office-friendly, "hire me" look, or paired with a mini skirt, t shirt, and some chunky jewelry for a fun, funky party look. You can even wear one over a hoodie and sweats during the school day if you're feeling adventurous.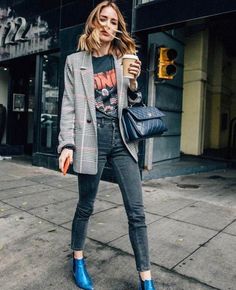 We recommend sticking with neutral colors when it comes to choosing a blazer. That way, you can wear it with lots of different outfits. If you plan to dress it down and make it fun, let your accessories, t shirts, and other parts of the outfit bring the color and pizzaz.
School Hoodie and Sweatpants
Let's face it: by the end of week one, you're going to be pooped. You might not have the energy to put together a cute, fun look. That's where the classic back to school outfit of oversized school hoodie and sweatpants comes to your rescue.
There's a reason this combination of school clothing is such a cliche in movies and media: it's ubiquitous! College students are tired, and putting together cute outfits every day is taxing when you're also trying to stay on top of homework, clubs, activities, socializing, and tests. Don't be afraid to rock the classic "college student uniform" every once in a while. Paired with a cute jacket and pair of dope sneakers, this look can be just the right amount of funky casual.
Summing It Up
Fall is here and as Labor Day approaches, it's time to start thinking about your back to school shopping. After a summer filled with swimming, beach days, and sun, starting college can feel like a lot. There's no reason to overwhelm yourself worrying about back to school clothes! With a few choice pieces you can put together enduring looks that will let you sail through your first week of classes with grace and poise.
Now get out there and start kicking butt!