Written By
Lizzie Shipton
Summer may be winding down but that doesn't mean the fun has to end! With plenty of states experiencing long, hot days late into the fall, there's still plenty of time to get in a few last beach days or pool parties. Fourth of July and even Labor Day may be over, but you can still get some fun in the sun before the year is out!
If your kid's swimsuit has taken a beating this year, consider investing in a new suit. You can purchase one now and use it for the remaining trips this year, or get one in the next size up and put it away for next summer. Just after summer is the best time to shop for a new suit as you can take advantage of clearance pricing and holiday sales.
Check out our kids swimsuit buying guide for tips on how to choose the right size and find the perfect suit at the right price.
What's Trending in Kids Swimwear for 2023?
Let's do a quick recap of what was hot in kids swimwear in 2023.
Most of the kids swimsuit trends mirrored adult swimsuit trends: retro-inspired prints, high-waisted swim bottoms, and one piece swimsuits. Another trend that's been picking up for both kids and adults is athletic-inspired swimwear. Everyone wants to feel like an Olympian when they're in the pool!
Don't forget: sun protection is always trending! Many of these looks leave quite a bit of exposed skin, so make sure you're always lathering up your little one with plenty of high-quality sunscreen.
3 Fun Toddler Swim Tops for Girls
These are our favorite girls' swim top looks for 2023 - and we think these looks will continue to be cute in 2024 and beyond.
Peplum
This adorable peplum top comes in a range of fun, bright prints, but our favorite is this mango floral style. It's the perfect style for toddler girls to show off their personality while still looking cute and modest. The straps are fully adjustable, as is the drawstring bust, and the suit is fully lined and easy to clean.
Complete the look with matching toddler girls swim bottoms (see below) or pair with jean shorts for a fun picnic look.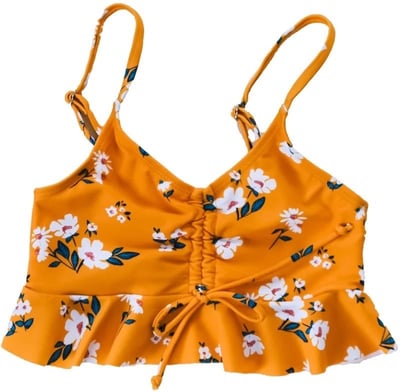 Reversible T-Shirt Style
This is another swimsuit top that can also double as a t shirt. The cap sleeves and crop top length make it perfect for either look, and the reversible print means you can mix it up with lots of different bottoms. The sleeves and waistband have thick elastic to hold them in place, and the ruffle sleeves can be worn on-or-off shoulder.
There's so many different ways to wear this top, your toddler will never run out of options!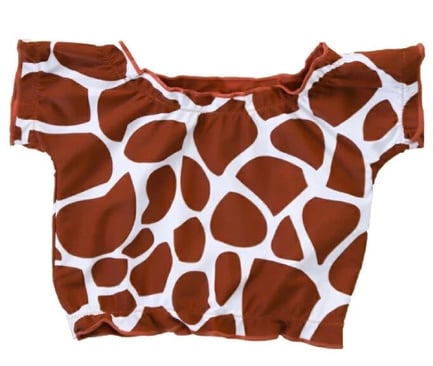 Knot Crop Top
Last but not least in our run-down of cute toddler swim top looks is this knotted crop top. Made of comfortable rib knit material with a scoop neck in the front and back, and a fun knotted detail in the front, this clean, subdued look pairs well with any color or style of swim bottoms.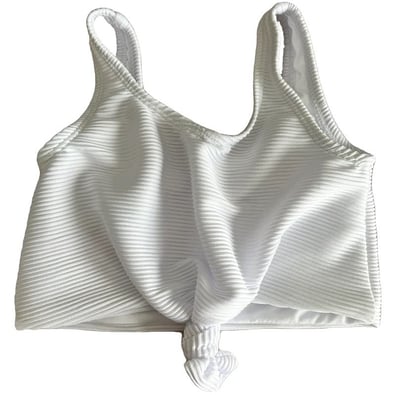 4 Fun Toddler Swim Bottoms for Girls
High-rise toddler swim bottoms were all the rage in 2023, and we don't see that trend going away any time soon. Along with high-waisted looks, frills, ruching, and clean, classic cuts are also trendy styles for toddler swim bottoms.
Frilly
These cute, frilly toddler swim bottoms are our absolute favorites. They pair wonderfully with the mango floral peplum top for a splash of fun color, or with the white knotted crop top for a more toned down look. They hit above the belly button, provide full coverage in the back, and are fully lined.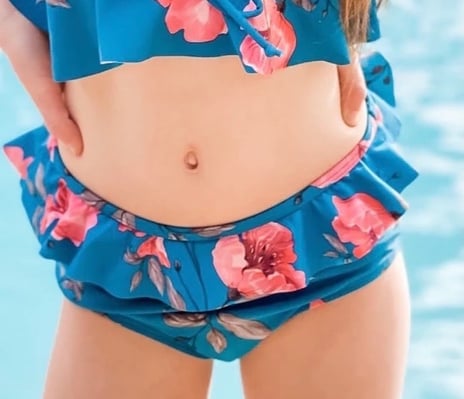 High-Rise
There's no reason toddler girls can't get in on the high-rise swim bottoms trend! These high-waisted swim bottoms are sophisticated, classy, and simple (just like your toddler, right?) The thick elastic waistband keeps the bottoms firmly in place, while the bold, deep red color gives them a fun retro vibe.
We love pairing these with the white knotted crop top for a clean, classic look.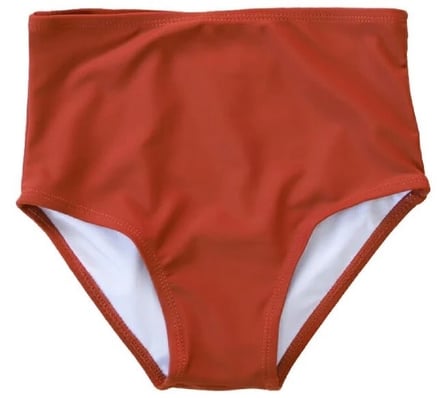 Simple Black
Speaking of clean and classic, when it comes to bathing suit styles, you can't go wrong with simple black. You'll love these cute, no-fuss bottoms - they pair with just about anything! They are fully lined, high-rise, and have subtle ruching on the front and back to accentuate their shape.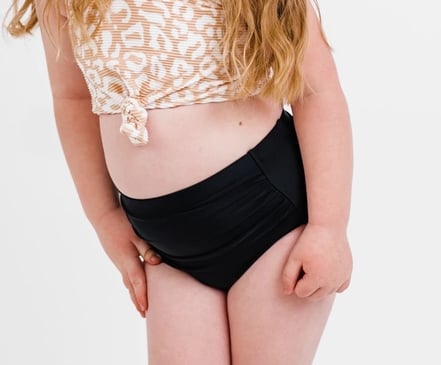 Ruched
These ruched toddler swim bottoms in pink are the perfect look for toddler girls obsessed with the Barbie movie. You may even want to buy a pair for yourself (and make a pair for Barbie!)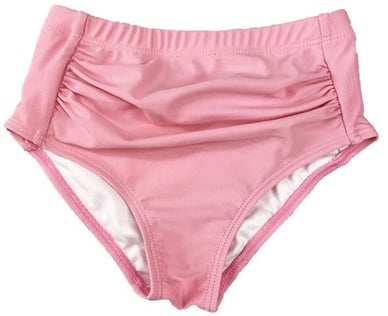 3 Fun One Piece Swimsuits for Toddler Girls
Let's not forget the humble one piece swimsuit! One piece swimsuits are a better way to protect little tummies from the sun, and can wind up being a more cost-effective option than buying toddler swim bottoms and tops separately. Let's take a look at the fun new styles for 2023!
Animal Prints
You may associate leopard, tiger, and zebra print with the 80s, but guess what? Animal prints never go out of style! There's always space in a girl's wardrobe for a fun, fierce animal print swimsuit or leotard that makes her feel like a lioness. This one-piece comes with fully adjustable straps and cute button and bow detailing in the back.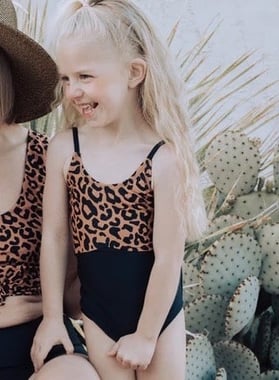 Floral
For a look that's less fierce but still fun, pretty floral prints are the way to go. Muted pastel colors in blue, lavender, pink, and yellow will always be "in." This adorable suit features a scoop neck in the back and front, cutout back detailing and a decorative button in the back.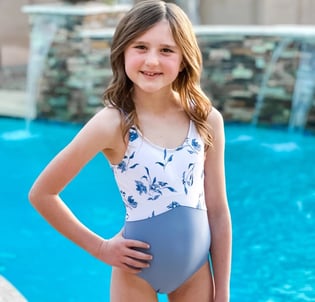 Stripes
Here's another look for kiddos in love with the Barbie movie! Your little girl can live out her Barbie fantasy in these sherbet stripes. The suit has wide, soft straps that cross in the back, a fun ruffled bust in the front, and full coverage for active, on-the-go kids.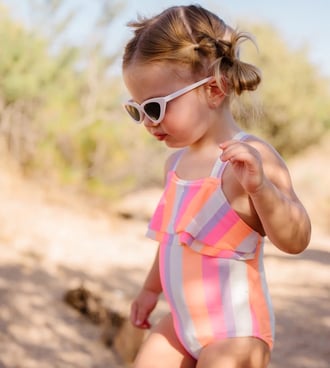 Wrapping Up
So there you have it! Our favorite toddler swim bottoms, tops, and one-pieces for 2023 and beyond! With so many options to choose from, your mermaid baby will be set for fun in the sun for the rest of this year and even next summer.