Written By
Lizzie Shipton
Looking cute is exhausting, isn't it? Some days you wake up and feel like a rockstar, but some days you have to go to a pool party when all you want to do is lay around in your sweats eating cheese. We've all been there. Wouldn't it be great if you could find a cute, trendy bathing suit that was also comfortable?
We got you! Bathing suit sweatpants don't exist (yet!) but we've put together this list of the top comfortable swimsuits, as decided by our customers. Not all suits out there can fit the bill of being both cute and comfy, but these are suits that our customers love for their ease, their soft, relaxing fit, and their style.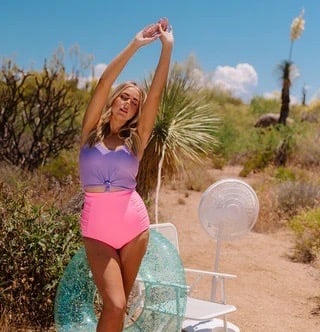 What to Look For in a Comfortable Swimsuit
So what exactly is a comfortable bathing suit? Well, obviously, a comfortable bathing suit is any suit that you feel confident and comfortable in! There's no right or wrong way to feel comfortable. If you're most comfortable in a string bikini top, thong, and six-inch stilettos, awesome! Heck, if you're most comfortable in your birthday suit, rock on!
That being said, many women find that things like wide, adjustable straps, full coverage tops, soft, stretchy fabric, tummy control and bust support make a suit more comfortable. So we based our criteria on that feedback from our customers.
Keep in mind, also, that fit has a lot to do with how comfortable a swimsuit is. A poorly-fitting swimsuit will ride up, bunch, gape, and could be too tight, too loose or generally just not fun to wear. Check out our fit guide to make sure your next suit fits perfectly.
4 Cute & Comfortable Swim Tops
The Traveler Top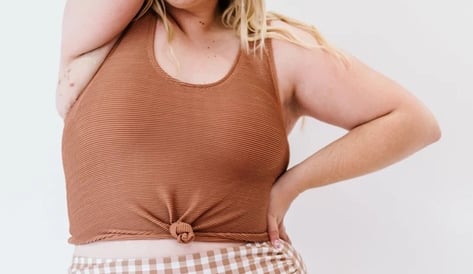 This tankini-style top features a cute knotted front that gives you an incredibly flattering silhouette. The scoop neck front and back reveal just the right amount of skin while being modest and providing sun protection, and the wide straps and built in shelf bra mean you'll stay in place while running after the kiddos or playing beach volleyball.
Here's what our customers had to say about this top:
Bethany B. bought this top in April 2023 and said it was "...very comfortable and true to size," while Elizabeth "Thought this top was super cute and comfortable."
The Centara Top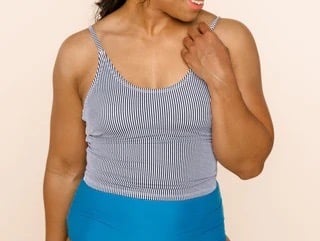 The Centara top is another tankini-style top that fits perfectly and provides full coverage for all body types. The adjustable straps tie in the back to make the fit looser or tighter, while the fully lined top features removable pads and shelf bra support to keep you covered no matter what you're doing.
Here's what our customers had to say about this top:
"Made me feel comfortable at the water park with my daughter. Would definitely recommend" - Ashley M.
"Perfect top to with just about any bottom. Holds everything in well and very comfortable. I wear a 32B and the small fit perfectly." Kristy R.
The Destination Top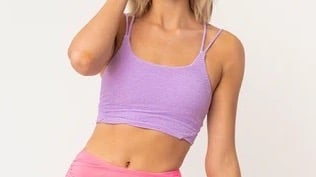 This crop top with spaghetti straps is made with specifically designed Luxe Textured Fabric with Comfort Stretch Technology for an ultra soft, ultra comfy fit. The ribbed, thicker compression fabric holds you in place so you can stay active while being super cute and cozy.
It has a scoop neck in the front and a cut out in the back, plus adjustable straps, removable padding, and shelf bra support. Our customers report receiving "so many compliments!" in this cute, trendy top.
Erin E. said the top was "Flattering, comfortable, and the perfect length!" while Caitlyn C said "So comfortable and pretty! Felt very confident and received several compliments! Bought it in two colors."
The Coast Top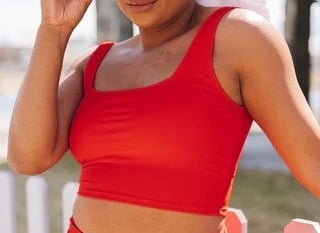 This square neckline-style top has a super cute retro feel and is long enough to pass for a one piece swimsuit when paired with a matching bottom. For those who feel confident in one piece swimsuits, this top is for you!
This one doesn't have adjustable shoulder straps, but the straps are very comfortable and incredibly cute. The built in shelf bra provides ample support, while the fully lined material is thick and durable. We like it in bright red for a bold, vintage look, but it comes in a range of fun prints.
Hailey L had this to say about the Coast Top:
"Very comfortable and flattering, I like the thicker straps as the "strappier" ones just tend to dig into my shoulders. It has more of a long-line as well so that it covers a little more which is exactly what I was looking for! Bought it in 3 colors!"
4 Cute & Comfortable Swim Bottoms
The Leisure Reversible Bottoms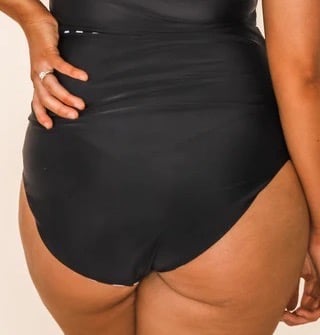 These reversible, high waisted bottoms provide full coverage in the back and tummy control in the front, while still being easy to move in and perfectly comfy. Not to mention, you're getting two bottoms for the price of one! That should make your wallet comfortable too!
Here are few reviews from happy customers:
Kayla M: "I love these swimsuit bottoms, I've never felt more comfortable at the pool since having my children. They're full coverage, comfortable and I still feel trendy!"
Jessica B: "These were flattering and comfortable."
At the Beach Bottoms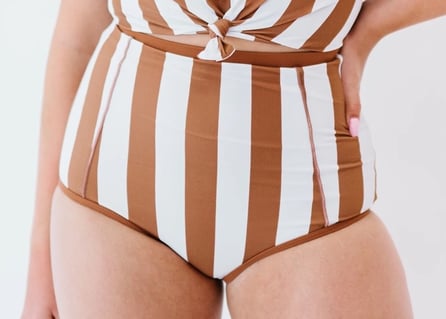 If you like high waisted bottoms, you'll love these! With an ultra high waist that hits above the belly button, fully lined and with a thick elastic band at the top, these provide tummy control and full coverage in the tummy area to give you a classic silhouette that will make you feel sexy no matter what.
A vintage feel that harkens back to the classic styles of the 50s and 60s, these bottoms pair great with multiple styles of top, and can be used to mimic one piece suits when paired with a long tankini. We love that high waist bikini bottoms are in in 2023!
Liz S loves that too! She said "Nice! Feel very comfortable in my postpartum body in these." Melanie K agreed, saying "Fabulous! I no longer need to tug or adjust my bottoms now that I bought these! Super comfy and has exceptional coverage!"
Barefoot Bottoms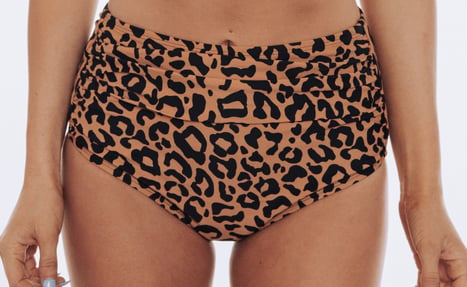 This is another pair of high waisted bottoms that hits a little lower - just around or below the belly button. They have ruching on the front and sides that is extremely flattering for all body types and accentuates the natural curve of the hips. As with all our bottoms, they are fully lined and provide full coverage in the back and tummy control in the front.
Elizabeth, who bought these bottoms in June of 2023, said "Loved these bottoms. Super flattering, Fit perfect and are super comfortable." Jennifer, who bought a pair in March, said "These have great coverage and are very comfortable!"
Sun Baked Bottoms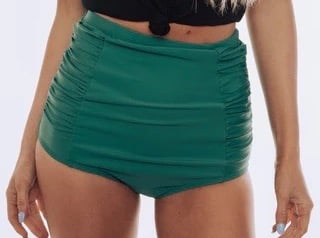 Our Sun Baked bottoms are one of our best selling pieces, and for good reason! They're cute, comfortable, flattering, and fun. Like the Barefoot bottoms, these have ruching on the front and some tummy control, but they hit a little higher on the waist.
This is another pair of bottoms that pairs great with a long top to create a mock one piece swimsuit look, or you can mix and match colors with a huge range of prints and styles. Try neon pink or pink and white stripes if you want to ride the Barbie swimsuit trend!
Michelle said "The best swim bottoms I own! They are extremely flattering and fit so comfortably!!" Leslie's feedback was "Love these bottoms !! They are so comfortable! I am 6 feet and size 16. I got xl and they fit great ! It has great stomach coverage. Not once wearing in the beach did i have to pull them up. They stayed in place the whole day!!"
Comfy is in for Summer 2023
There's no question: women want comfy bathing suits in 2023! Gone are the days of pretending we're happy while suffering in silence with straps that dig into our shoulders, underwire bikini tops that ride up and squash us while providing no bust support, and string bikini bottoms that leave us exposed. We say no more! Comfy bathing suits for all! At least, until those bathing suit sweatpants come along...