Written By
Lizzie Shipton
There's no doubt about it: modest bathing suits are in. From high-waisted bottoms to tankini tops, to the swim dress to the humble one-piece swimsuit, a flattering bathing suit with more coverage and better support never goes out of style.
These items are not just considered plus-size swimwear anymore - one-piece swimsuits are beloved by women of all shapes and sizes who want a little more coverage, a little more support, and a little more comfort in their swimwear.
Our customers love our modest one-piece swimsuits so much that we put together this article on five of our best-selling one-piece swimsuit looks for any occasion. Whether you're lounging by the pool, surfing, or playing beach volleyball, we guarantee you'll find a one-piece swimsuit on this list to fit your body and your needs.
Ready to dive in and shop this season's cute one-pieces? Let's get started!
Belted One-Piece Swimsuit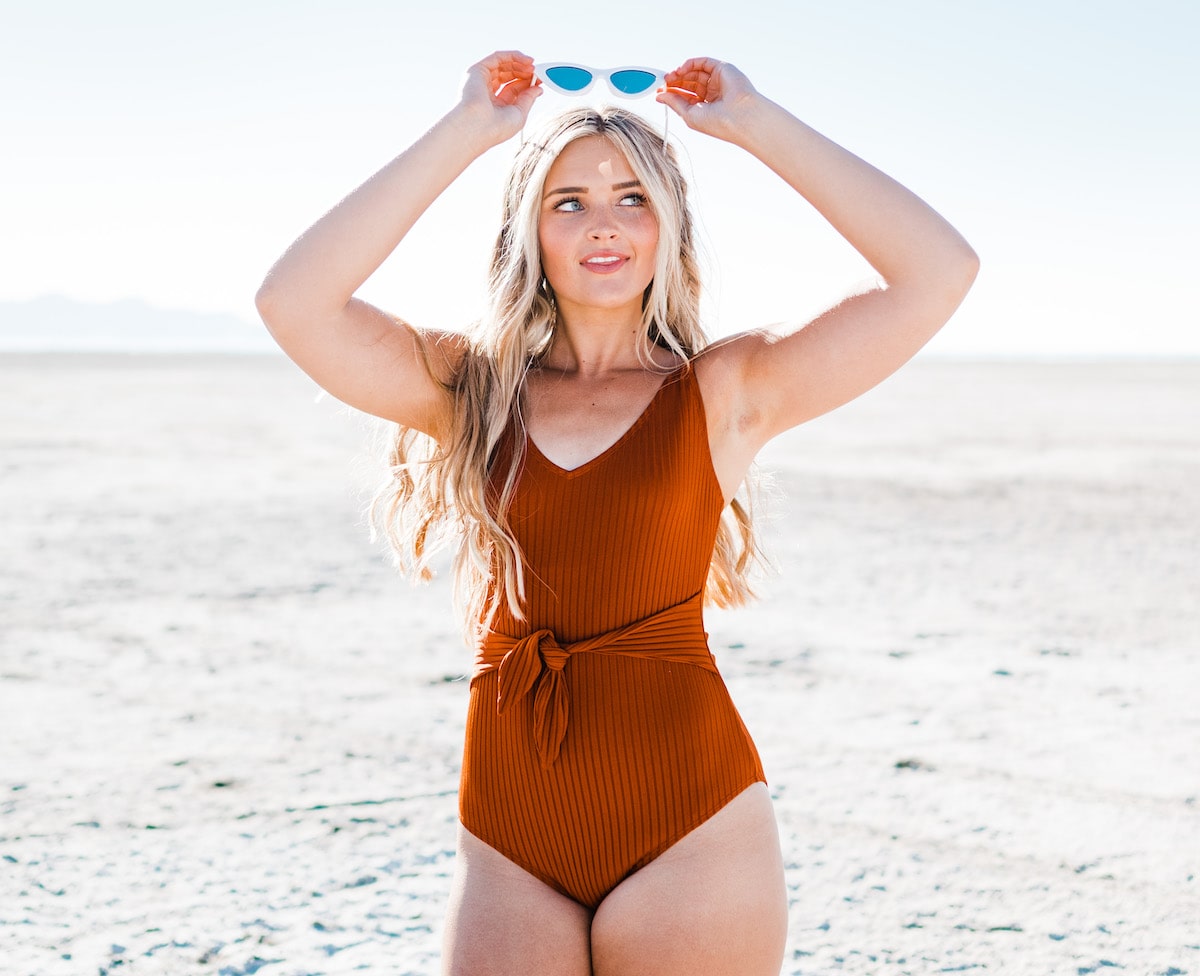 The Oceanside is one of our best-selling swimsuits for a reason: it's cute, comfortable, supportive, and provides excellent coverage. It has a soft V-neckline that's flattering and not too low, as well as removable bra pads, adjustable straps, and a fully lined interior.
The vertical ribbing lengthens your body and provides a clean, classic look, while the cute belt can be tied in the front or the back depending on your mood. The low-cut legs are discreet and provide plenty of coverage while still being cute and playful.
Wear this with an oversized straw hat and sunglasses for a no-frills, sophisticated swimwear style.
One-Piece Scoop-Back Swimsuit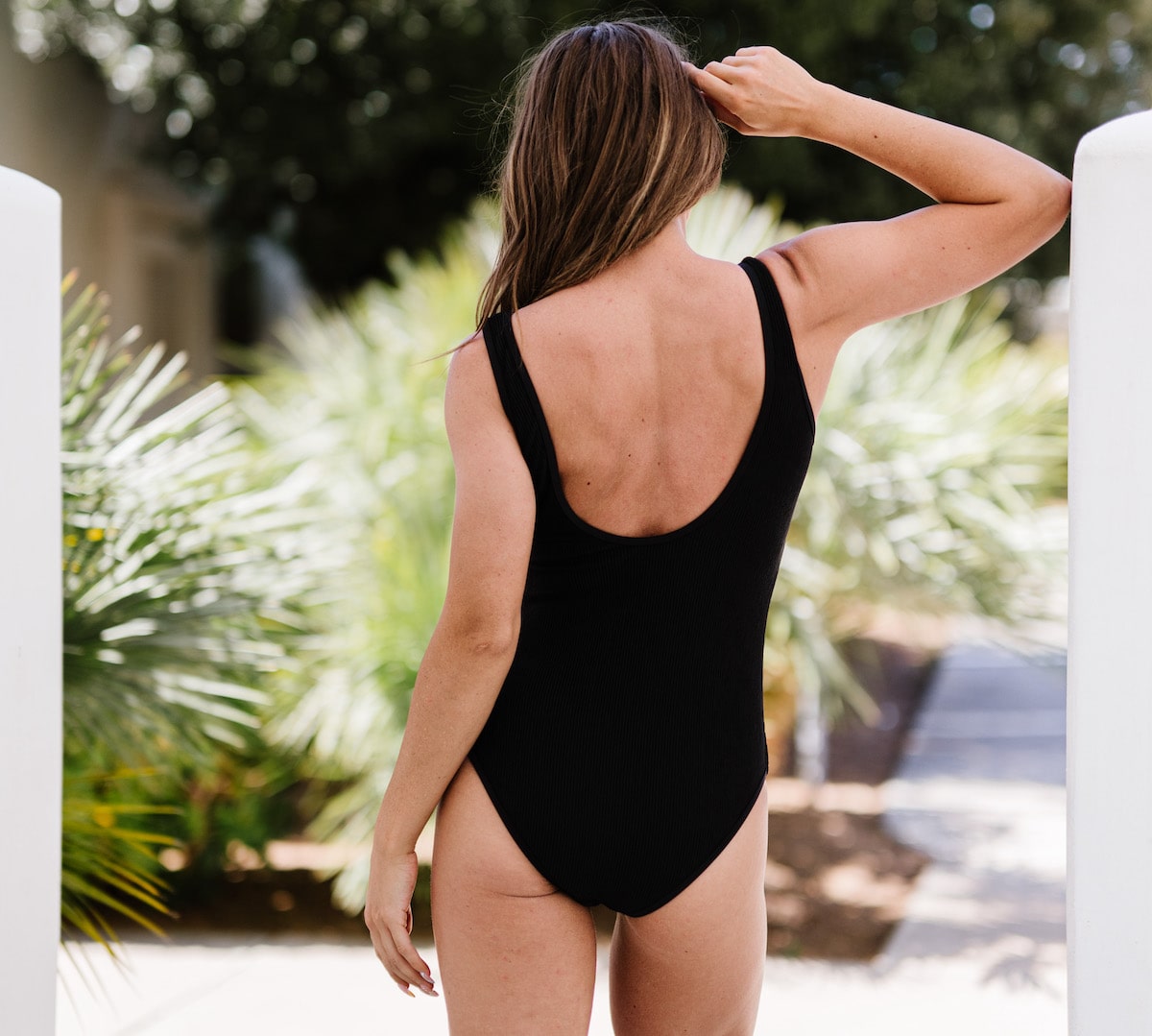 For active women and those looking for tummy control in their modest one-piece bathing suites, the Escape is the best swimsuit for support and style in one package. Made with specially designed luxe textured fabric with our Comfort Stretch Technology, it hugs your body, keeps everything covered, and moves with you.
The high neckline and deeply scooped back give this bathing suit a unique but comfortable shape, while the shelf bra provides support. It comes in multiple colors and patterns to fit and match any spring or summer swimsuit collection.
This is one swimwear item that's functional enough to work out in, but so cute you'll want to snap tons of pictures on your next vacation.
Spaghetti Strap One-Piece Swimsuit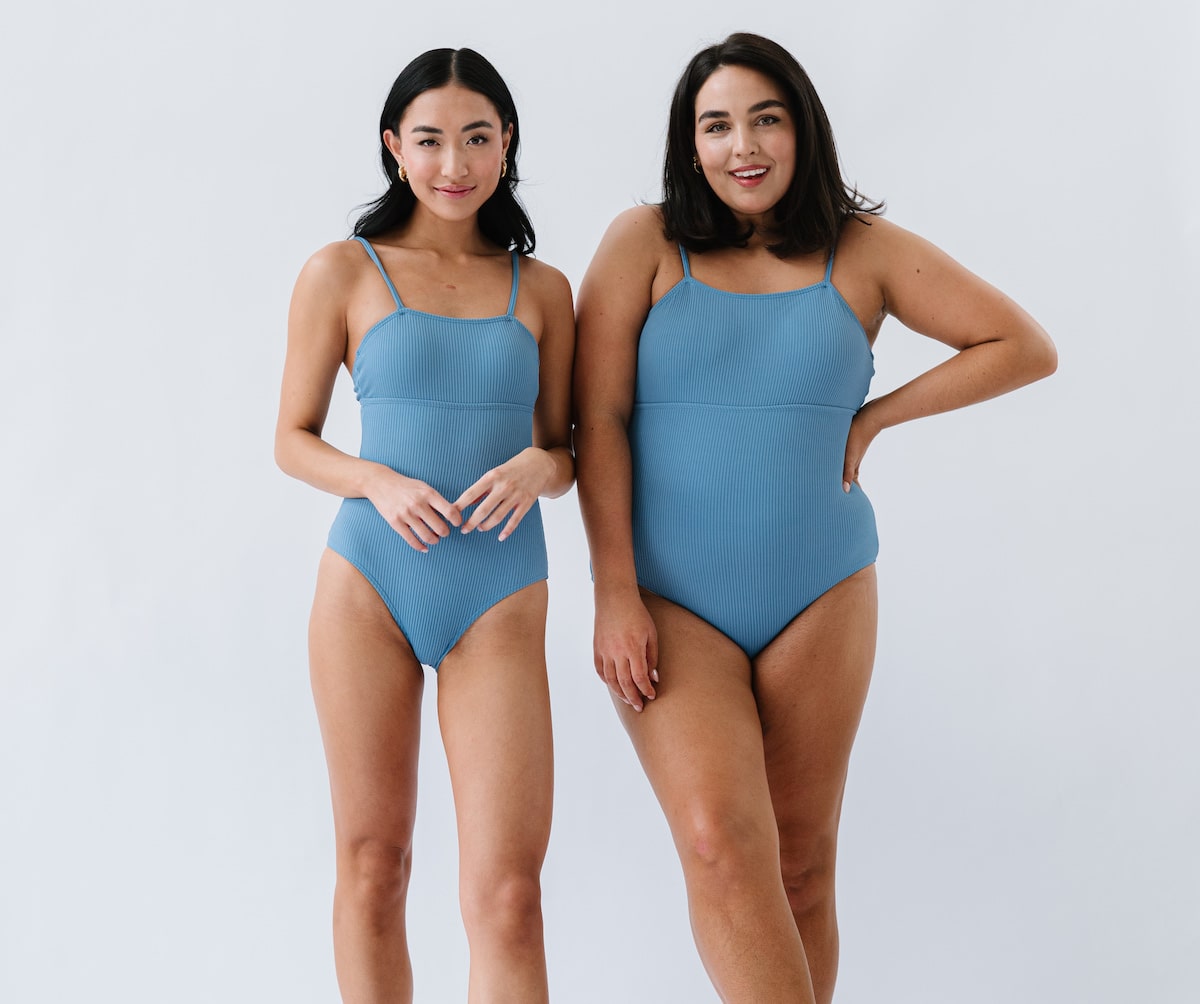 This bathing suit has the look of a tankini but the tummy control, support, coverage, and comfort of a one-piece swimsuit. The Shoreline One Piece is made of wide rib knit soft material, with adjustable spaghetti straps and an open, cut-out back to show off your shoulders.
The thin straps and straight neckline give this swimsuit a high-quality swim dress feel while still allowing you to move freely. Cute enough for vacation pictures but functional enough to be used as everyday swimwear, the fully lined interior and supportive bra will give you the confidence to move no matter what you're doing.
Frilly V-Neck One-Piece Swimsuit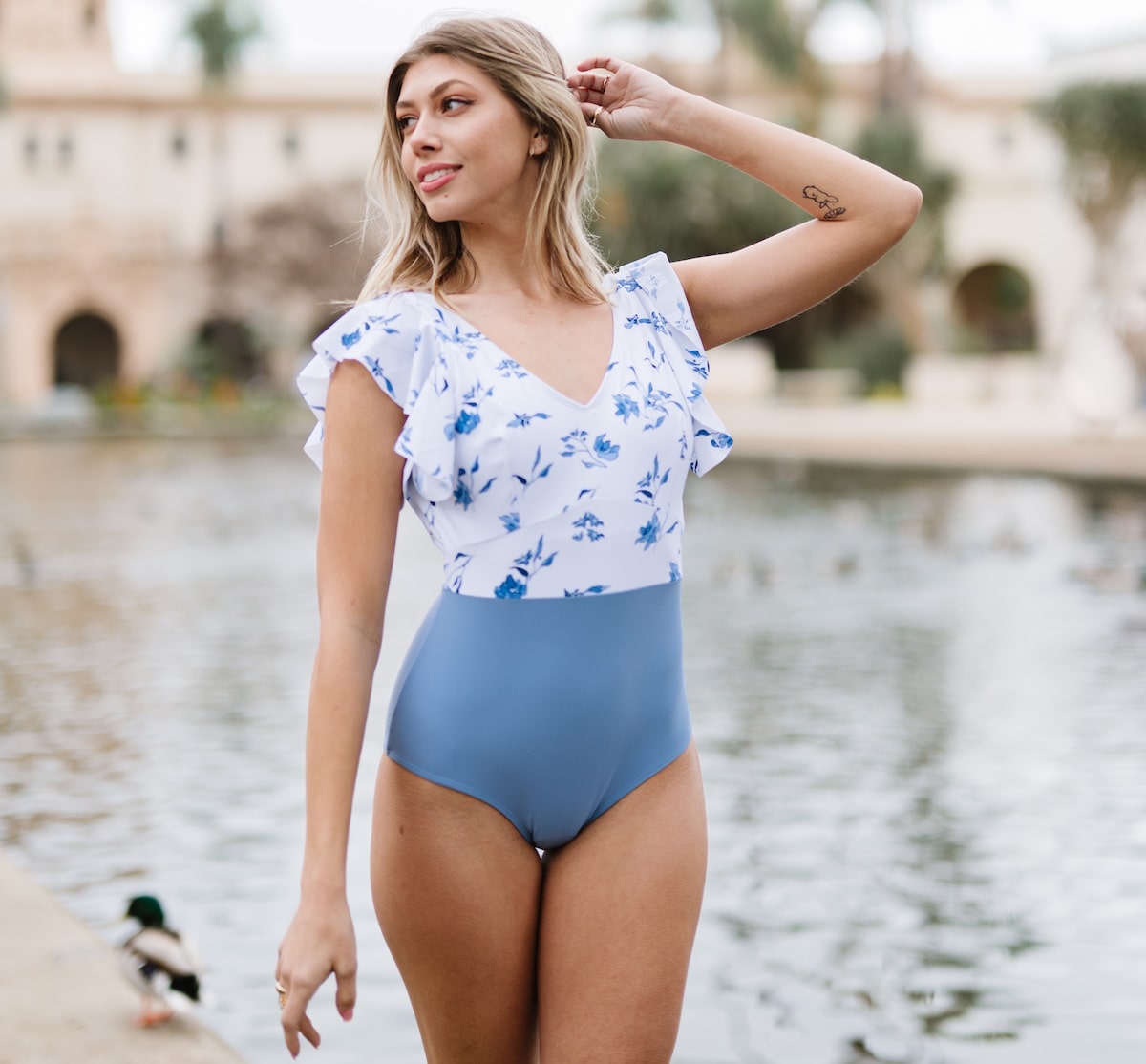 Looking for an even more modest one-piece swimsuit? The Ocean One Piece has you covered - literally! This bathing suit features wide, frilly sleeves that cover your upper arms while showing off your chest with a deep v-neck.
The suit is backless and features a high-waisted color block waist that accentuates your figure by creating a clear definition between hips and torso. The bottom cut won't leave anything hanging out, and you'll feel comfortable wearing this one-piece swimsuit anywhere.
Pair this suit with shorts, a skirt and flip-flops for a look that can be worn to and from the beach as well as on it! As far as modest one-piece swimsuits go, it doesn't get much better than this.
The "Bikini" One-Piece Swimsuit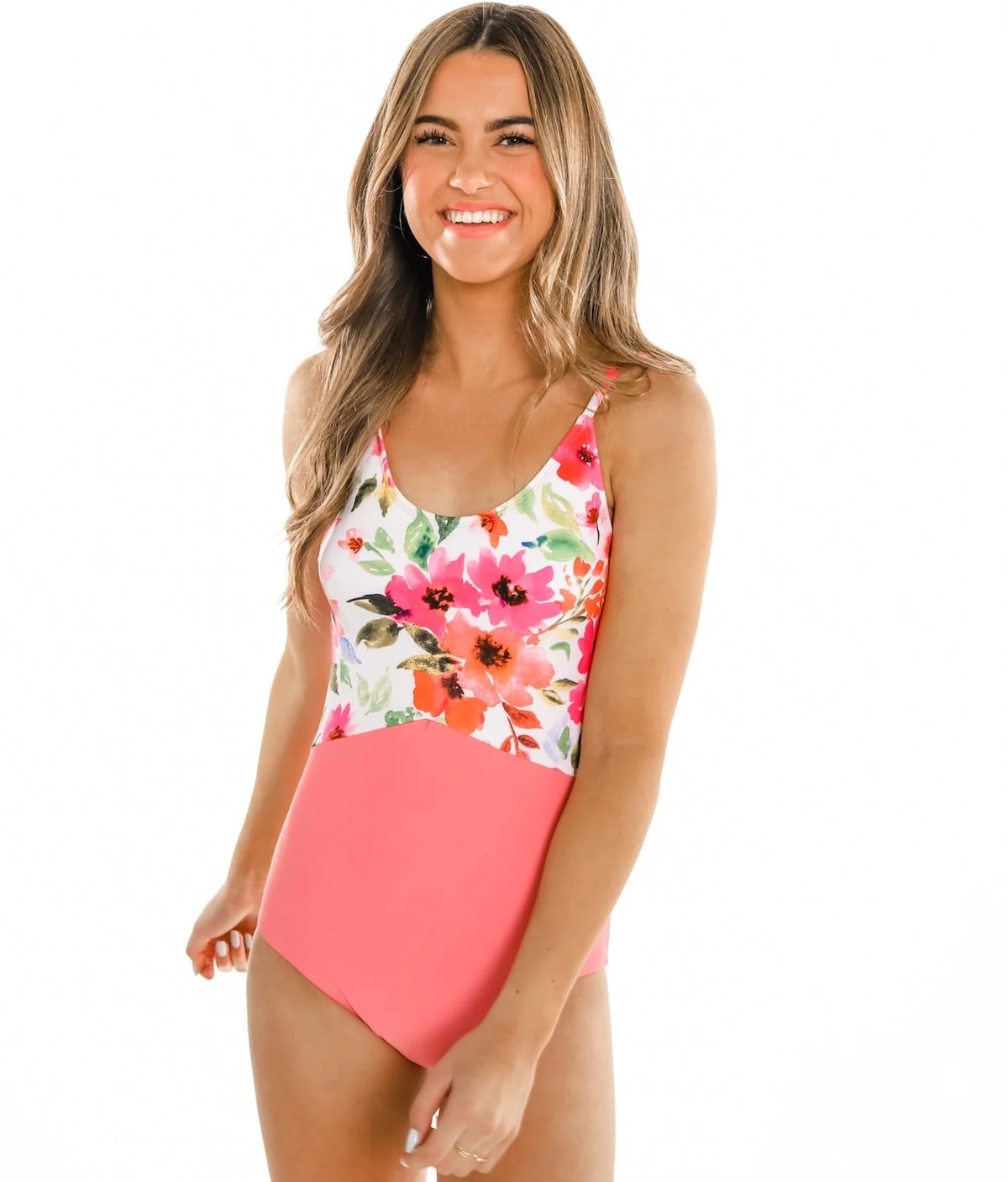 Looking for a one-piece swimsuit that could masquerade as a bikini? Look no further: the Sailor one-piece swimsuit looks like a two-piece from behind, but in front has the full coverage and tummy control of a one-piece.
The separated striped color top and floral pattern bottoms accentuate your curves, while the triangular empire waist is flattering for all figures. The cute cut-out back and button detail adds a fun, funky touch, and, like all our swimsuits, it's fully lined with removable bra pads and shelf bra support.
Wear this with a minimalist, single-color wrap to show off the details of the swimsuit, or pair it with a funky sun hat, sandals, and oversized sunglasses for a fun, bold look.
3 Reasons One-Piece Swimsuits Trump Bikinis
If you're still not convinced that one-piece swimsuits are the best swimsuit option to add to your wardrobe this summer, take a look at all the things that make one-piece swimsuits superior to bikinis.
(Not that we have anything against bikinis, of course! We're all for them - plenty of women prefer bikinis to bathing suits and that's great! You do you - we're not here to judge!)
Stays in Place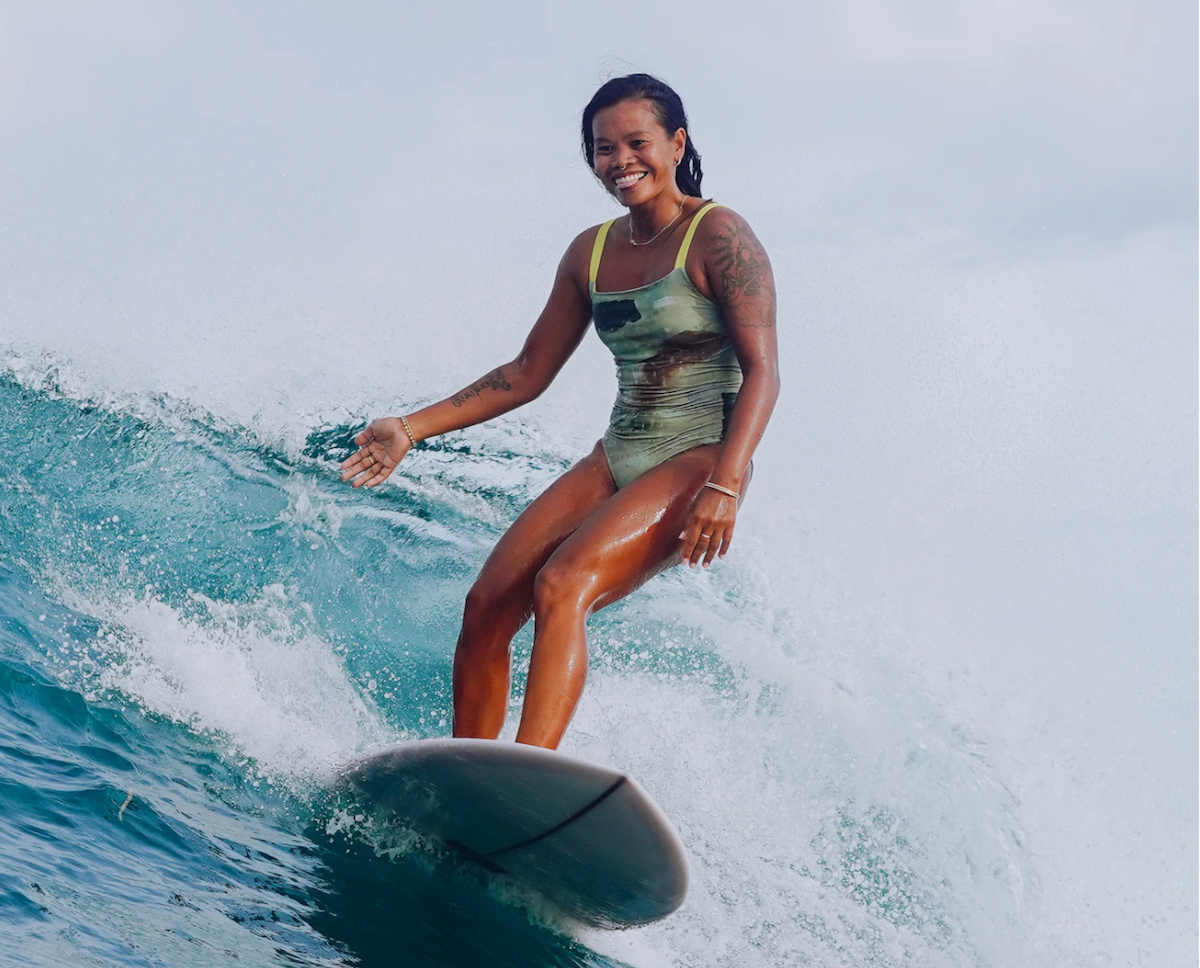 For active swimmers and water sports enthusiasts, a one-piece swimsuit makes more sense than a bikini. It won't shift or ride up, and you're at less risk of something popping out. Even sports bikinis and tankini-style suits don't provide the same support as a one-piece.
Provides Coverage
Lots of women like to let it all hang out - that's great! Like we said, we're not here to judge. But plenty of ladies want their bathing suits to be a little more demure. Whether because of religious beliefs, pregnancy, body image struggles, or simply because they want some tummy control or sun protection, every woman has the right to wear whatever she wants in the ocean or pool - be it a swim dress or a thong!
Looks Cute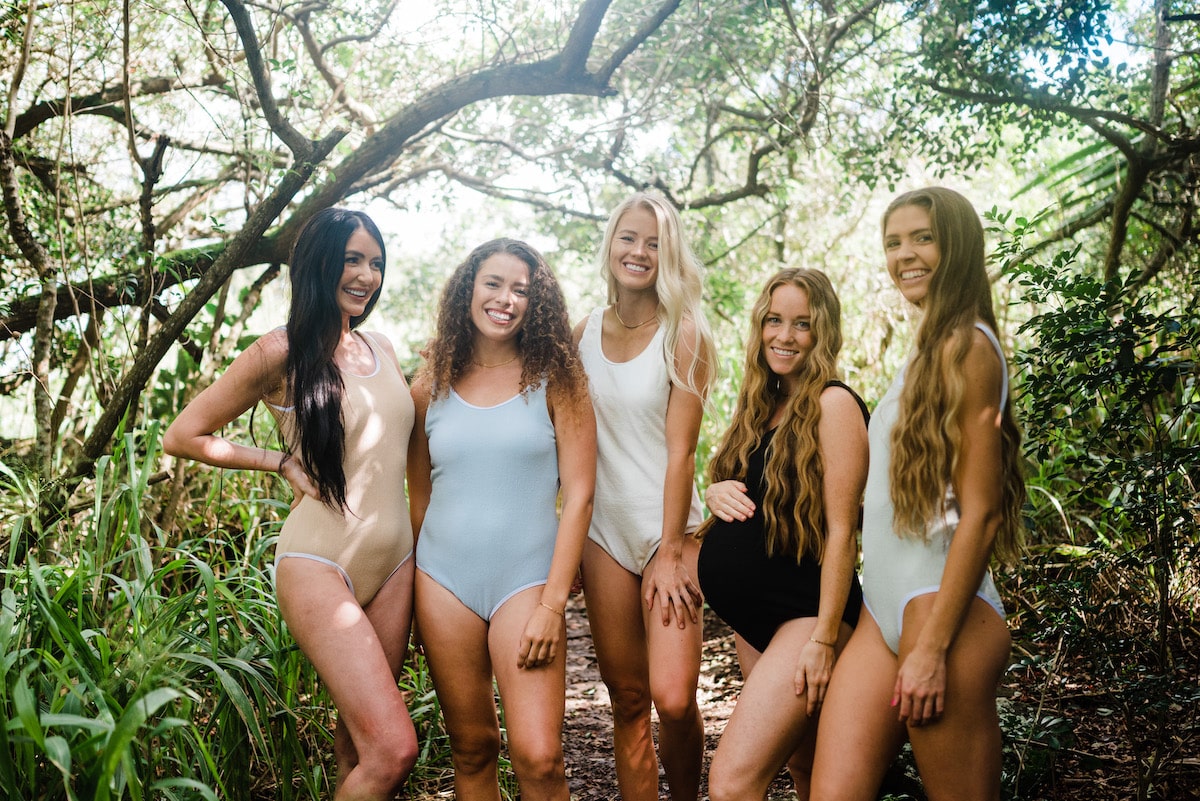 Let's face it - one-piece swimsuits are cute! With more surface area comes more options for fun designs, cute cut-outs, big, bold patterns, bright colors, and interesting cuts. As cute as a bikini may be, it is somewhat limited in what shape it can be.
One-piece bathing suits, on the other hand, have room to experiment! What's not to love about swimwear that comes in so many shapes and styles?
Summing It Up
There are cute one-pieces out there these days for every size and shape. Whether you're looking for modesty, plus size swim gear, a fun cut, a maternity suit, activewear, or something in between, a one-piece swimsuit is a great addition to any swim dress collection.
Make a one-piece swimsuit a staple of your swimwear wardrobe this year.