Written By
Lizzie Shipton
With summer upon us, it's time to break out the sun protection and cold drinks and head to the beach or pool for some relaxation, time with the kids, fun in the sun - whatever you want to call it! This season, cute, modest swimsuits are all the rage - great news for moms who like a little more coverage in their bathing suit.
We've put together a list of some of our favorite modest bathing suits this season to help you pick your next swim look. From tankini tops to high rise bottoms to one piece swimsuits, this modest swimwear list covers all the bases - so you can cover all the right places!
Why Do Moms Need Modest Swimsuits?
They don't! Moms (like all women) can rock whatever swimsuit look they want! There's nothing about being a mom that says you suddenly have to dress modestly or cover up. We want to make that super clear - we're not here to tell anyone how to dress or what to wear.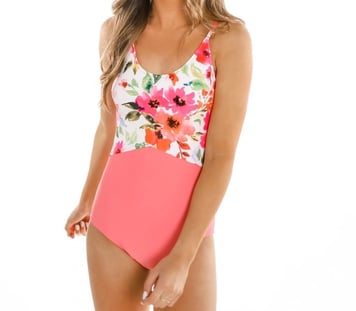 That being said, we know that many moms (and many women who aren't moms) are looking for modest bathing suits that keep them more covered than teeny bikinis or revealing swimsuits.
What Makes for a Modest "Mom" Swimsuit?
So what the heck is a "Mom" swimsuit? Is that like Mom jeans?
Well, while there's no definitive thing that makes a "Mom" swimsuit, for this list, we thought about things like coverage, ease of getting on and off, and how finicky the suit is to wear.
Busy moms and moms with young kids might be looking for swimwear that doubles as activewear (like a tankini that can be work as a workout top) and may also want clean, basic cuts without frills, ribbons, buckles, strings, beads or other accessories that little hands can get ahold of.
Pregnant women may be looking for maternity swimsuits that will accommodate their changing bodies.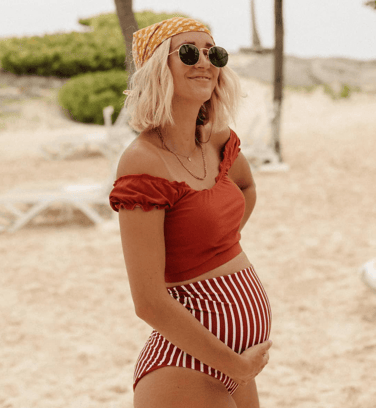 However, while this article is titled "Cute Modest Swimsuits for Moms" these are really modest bathing suits for anyone who wants simple, no-frills modest swimwear. When putting together a list of the perfect modest swimsuits, we like to look at coverage, fit, style, and support.
There are many other modest swimwear options that don't appear on this list: from swim dresses to swim skirt styles and swim leggings, and even long sleeve options like rash guards. For this article, we focused on more traditional swim dress styles like bikini bottoms, tankini tops and one piece modest swimsuits.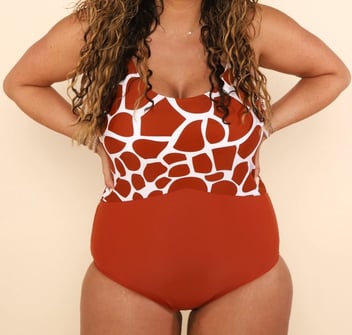 Trending Top and Bottom Suit Styles for 2023
Let's dive in to the latest summer modest swimsuits for moms! These are some of our top picks of varying modesty levels and styles. The suits pictured come in a range of different colors, and can be mixed and matched to create your perfect modest swimwear look.
The Coast Top
This tankini top is a great example of a versatile piece that can be work poolside, at the gym, or even paired with leggings while you're out running errands. The thick straps provide great coverage and support, with removable padding and fully-lined shelf bra.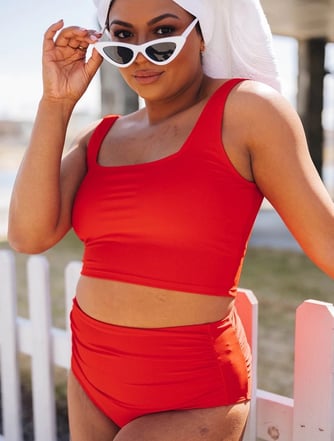 The square neckline is dramatic and trendy - but make sure you put on plenty of sunscreen, because it will leave a very noticeable tan line if you don't! Pair it with matching high-waisted bottoms for a look that's close to a full one piece modest swimsuit look.
The Shoreline One Piece
If you'd prefer a true one piece modest swimsuit, check out the shoreline one piece. This suit is made from wide-ribbed soft knit material that feels so comfy you'll want to sleep in it. The fully adjustable straps and high, straight neckline give this suit an almost vintage, Audrey Hepburn vibe, while the low, cut out back shows off your shoulders.
We love this suit in white, but it comes in a range of color options, including cornflower blue, black, floral, and show-stopping red. Pair it with a big hat and some vintage sunglasses for a retro look that will have heads turning at your next beach day.
The Phi Phi Top
This fun, flirty, frilly top may not be the best choice for moms of toddlers with busy hands. It does include a drawstring and a super cute frilled waist that could be a temptation for little fingers. However, the peplum cut is so cute and extremely flattering, especially when combined with the adjustable drawstring waist that cinches you in and gives you that curvy, hourglass shape.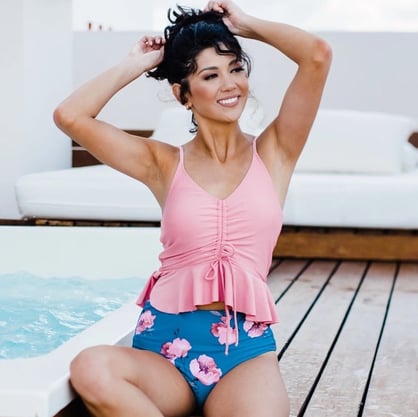 Pair this top with some floral bottoms for a flirty spring/summer look, or go for a deeper, bolder shade for a bohemian vibe. As always, this top is fully lined and includes removable padding, adjustable straps and shelf bra support.
Bon Voyage Bottoms
Swim shorts aren't just for boys anymore, and can we just say, we are so happy! Why should boys get to have the maximum coverage, keeps-everything-in-place, great-for-active-people fun? These bottoms are high-waist boy shorts that can double as fitness gear and look great when paired with a cute bikini top.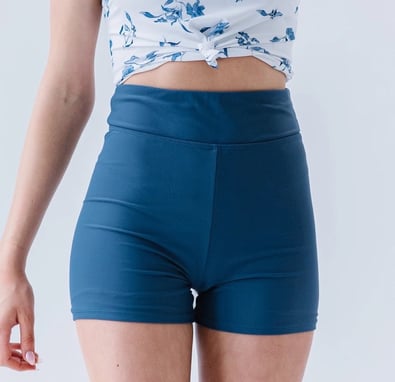 If you have a long torso and struggle to find tankini tops that cover up enough, try a super high waist bottom instead. These swim shorts come way up over the belly button and keep everything tucked in. They do run a little large, so if you are between sizes, we recommend sizing down.
The Chase Top
This sporty-style tankini top is so modest it can double as a shirt. We love repurposing this top for yoga, spin class, and even just going out and about. It's long and flowy, and features a racerback cut and ruched scoop neck front. The bottom features an elastic stay-put band so it won't ride up.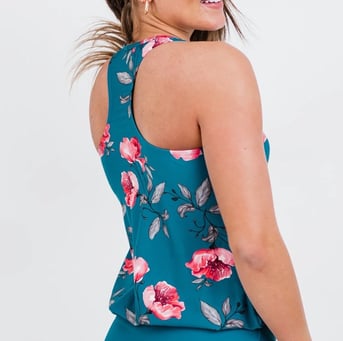 Paired with a matching set of bottoms, this looks like a super unique one piece swimsuit. It's the perfect option for those days when you may be feeling bloated and want some extra coverage for you midsection.
Summing It Up
Modest bathing suits are in and we are here for it. And while modest swimwear is not just for moms, we know many moms out there are looking for modest one piece swimsuits or two piece swimsuits that stay in place while they're chasing kids and swimming.
If you didn't find something on this list that caught your eye, check out our full line of modest swimwear options - we guarantee you'll find something you love to keep you covered this summer!